21 Breathtaking Things to See & Do on the Galapagos Islands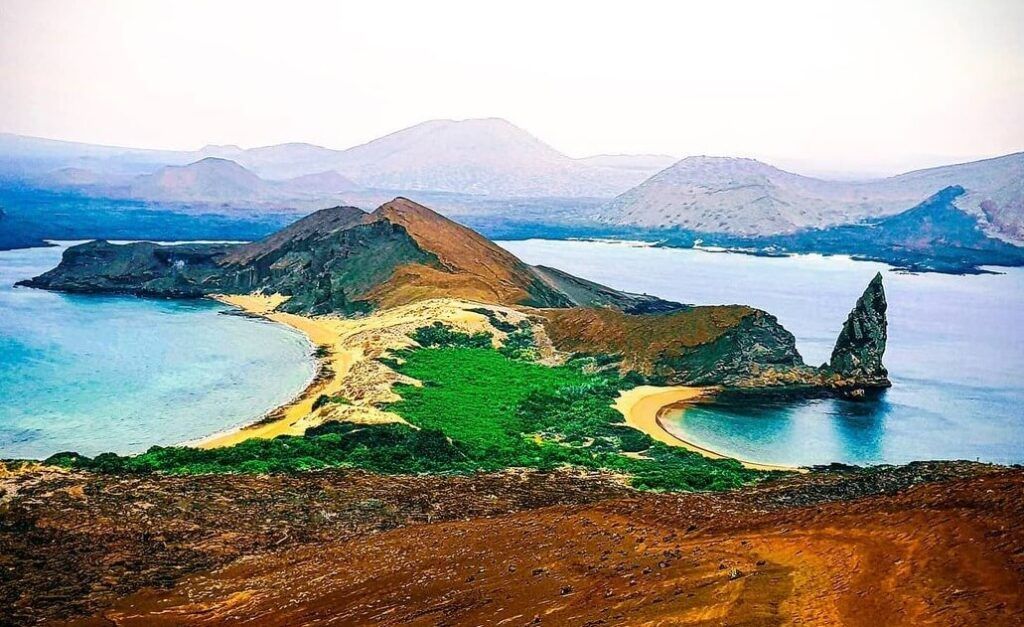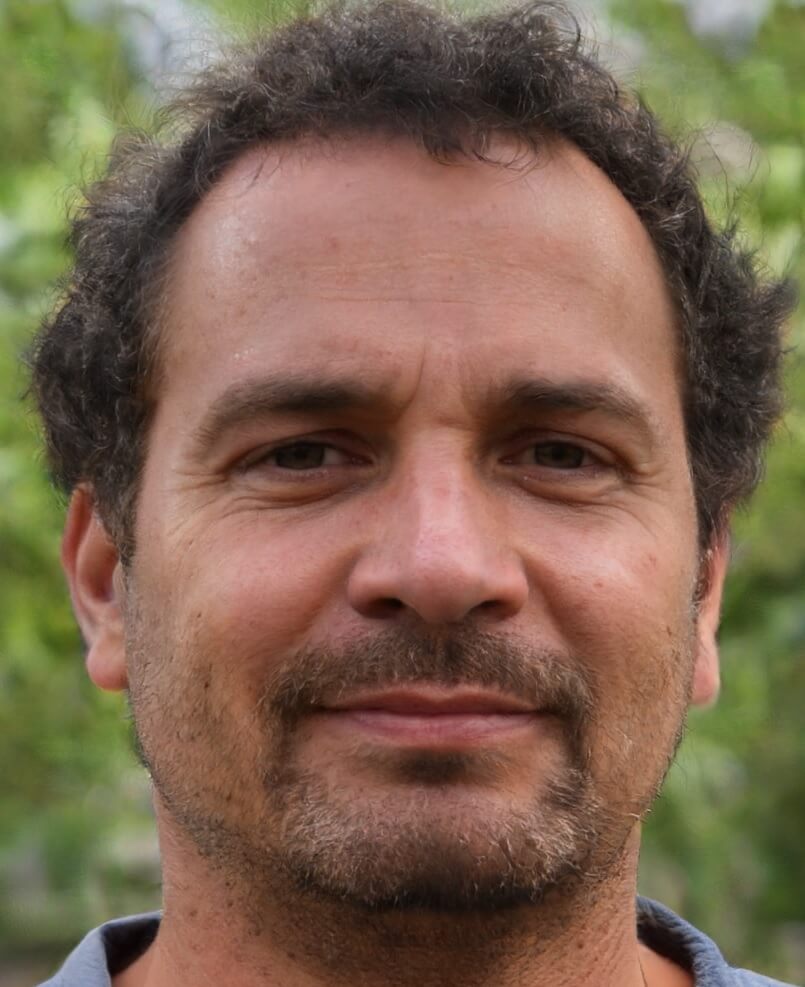 Paolo is a native of Baños de Agua Santa, a city in Ecuador's incredible interior. Although to many this city represents the heart of a hidden gem, to Paolo it is a lifelong home and labor of love. He shares his insight as a travel guide with a particular emphasis on the extraordinary nature and outdoor activities that attract visitors to the region.
The archipelago of the Galapagos Islands is located in the Pacific Ocean, just under 1,000km from the western coast of Ecuador. It consists of a set of thirteen islands of volcanic origin and more than a hundred islets and rocky outcrops.
Booking.com
is the only official place to find special, limited-time offers. Rooms bookout fast so don't hang around! Although this
link
guarantees the best rate on your room, we highly recommend early booking to avoid disappointment later.
Its main fame comes from the uniqueness of its ecosystems and the startling life to be found among its islands. This comes in the form of countless species that can not be found anywhere else on the planet, such as giant tortoises, the Galapagos penguin, Darwin's finches, iguanas, sea lions, the blue-footed booby, among many others.
Our Top Picks
Breathtaking landscapes, surprising biodiversity and ancient geology trace a unique and relatively undisturbed history. Galapagos has so much to offer each and every visitor, but remember to practice mutual respect on your visit! That means leaving nature how you find it and not interfering with nature and wildlife.
Punta Espinoza on Fernandina Island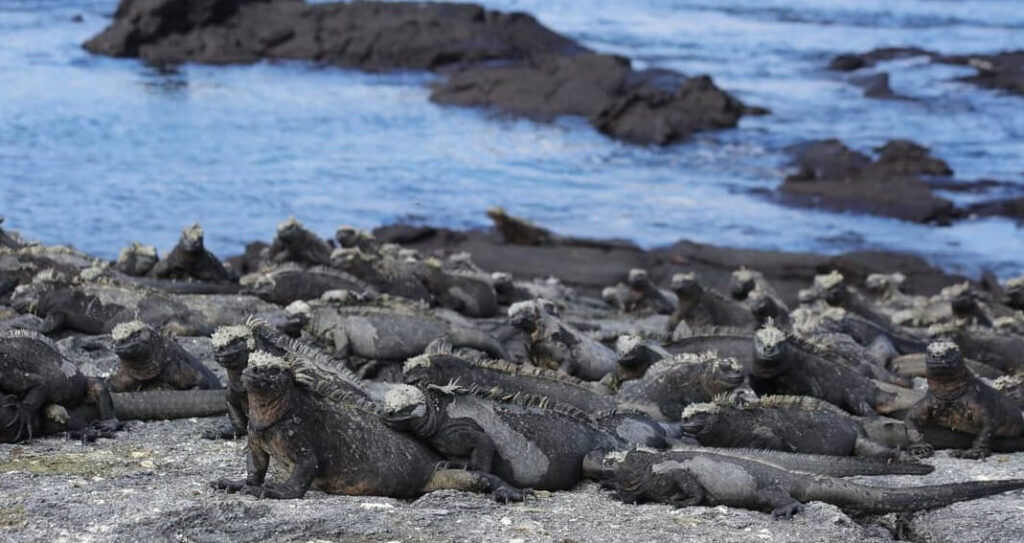 Punta Espinoza is essentially a narrow ledge of lava and sand connecting the volcano of Fernandina with the sea. It is known for an its impressive colony of iguanas, so large in number that it can be difficult to see space for any more! They live side-by-side with penguins, sea lions, crabs and the flightless cormorant. The latter is a species endemic to the islands of Fernandina and Isabela. Remarkably, it is the only cormorant in the world that has lost the ability to fly. The stunning landscape all around this area is made up of dark lava fields, a legacy of the highly active volcano: La Cumbre.
Tortuga Bay on Santa Cruz Island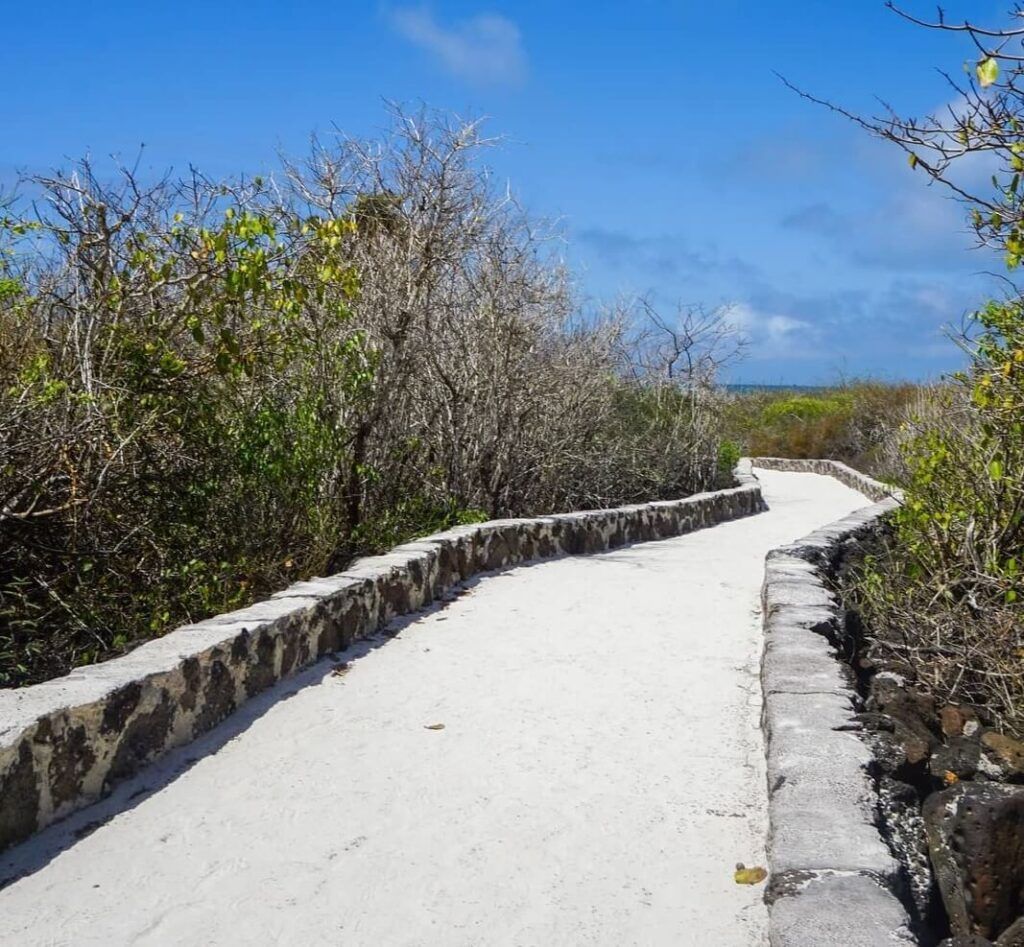 Tortuga Bay has all the defining characteristics of an island paradise: white sands, turquoise waters, and beautiful views. However, it's similarities to beach resorts the world over end there. That's because the bay is home to remarkable wildlife found nowhere else on earth.
In fact, Tortuga Bay gained its name courtesy of being an important nesting site of the black turtle. In addition to the scenic beauty, a number of other species can be observed while walking the beach's white sands, including colorful crabs, marine iguanas and a variety of birds. Not all of the bay is suitable for snorkelling but experienced guides can lead you to calm water spots that are perfect for seeing the wildlife of the sea.
The Fish Market and Seafood Street on Santa Cruz
Puerto Ayora has a small but fantastic fish market, found on the main road, where the catch of the day is retailed. Naturally, this fish is sumptuously fresh and bursting with flavor. The lobster season is from mid-August to mid-January. If your trip coincides with the season of fresh lobster than you must try it. If you'd prefer to sample local flavors at a restaurant then head to Puerto Ayora's bustling seafood street where you can find all kinds of delicious dishes. Lobster can be found for as little as $20-25.
Sullivan Bay on Santiago Island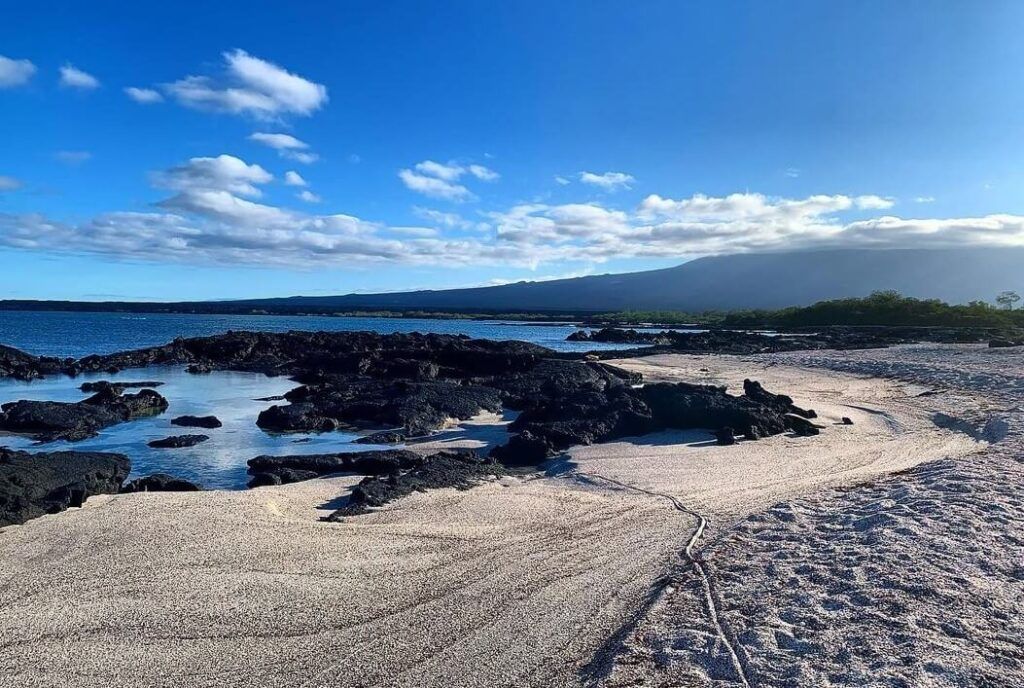 Sullivan Bay is home to some of the most exotic natural scenery of the archipelago, with impressive fields of solidified lava in an undulating shape, resembling a lunar landscape. A trail of approximately one mile in length guides you across the bay, where you can witness impressive geology and soak up the sights. Look out for the remnants of ancient trees, burned by volcanic eruptions long ago.
Ranchos of Isla Santa Cruz
While its true that there are specialized centers across the Galapagos for viewing giant tortoises, there is no rival for seeing them free to roam in their natural habitat. Fortunately, there are spots in the interior of Santa Cruz for doing just that.
Among them are El Chato and Primicias, where you can traverse carefully designed trails and easily spot these immense animals grazing. Keep in mind that turtles usually migrate to the lowlands during summer in order to nest. Therefore, your chances of seeing the tortoises here are lower in the period between June and August.
North Seymour Island Trail
The small but beautiful island of North Seymour is considered one of the best spots in the Galapagos for bird watching. Largely undisturbed, this paradise is home to the largest colony of magnificent frigatebirds in the archipelago, as well as blue-footed boobys and swallow-tailed gulls.The island has only one significant trail, which extends to around 2km. Without leaving this path you can look out over arid landscapes, home to shrubs, cacti and countless birds and iguanas.
La Lobería in San Cristóbal Island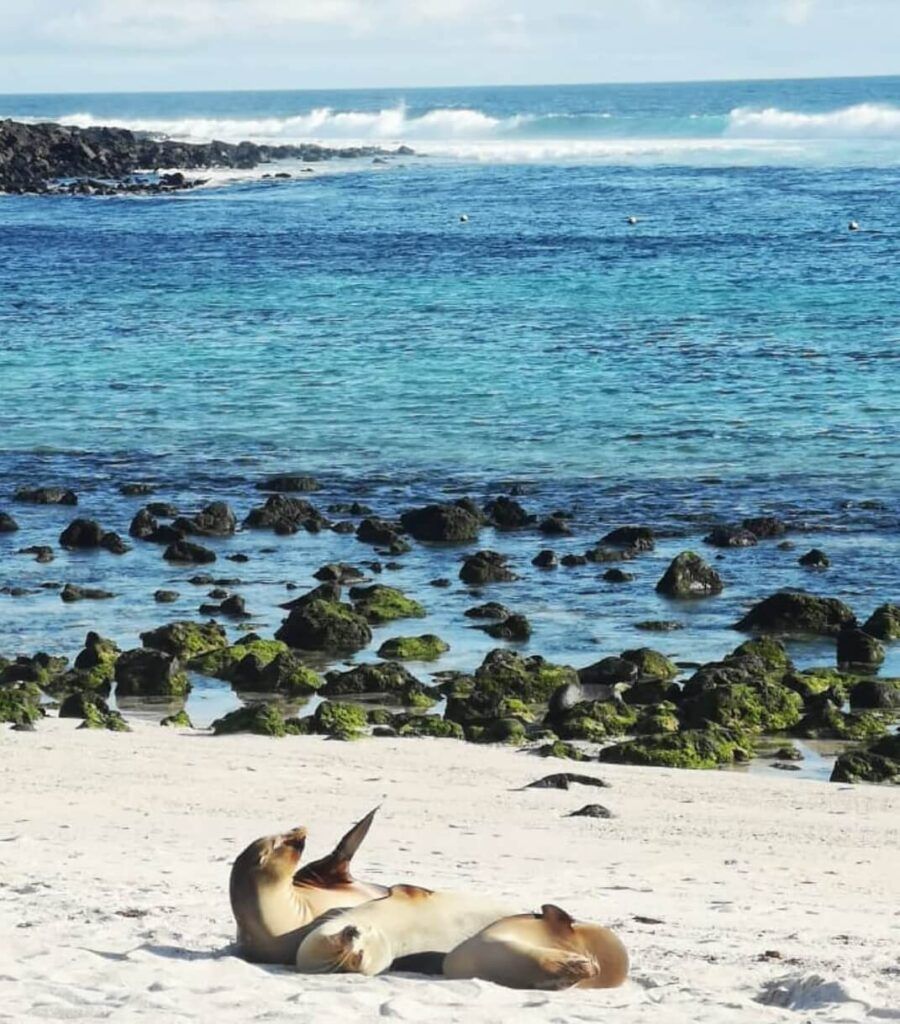 The exquisitely vibrant beach and turquoise waters of La Loberia are among the most photographed locales in all of the Galapagos. They are home to a large number of sea lions that rest care-free among the rocky outcrops or submerged in the sea. In addition to sea lions, you're likely to find turtles and iguanas, along with various types of birds, such as canaries and finches. Meanwhile, on the beach, you can snorkel or take a dip in the water.
Vantage Point of La Escalera in Bartolomé Island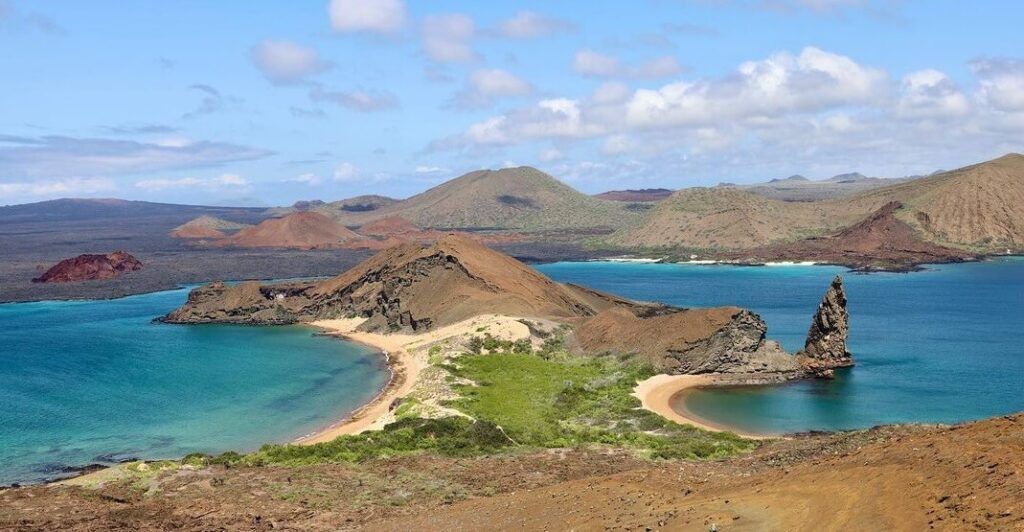 This perfect natural viewing point sits a top a hill at a height of over 110m. The picture-perfect views attract visitors seeking out a memorable photograph. The view is famous for the narrow strip of land that separates the sea into two bays, with the coast of the neighboring Santiago Island as a backdrop and a stone pinnacle rising at one end (right side of above photo).
After enjoying these stunning views, you can venture down to the beautiful beaches of the island, where activities include surface diving and snorkeling. The two best known species of Bartolomé are sea turtles and Galapagos penguins. Sea turtles use this area as an ideal nesting site.
"Leon Dormido" on San Cristobal Island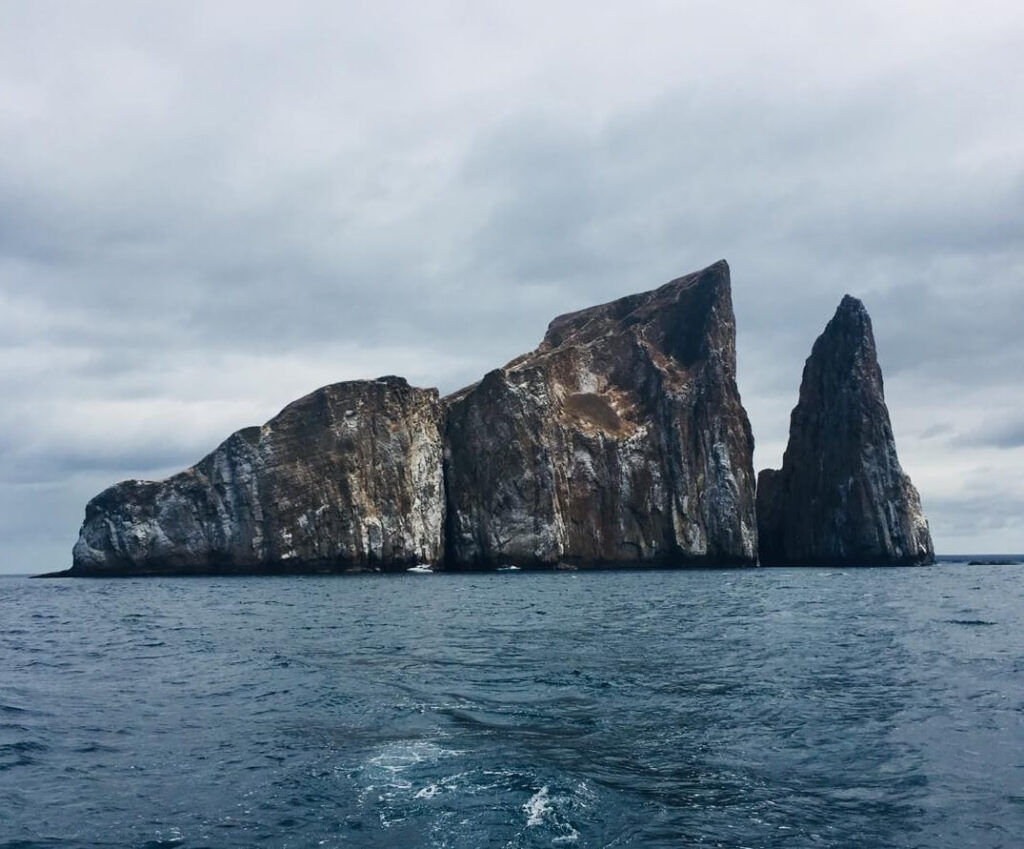 The translation of this name is "sleeping lion" but the site is also referred to by the name Kicker Rock. It is essentially two enormous volcanic rocks, which rise more than 100m above the sea. The site is accessible by sea from Puerto Baquerizo.
Although not everyone is quite able to see the resemblance to a resting big cat, few can deny that they are a breathtaking sight. Keen snorkelers and divers seek out this area for opportunities to swim near manta rays, tropical fish, sharks, and sea lions. The jagged rocks also make themselves home to large colonies of birds, including pelicans.
The Tunnels in Isabela Island
Accessible via boat journey from Puerto Villamil, the lava tunnels of Isabela Island are a veritable labyrinth. They weave and wind above and below water and call themselves home to impressive biodiversity. Many consider them among the best places in the archipelago for snorkeling and surface diving. Species to observe include turtles, sharks, and rays. Above the water, on the rocks, you'll witness various species of nesting birds.
Gardner Bay on Hispaniola
Gardner Bay is another of the secluded and under-rated beaches snugly hidden within the archipelago. It is home to an around 1km stretch of white sand and turquoise water. It is famous for colonies of sea lions that typically rest a few meters from the sea. Like many other spots on the islands, it is a birdwatcher's paradise and home to three endemic varieties of Darwin's finches, among other species.
Charles Darwin Research Center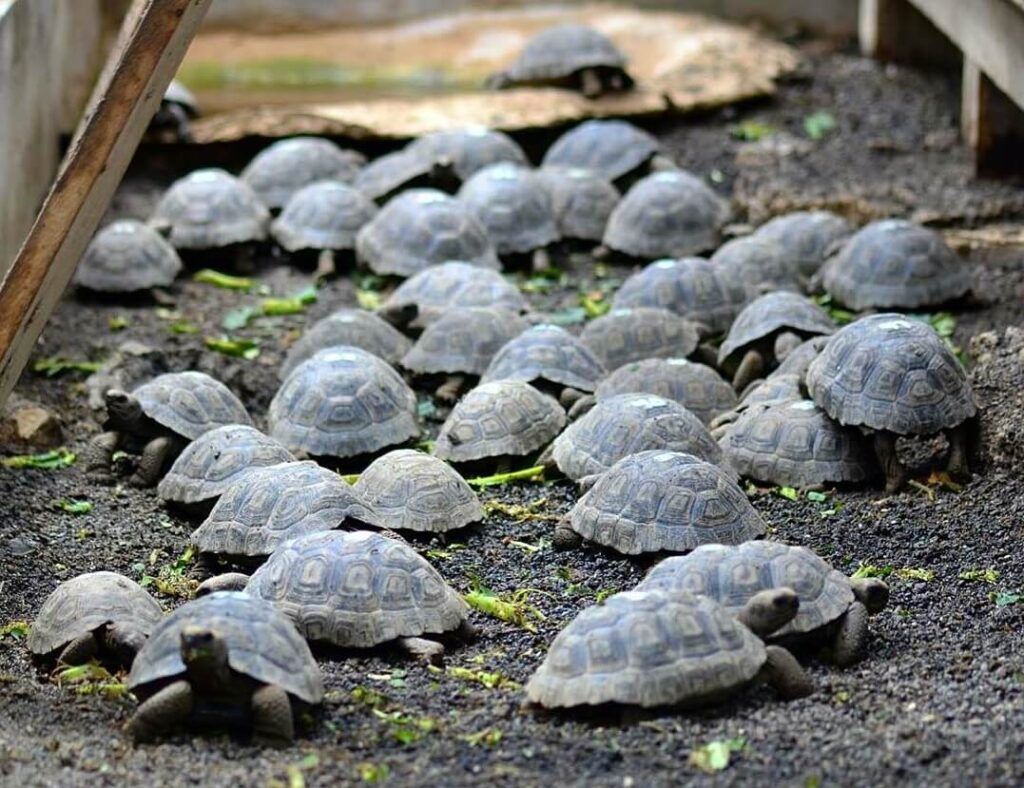 This research station is just a 15-20 minute walk from the town. It is highly educational and offers opportunities to learn about local projects to save the tortoises and other animals in the Galapagos. Perhaps the biggest draw are the baby tortoises and some of the older tortoises. Although visitors can look and take photographs, please do not handle the animals. If you travel around the Galapagos, you can also see the giant tortoises in the wild. However, baby tortoises are nurtured at this breeding station and are fascinating to observe. You'll also find interesting displays and learning materials.
Puerto Villamil
This town has a pleasant beach covered in fine white sand, on which many varieties of migratory birds can be seen. It is worth a visit if only to stroll through town or to grab a bite to eat. If you have chance, locate the boardwalk to the southern edge of Puerto Villamil and observe the fascinating flamingos that call these lagoons home.
Lava Tunnels in the Highlands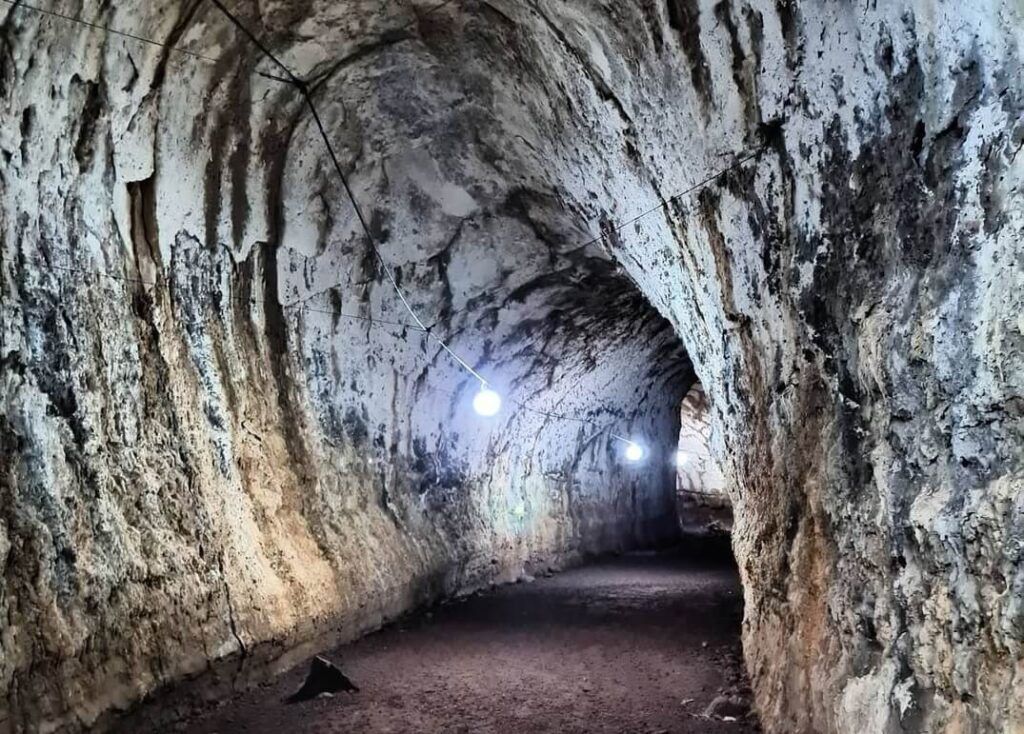 Most folks like to visit and take a tour through the tunnels while visiting the tortoise breeding center. You can also easily get here by taxi if you prefer. However, it's best to navigate the tunnels with the help of a local guide, as it can be dark down below. In the middle section you have to squeeze through some relatively tight spots. It is an interesting experience to be underneath the hardened lava instead of simply walking around it!
Take the ferry to another island
You can travel from Puerto Ayora to Isabela by speedboat for around $30 each way. The boats typically depart twice a day — once early in the morning and once after lunch (check the schedule when you arrive). The journey takes approximately two-and-a-half hours. You can also go to San Cristobal with the departure times, length of journey, and cost being roughly the same as the journey to Isabela. You can also book organized day trips to Española or Floreana.
If you travel by speedboat, it's important to dress and pack suitably. The ride can be wet and bumpy, and it's easy to develop sunburn if you fail to protect yourself. Useful items include a rain jacket, sunscreen, headwear, water, snacks, and earplugs or headphones.
Snorkel at Muelle Tijeretas (San Cristobal)
A pleasant 40-minute walk from town is all it takes to reach this intriguing rocky bay. The trail leads past beaches with sea lions and an interpretation center (with bathrooms). Tijeretas is ideal for snorkeling thanks to its clear waters. Most groups will enjoy the chance to swim with turtles, marine iguanas, and colorful fish. It is also worth hiking to the viewpoint nearby. On your journey, consider stopping by at Punta Carola, which is another pretty beach with many sea lions and turtles.
Or… Snorkel at Playa Loberia (San Cristobal)
This beach is located close to the airport. You can walk to the beach in 50 minutes or take a taxi for a few dollars. If you haven't seen many beaches in the Galapagos or haven't been able to snorkel often, it's worth going to Playa Loberia. Although there are better beaches elsewhere on the islands, Playa Loberia is conveniently accessible to those passing through the area.
Dive at Kicker Rock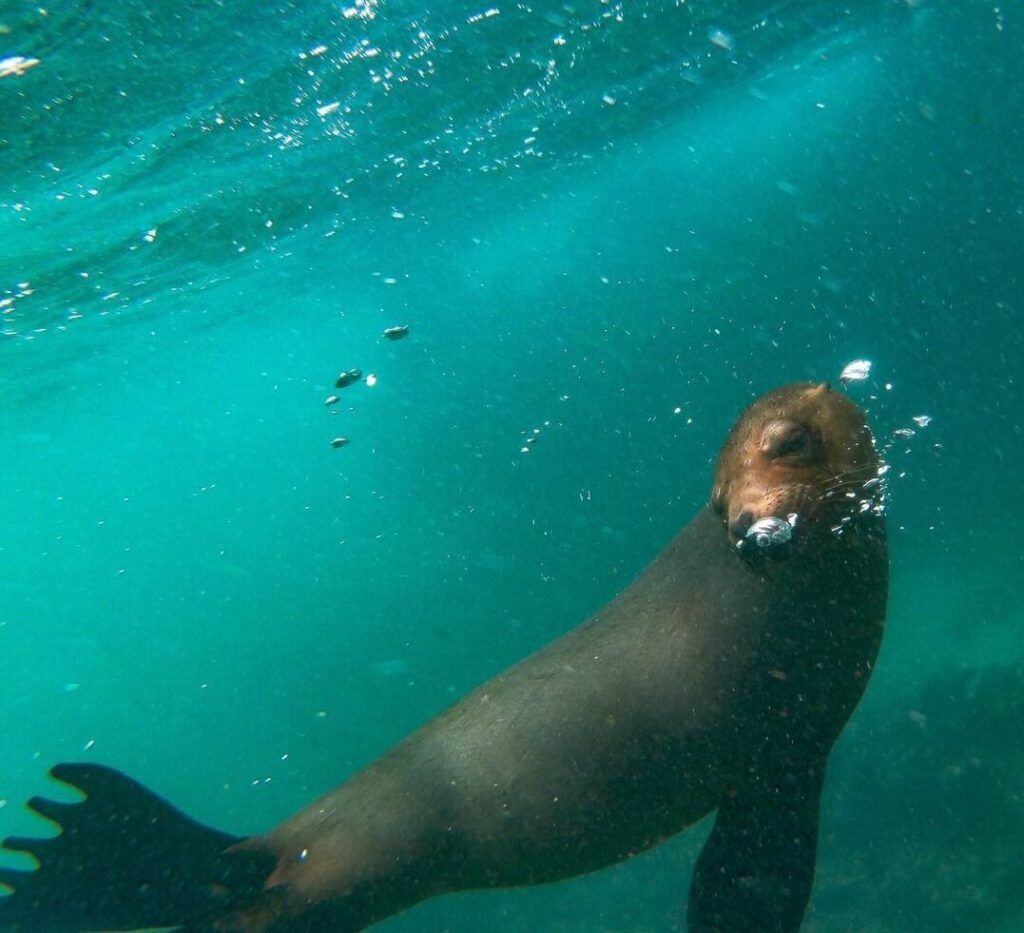 San Cristobal Island and the area around Kicker Rock is one of the best dive sites in the Galapagos. From December to March you have a great chance to see hammerhead sharks. Whitetip sharks can be seen daily (also in many other places in the Galapagos). A two-dive trip usually costs around $150.
Tintoreras (Isabela)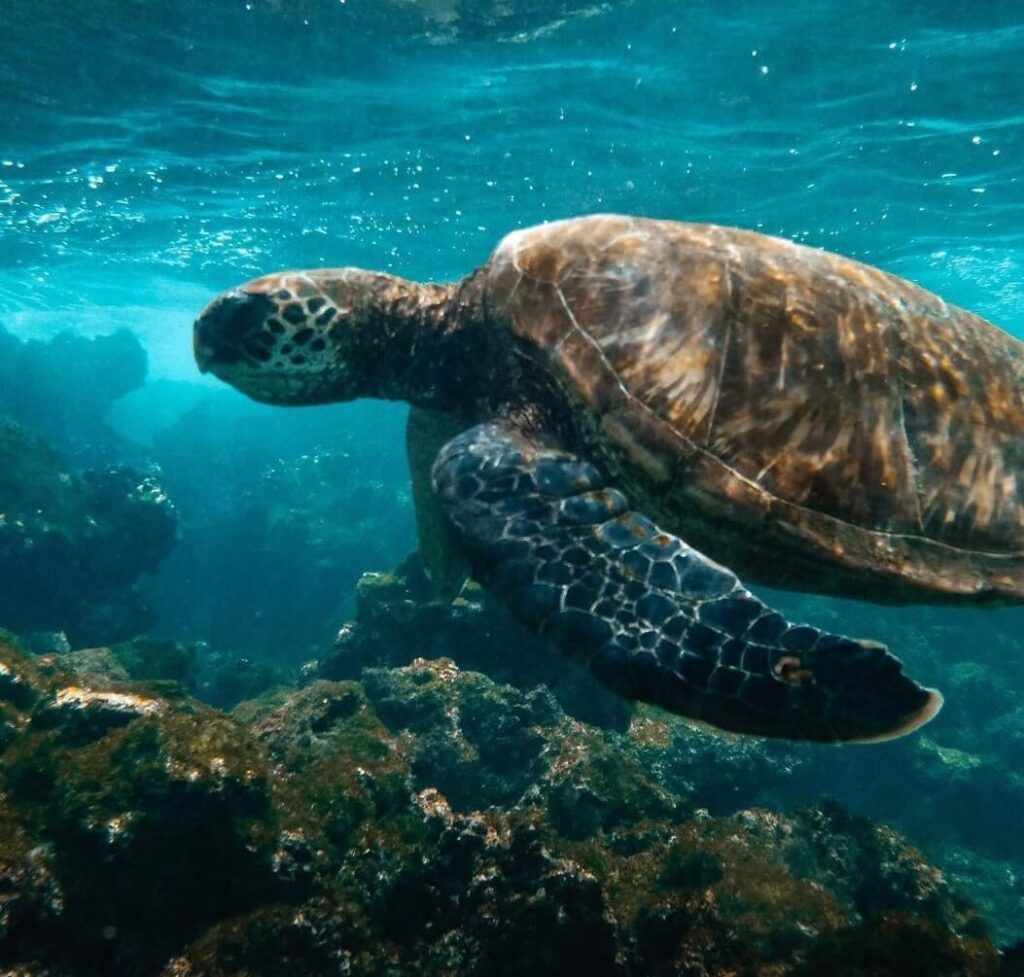 This snorkeling site is right by Isabela (10-minute boat ride). There are many spots around these reefs where whitetip sharks love to rest. It's not uncommont to observe dozens of them on a single trip. Wildlife enthusiasts will be thrilled by the opportunity to observe species including eagle rays, marble rays, penguins, turtles and sea lions.
Devil's Crown
This is one of the most popular sites on Floreana Island, near the coast of Punta Cormoran. It's a fantastic place to see penguins, sea lions, turtles, sharks, dolphins, and a wide range of fish. Tropical birds also nest in the rocky outcrops.
Laguna de los Diablos
The lakes occupy craters formed by lava collapses in coastal areas that have allowed the entry of sea water and the accumulation of sand. These sand deposits have formed beaches, which serve as a barrier between the ocean and the lagoons. These fascinating pools now host thick mangrove forests and a wide range of tropical flora.
FAQ
The Galapagos' exotic landscapes are not emualted anywhere else on earth, let alone in the Pacific. These curious arid lands sometimes appear as if they were from another world entirely, with their huge lava fields, rock formations, cacti and volcanoes. Its seascapes are no different — themselves home to underground volcanoes, labyrinth outcrops, and coral reefs, making it a perfect spot for an extraordinary biodiversity of species.
The archipelago is almost entirely a national park, while the sea of its surroundings is a marine reserve. Only four of its islands are inhabited, the main human settlement being the town of Puerto Ayora on Santa Cruz Island. Other minor settlements are Puerto Baquerizo Moreno in San Cristóbal, Puerto Villamil in Isabela and Puerto Velasco in Floreana.
How do I travel to the Galapagos Islands?
From the Ecuadorian cities of Quito and Guayaquil there are regular flights that make trips to the Galapagos Islands, arriving at the two airports of the archipelago: Seymour Airport on Baltra Island and San Cristobal Airport located on the namesake island.
Seymour Airport on Baltra Island has the most traffic and also has a more central position in the archipelago. From the airport, you can take free buses offering transport to the pier, where it is possible to embark to Puerto Ayrora on Santa Cruz Island, where most of the hotels are concentrated.
Meanwhile, from the San Cristóbal Airport, you can take a taxi or walk a relatively short distance to Puerto Baquerizo Moreno, the main town of the island. If you have reserved a hotel in advance, contact them to inquire about shuttle services.
When should I travel to the Galapagos?
It isn't necessarily straightforward to identify times when it is specifically good or indeed bad to visit the Galapagos Islands. However, there are significant differences between months and times of year vis a vis the climate and the chances of observing particular species.
The archipelago's climate has two principal seasons: the hot season and the dry season. Weather patterns hinge on the cold Humboldt current and the warm El Niño current. The hot/rainy season runs from January to May while the dry season runs from June to December.
Temperatures can reach averages of around 28 to 31 degrees celsius during the warmest months. Rain is rarely torrential but nevertheless, more frequent than during the rest of the year. In these months the sea is usually calmer and the waters are warmer, so it is favorable for diving, swimming or snorkeling.
This time is also arguably the best for bird watching, with events like the mating season of albatrosses and blue-footed boobies in April and May respectively. Also possible at this time of year is the chance to appreciate giant tortoises in the wild, especially in the highland areas of Santa Cruz and Isabela.
The dry season (June-December) brings cooler temperatures, with averages closer to the low-to-mid 20s (degrees celsius). Naturally, there tends to be clearer skies and less precipitation. Colder waters attract marine mammals, which in turn increases the chances of seeing certain species while diving.
In particular, the dry season is superior for spotting humpback whales and dolphins, as they migrate northwards. August is the month in which sea lions give birth and September is often regarded as the best time to see the Galapagos penguins. Unfortunately, the time between June and August isn't ideal for sighting giant tortoises, as they leave the highlands for lower ground to nest.
Taken in aggregate, many tour guides and visitors argue that the time in-or-around April and May is the most favorable climate-wise and the best for activities including bird-watching. Nonetheless, there is no bad month to travel to the islands per se, since various natural delights are always taking place!
Where should I stay in the Galapagos?
Our guide to the Galapagos' best hotels is the ideal place to start. There are a wide variety of lodging options, from simple hostels to exclusive hotels. Most of the archipelago's hotels are concentrated in Puerto Ayrora (Santa Cruz Island), and to a lesser extent in Puerto Baquerizo Moreno (San Cristobal Island) and Puerto Villamil (Isabela Island).
Each of the islands has its own attractions and it's imprudent to single out any as "the best." That's because the ideal location for each traveler depends on which sites you want to visit. Nevertheless, some islands can be better than others as a "base camp" for exploring the neighboring islands. Keep this in mind when selecting where you'd like to stay.
On the one hand, Puerto Ayrora in Santa Cruz is the most developed with a wider variety of lodging options and excursions to other islands. This makes it ideal for people who want to cram as much as possible into one short trip to the islands. Another bonus is that Santa Cruz is located centrally within the archipelago and this cuts down time spent journeying to other islands.
Puerto Baquerizo Moreno in San Cristobal also has a lot of pleasant accommodation options. However, it also has somewhat fewer choices of tours to the other islands. Alternatively, there is nothing to stop you from designing a "mix-and-match" itinerary with time spent staying on more than one island.
Puerto Villamil in Isabela is another great option for intrepid visitors and nature lovers alike. The village itself is a quaint and gorgeous fishing spot with windswept, sandy streets and a number of nice guesthouses.
Finally, on Floreana Island, lies the small town of Puerto Velasco. Although there are far fewer guesthouses to choose from, this village is a common stopover spot for visitors to the island who want more time to explore Floreana before making the trip back to their "base."
How can I get around in the Galapagos?
First, take into consideration the fact that some activities can be undertaken independently while, for others, it is either mandatory or sensible to book a guide.
On the largest islands, such as Santa Cruz, San Cristobal, Floreana and Isabela, you can wave down taxis or rent bicycles. On the smallest islands, tours are usually entirely on foot.
To move between one island and another, you'll find everything from small speedboats to larger cruisers. Santa Cruz is the epicenter for inter-island travel. Here are the approximate travel times (all from Santa Cruz):
Baltra Island (Airport): 1 hour
Isabela Island: 2-3 hours
San Cristobal Island: 2-3 hours
Floreana Island: 2-3 hours
Other transportation options include multiday cruises and even private plane services.
What is there to see in the Galapagos?
The archipelago has such a variety and quantity of places to visit that it can be overwhelming for the average visitor. My advice is always the same: quality over quantity. No matter when you visit, even if your trip is short, there are eye-opening and wonderful things to see and do here. It's better to give ample time to those experiences than waste valuable hours rushing from destination to destination without ever stopping for long enough to soak up the beauty.
Ultimately, the Galapagos Islands are famous for their biodiversity and nature. Giant tortoises can be appreciated both in the wild and at breeding centers on the islands of Santa Cruz, Isabela and San Cristobal. Some of the best locales for spotting wild tortoises are the highlands of Santa Cruz, on ranches like Manzanillo and those mentioned earlier.
For iguanas, the Galapagos Islands is home to three terrestrial types and a marine species. Santa Fe island is among the best places to observe these fascinating reptiles. Meanwhile, Fernandina Island boasts the highest concentrations of marine iguanas in the archipelago.
Sea lions can be found on virtually all the coasts and beaches of the islands. However, Gardner Bay on Hispaniola Island and the Lobería of San Cristobal Island are particularly excellent if you're seeking to photograph them or swim in their vicinity. Birdwatchers often find the best paradise on the Islands of Hispaniola and Seymour. Here, one can see extraordinary colonies of albatrosses, blue-footed booby, exotic frigates, and more.
Other sites of spectacular beauty include Tortuga Bay in Santa Cruz, the tunnels of Isabela, Kicker Rock of San Cristóbal and the Pinnacle Rock in Bartolomé Island.
Final Word on the Galapagos
The Galapagos Islands are so drenched in wonder that you may have to visit and revisit multiple times in order to feel like you've "seen it all." In light of this, don't fall into the trap of trying to cram too much into one trip. You may well end up neglecting to truly appreciate the things you do see. Besides, different months and seasons are optimal for different kinds of island endeavor. If you miss out on one thing this time, there'll always be another chance!