11 Extraordinary Things to See & Do in Guayaquil (With Photos)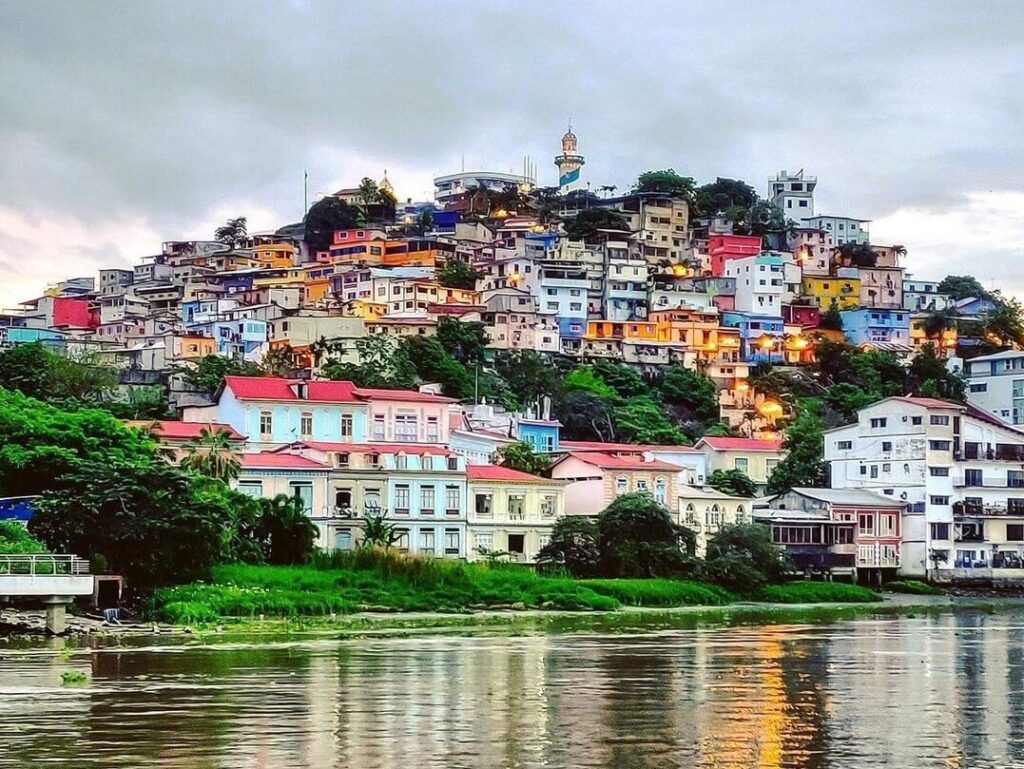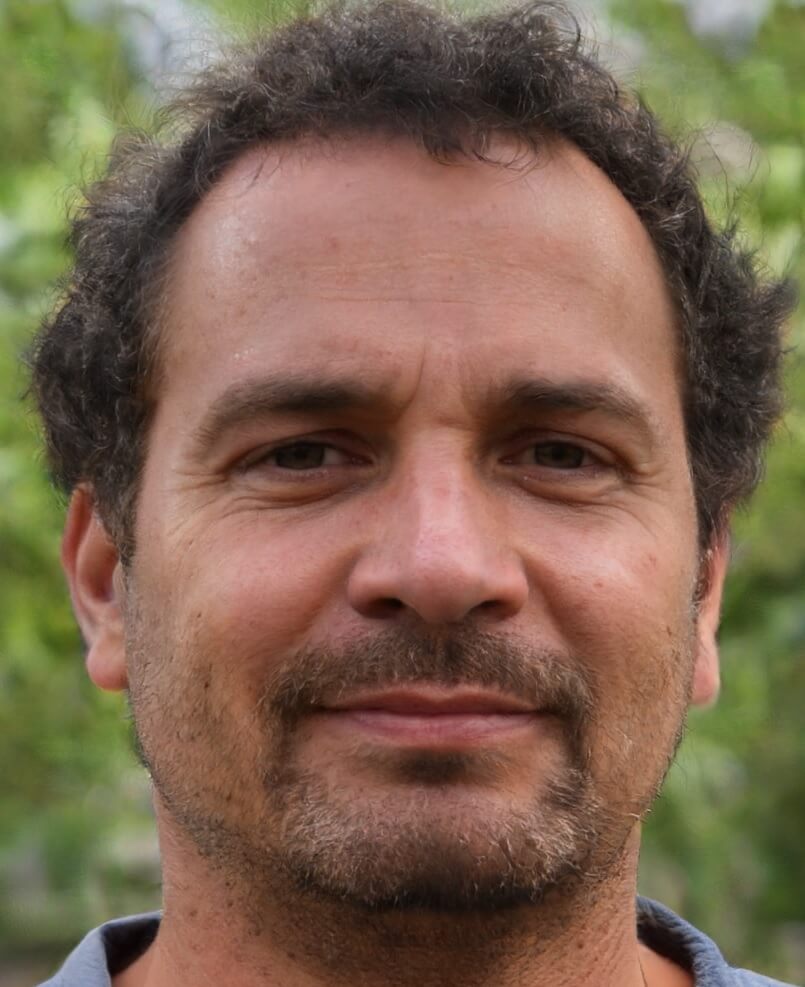 Paolo is a native of Baños de Agua Santa, a city in Ecuador's incredible interior. Although to many this city represents the heart of a hidden gem, to Paolo it is a lifelong home and labor of love. He shares his insight as a travel guide with a particular emphasis on the extraordinary nature and outdoor activities that attract visitors to the region.
Guayaquil is one of Ecuador's most commercially important cities but also one of its most uniquely charming and vibrant. Modern downtown buildings have contributed to its transformation into something of a hub for trade and activity. Indeed, Guayaquil (along with Quito) is one of the two main connecting cities on the mainland for visitors traveling to the famous Galapagos Islands.
Booking.com
is the only official place to find special, limited-time offers. Rooms bookout fast so don't hang around! Although this
link
guarantees the best rate on your room, we highly recommend early booking to avoid disappointment later.
Despite this expansion, the city has retained its color, its character, and its charisma. Steep sloping hillsides are surrounded by colorful favelas, but it is the Guayas River boardwalk (also called the river square) that most defines the city's identity.
Meanwhile, the picturesque neighborhood of Las Peñas, which rises above the river, anchors the city both not only in a geographical sense, but also with its sense of tradition. The streets of Guayaquil's downtown are more bustling than ever before with office workers, residents and shoppers all flocking to the area. Parks and town squares are brimming with life, and the nightlife scene is also fueled by lively bars and university students. The local art and theatre scene is also expanding in scope and confidence.
Top Picks in Guayaquil
Below is a selection of my favorite things to see and do in the city of Guayaquil. Some are all about sightseeing and immersion in the local culture, while others are much more hands-on. Let's get started!
Malecón 2000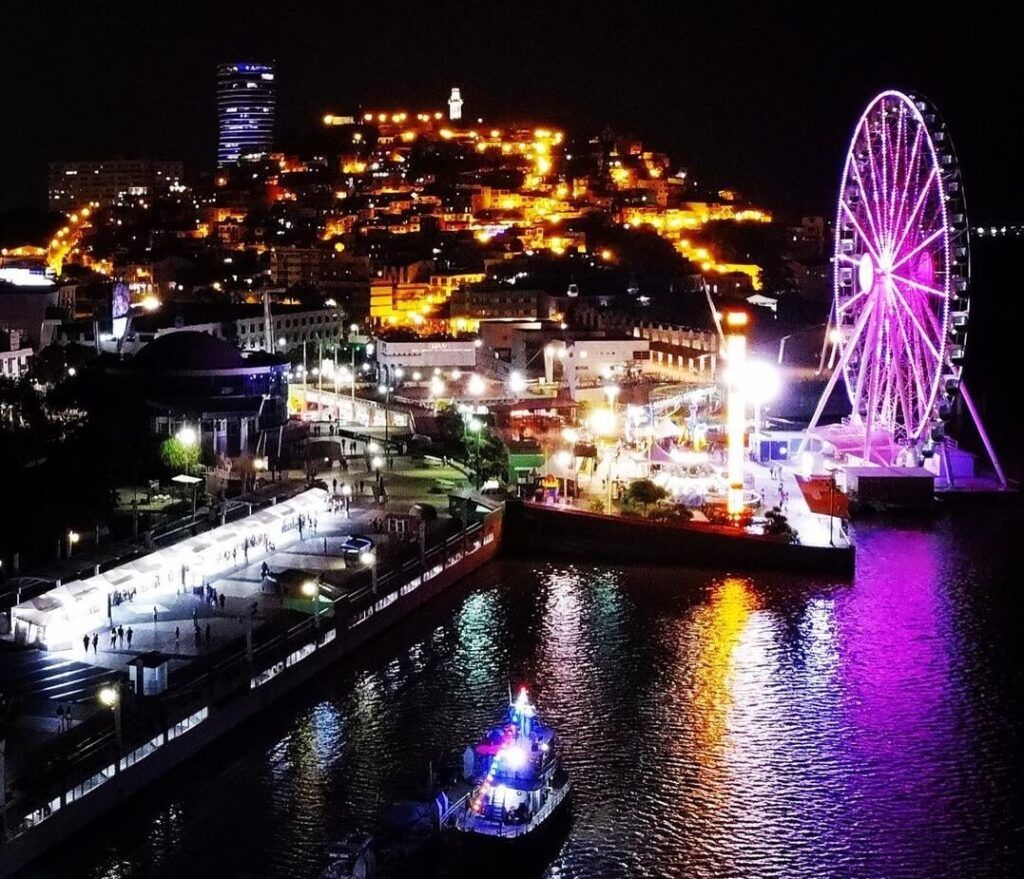 Perhaps rather predictably, our list starts with one of Guayaquil's most iconic sites: Malecón 2000, also known as Malecón Simón Bolívar. This landmark is the beating heart of the city's social and cultural life thanks to its pedestrian promenade stretching approximately one-and-a-half miles down the Guayas River. You'll find restaurants and street food vendors, delightful gardens, and docks for leisure boats, among other things.
The boardwalk is of particular intrigue for the manner in which it charts the course of local history. Many of the buildings, squares and monuments here serve to commemorate important historical events, including the Hemiciclo La Rotonda, the Olmedo Monument (El Monumento a José Joaquín de Olmedo), the Plaza de la Integración Latinoamericana, the Crystal Palace, and the Moorish Tower (Torre Morisca).
Each of these landmarks serves to represent a fascinating element of the region's historical heritage.
Cerro Santa Ana
Situated directly next to Las Peñas neighborhood (see below), Cerro Santa Ana is another famous destination in Guayaquil. This hill sits around 60 meters high and, as a result, offers some of the best panoramic views of the city.
Its famous locally for its 440 steps, forming a winding route to the summit while passing a host of restaurants, cafes, art galleries and craft shops on the way. Once you eventually scale the hill, stopping along the way, you can also visit the famous lighthouse, the Iglesia la Merced and the Naval Museum.
Las Peñas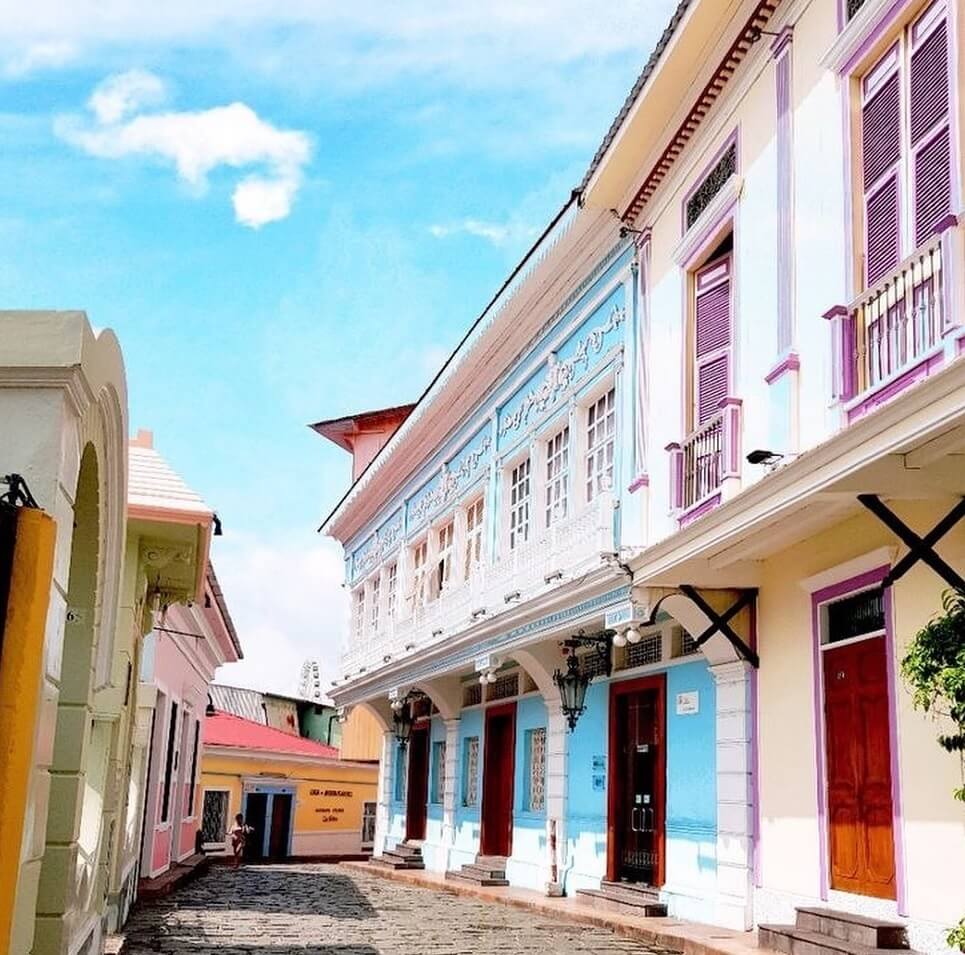 At the foot of Cerro Santa Ana and a few meters from the Malecón 2000 sits Las Peñas. In many ways a visit here represents a journey through time. The neighborhood captures the heart and soul of Guayaquil with its rustic character and storied history. It is celebrated locally as the founding place of the city and retains its colonial appearance to this day, thanks to narrow cobbled streets and colorful architecture.
As a heritage site of Ecuador, it offers a living walk through of the history of Guayaquil, with many preserved original homes. It's also a pleasant place to unwind with its plentiful restaurants and bars. There is nowhere better to enjoy the good vibes of Guayaquil.
Hacienda La Danesa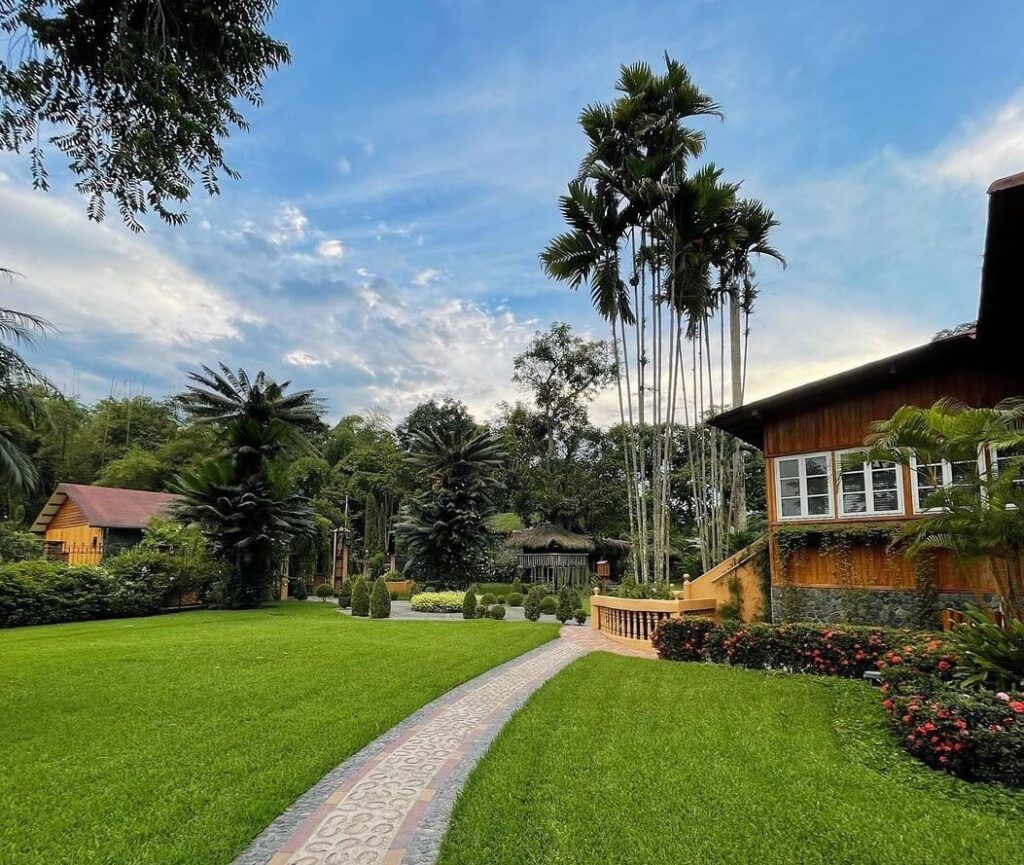 Approximately one hour from Guayaquil is the Hacienda La Danesa. Its beauty and tranquility are a richly welcome escape from the hustle and bustle of the big city. So, after a few days among the noise and traffic, recuperate by immersing yourself in the rural peace of the hacienda.
It was founded in 1870 and today functions as an ecotourism and adventure site. If relaxation is your thing, you'll discover great food, spa treatments, yoga, cooking workshops, and more. Meanwhile, for those with nonstop energy, there's bicycle tours, horseback riding, hiking and tubing experiences downstream. If it's quirky experiences you're looking for, you can even learn beekeeping and how to milk cows!
Malecón del Salado and Monumental de Aguas Danzantes
This charming promenade stretches a little under 400 meters in length, either side of a pedestrian bridge. The surrounding area consists of gardens, viewing points, and dining venues.
The centerpiece of this spot is the Monumental de Aguas Danzantes ("Monumental Fountain of Dancing Waters"). This expansive and modern pool is famous for exciting nighttime shows, in which the water, lights and music combine to create a spectacle for everyone to enjoy.
Moorish Tower / Torre Morisca
Sometimes referred to more simply as the "clock tower", the Torre Morisca can be found on the Malecón 2000. It is among the most iconic buildings in Guayaquil and is supremely popular with photographers, locals and tourists alike. The structure is approximately 30m in height. Its four, eight-sided floors are imposing and beautiful, topped off by a stunning dome.
As well as being appealing to the eye, this imposing tower is also an important historical relic dating back to 1930. On the top floor it exhibits an antique clock, brought from London by a former Governor of Guayaquil in 1842. This clock has a storied history and, before landing at this tower, was kept at other sites including the old colonial town hall.
Balcon Mirador Cerro Paraiso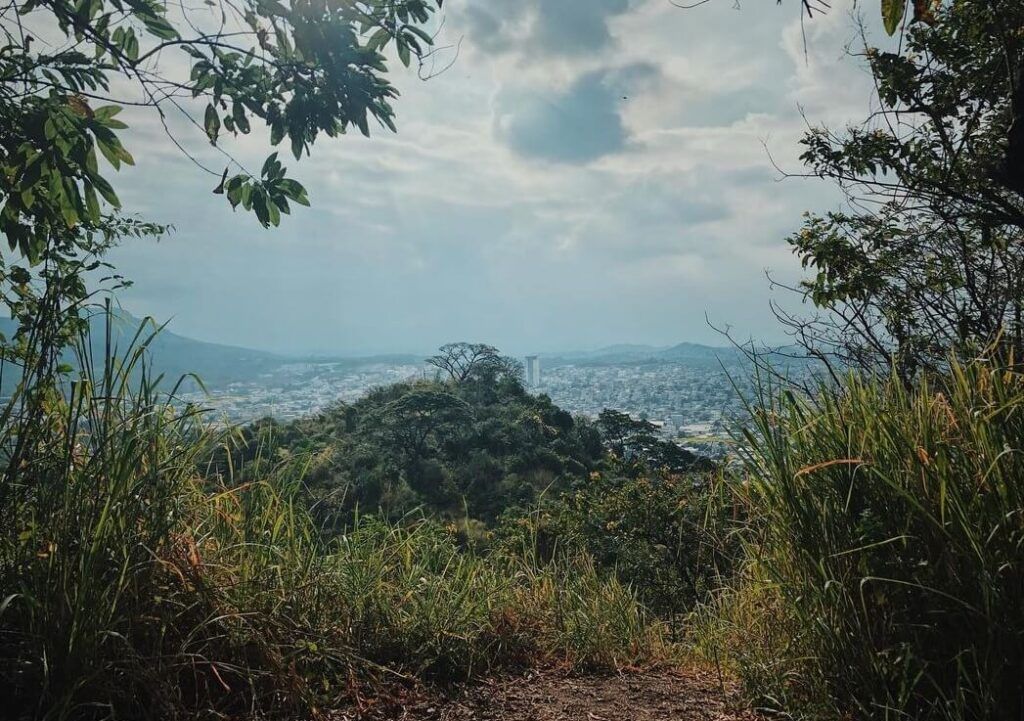 If you're put off by the throngs of tourists and locals at the aforementioned Santa Ana Hill, then this little-known viewpoint offers amazing views of Guayaquil. Although more of a journey to reach, the reward is a stunning vantage point over downtown, the commercial district, the Guayas River, and numerous colorful residential neighborhoods. There is a convenience store nearby too so you can refresh yourself for the journey back to town.
Santay Island (Isla Santay)
Isla Santay is a natural haven and one of the most fascinating sites in Guayaquil. Despite being so close to the hectic city, it benefits from its seclusion as an island within the Guayas River. Therefore, despite being located just 800 meters from downtown, it is a hot spot for thriving flora and fauna. It can be accessed by bridge (on foot or bicycle) or via a boat.
It is a protected reserve featuring forest and mangrove, with animals that include reptiles such as iguanas and mammals such as raccoons and bats.
Historical Park (Parque Histórico)
The Historical Park of Guayaquil is a mixed use park opened around the turn of the new millenium and spanning approximately eight hectares. Located on the banks of the Daule River, it guides visitors through the wildlife of the region, as well as through the architectural and cultural heritage of the city.
The "wildlife zone" is a habitat for a number of different native species of coastal Ecuador (including birds, reptiles, and mammals). The "traditions zone" showcases aspects of rural life of the old Guayaquil with the help of restored 19th century buildings. This zone also offers insight into the agricultural history of Ecuador and its laborers.
Finally, the "urban-architectural zone" is dedicated to a deeper exploration of the region's cultural and social heritage. It features restored buildings including a period bank and hospital. It is also home to a tram.
Numa Pompilio Llona
This historic street, named after a highly-regarded Guayaquileño poet, begins at the north end of the boardwalk (Malecon 2000). It is situated near to the stairs that take travelers up the famous hill of Cerro Santa Ana. The narrow and winding street has its history charted by numerous plaques attached to the walls of some of its houses. Most interesting perhaps is the colonial wooden architecture, which has aged elegantly, albeit with the need for regular new coatings of paint.
Plaza Lagos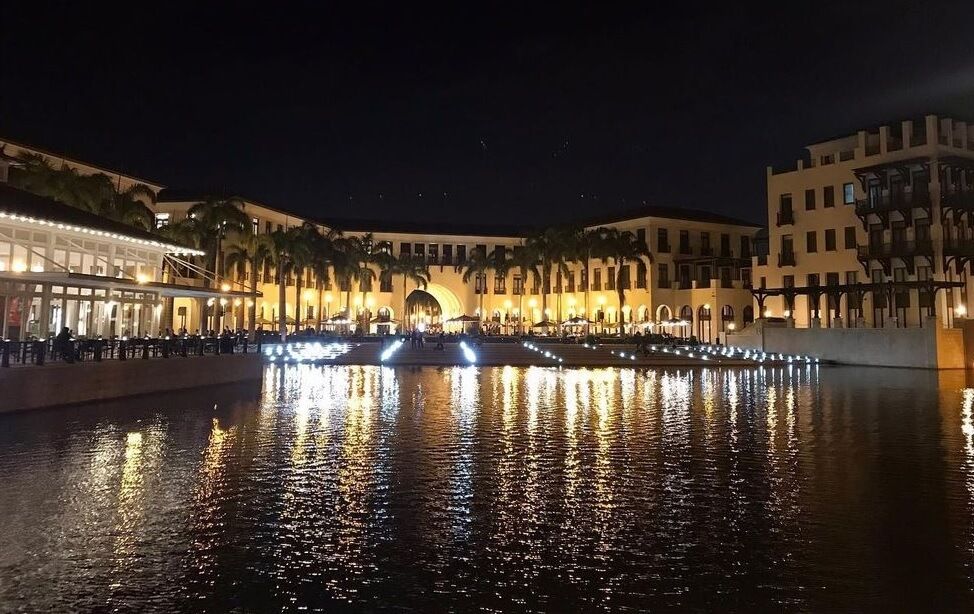 Plaza Lagos is arguably one of Guayaquil's fanciest locales in which to be seen. Its charming waterfront is lined with palm trees and tasteful lighting, making it perfect for a meal or drinks. The tastefully designed complex of restaurants, boutiques, wine bars and cafes is perfect for a date amidst the fountains. With its colonial-inspired architecture and breezy setting, it draws parallels with coastal Spain or Malta.
Worth A Mention…
Museums
Guayaquil's impressive range of historical museums and art museums deserve a mention at the very least. Although they are great in number, the most important among them are concentrated in the city center. In particular, consider planning a visit to the Contemporary Art Museum, which runs the gamut from pre-Columbian archaeological collections all the way through to modern art. Also impressive is the Nahim Isaiah Museum (dedicated to colonial art) and the Municipal Museum (with various historical exhibits).
Seminary Park (Parque Seminario)
Referred to by many as "Iguana Park", Parque Seminario is a beautiful urban oasis with restful gardens, gazebos and statues. Many visitors enjoy the spectacle of watching exotic iguanas casually go about their day!
Landmarks include an impressive monument in honor of Simón Bolívar, and outbuilding structures designed in Mozarabic style. Conveniently, the Cathedral of Guayaquil is located right beside this park, an imposing neo-Gothic style building dating back to the 1930s.