11 Best Award-Winning Hotels in Beautiful Baños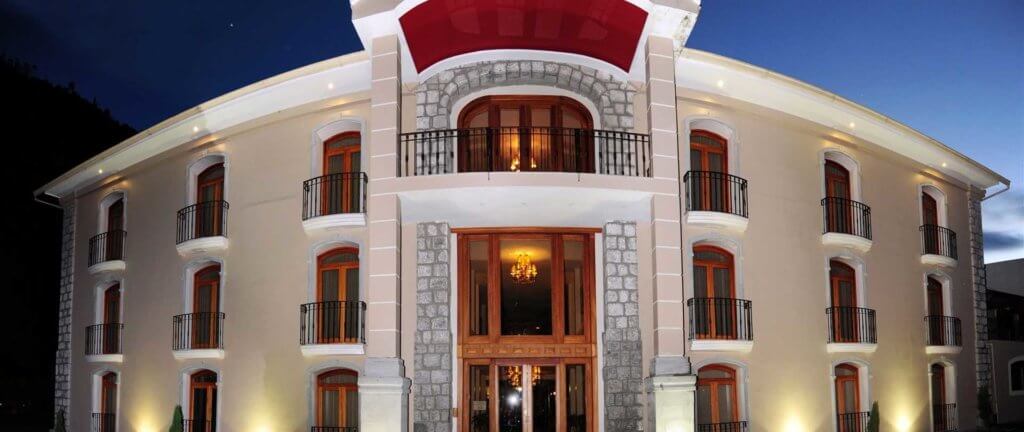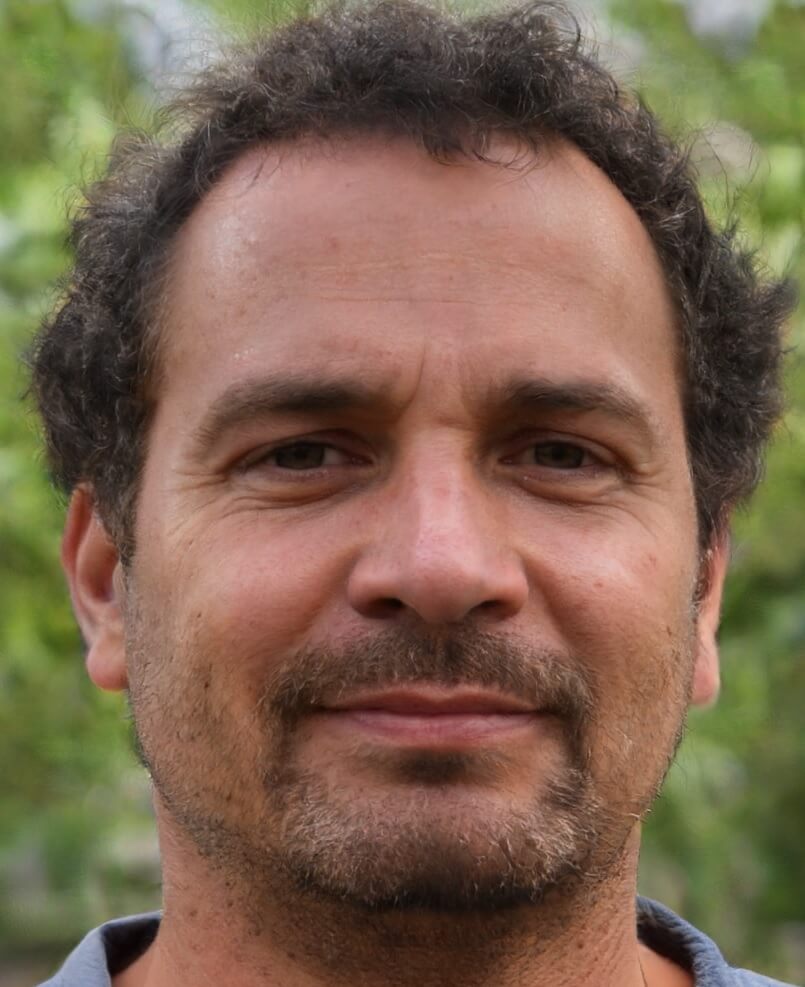 Paolo is a native of Baños de Agua Santa, a city in Ecuador's incredible interior. Although to many this city represents the heart of a hidden gem, to Paolo it is a lifelong home and labor of love. He shares his insight as a travel guide with a particular emphasis on the extraordinary nature and outdoor activities that attract visitors to the region.
Baños is a beautiful city in Ecuador's interior, famed for its natural hot springs and its proximity to some of the country's finest natural landmarks. Sangay National Park offers breathtaking scenery and is ideal for hiking or more high-octane activities like canyoning and climbing. The nearby Tungurahua Volcano is a beautiful and extraordinary feature of the Baños skyline.
Booking.com
is the only official place to find special, limited-time offers. Rooms bookout fast so don't hang around! Although this
link
guarantees the best rate on your room, we highly recommend early booking to avoid disappointment later.
But that's not all. The lagoons and waterfalls here are some of the finest in South America. They are a magnet attracting both domestic and international tourists to appreciate their stunning form.
11 Best Accommodation Options in Baños
Without further ado, let's get straight down to what are the finest hotels, hostels, and guesthouses in Baños, Ecuador.
Best location: Monte Selva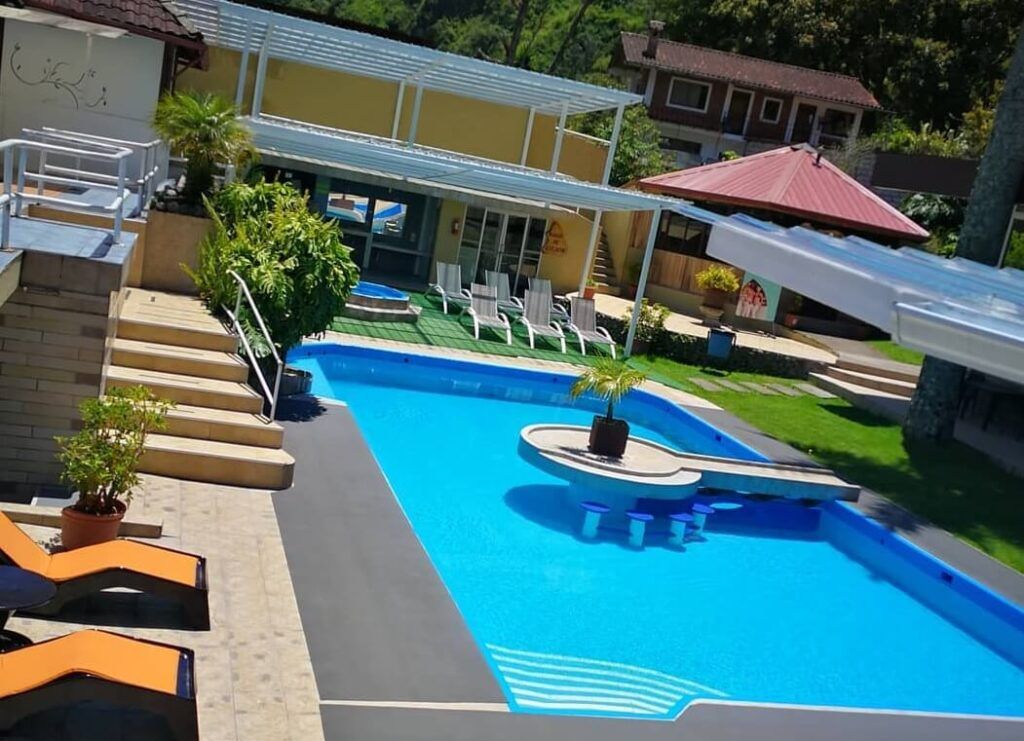 Address: Thomas Halflants s/n, Baños de Agua Santa 180301, Ecuador
Monte Selva has a great location within the city of Baños. Particularly impressive is the fact that the hotel manages to combine a quiet and relaxing atmosphere while still being only 400m (5-minute walk) from the central landmark of Palomino Flores (Central Park). The reason for this is that Monte Selva is situated down a quiet cul-de-sac with very little through-flow of either pedestrians or traffic. This sets it apart from many other city center hotels that are surrounded by noise and activity. This refined establishment marries a paradise-like vibe with the convenience of access to the best sights of the city itself.
Pros
Peaceful and relaxing but also close to the city center
Pleasant pool
Great staff who are willing to help with tour planning
Good breakfast
Cons
Relatively pricey in comparison to budget options
Somewhat average rooms
Rates
Rooms start at $80 per night. Find the best possible rate on Booking.com.
Also good for: people seeking a family-friendly hotel with helpful staff and close proximity to the city center.
Best for luxury: Sangay Spa Hotel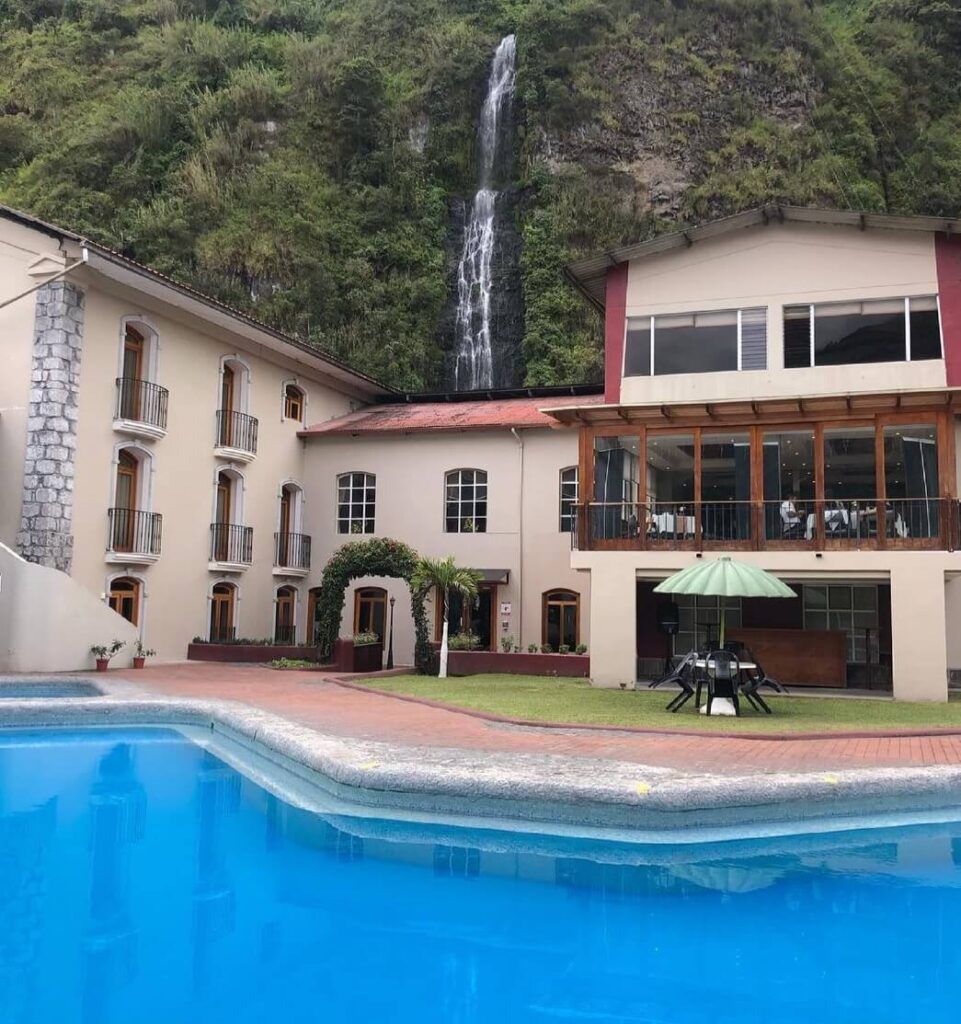 Address: Plazoleta Isidro Ayora 100 Baños de Agua Santa, 180301, Ecuador
Sangay Spa Hotel isn't the most expensive hotel in the city of Baños but it does offer the best bang for your buck in terms of value for money. It has a truly unrivaled list of amenities: fantastic heated pool, games room, tennis courts, hot tub, good breakfast, spa, salon, concierge, 24-hour desk, meeting rooms, table tennis, squash, sauna, fitness center, walk-in shower, flatscreen TV, and safe. If you feel exhausted reading this list — rest assured, there are many more perks I didn't mention! As if that wasn't enough, you can enjoy beautiful mountain views from many rooms in the hotel.
Pros
Excellent value for money
Superb range of facilities
Friendly 24-hour desk willing to help out with anything
Cons
Again, somewhat more expensive than other hotels and hostels in Baños
Can be noisier than other hotels
Rates
Rooms start at $70 per night. Find the best possible rate on Booking.com.
Also good for: sports lovers and families
Best on a budget: Athene Moon Hostal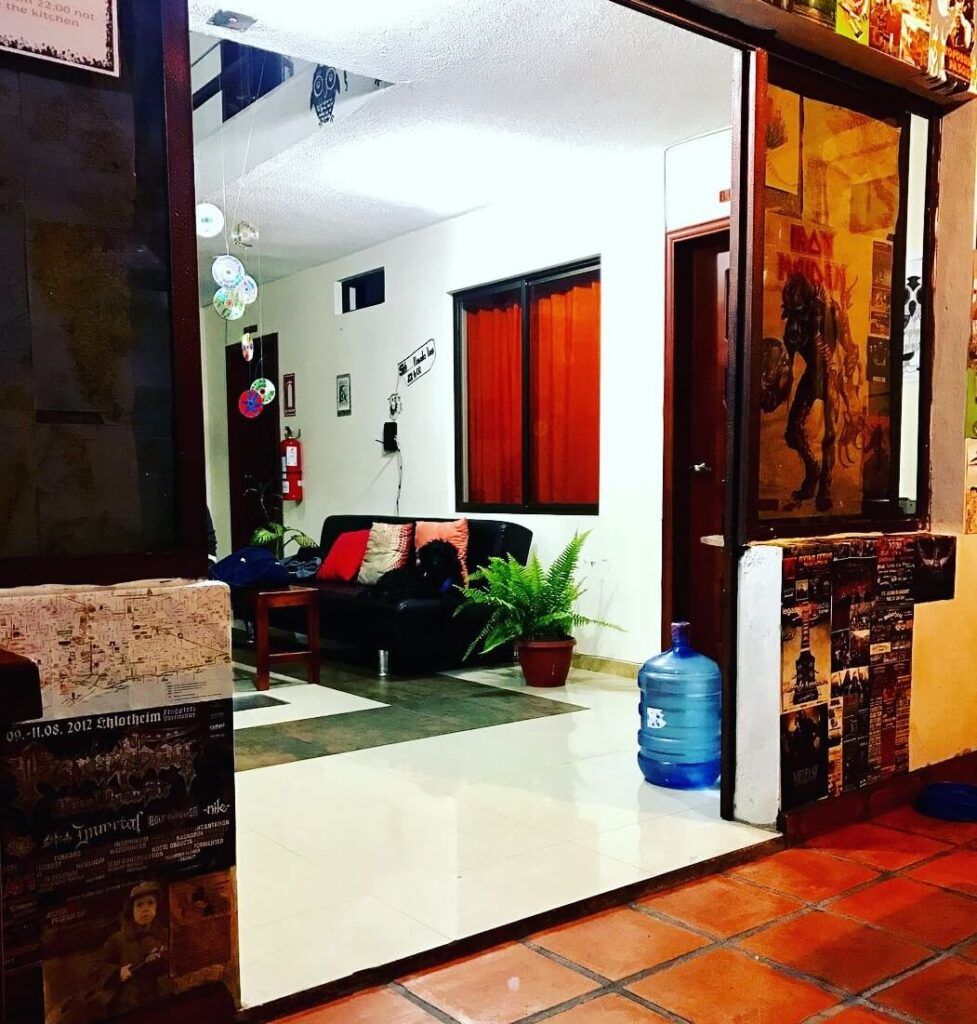 Address: Luis A. Martínez, y, Baños Luis A. Martínez, y, Baños de Agua Santa, Ecuadorde Agua Santa, Ecuador
This hostel is a Baños institution and an awesome place to hang out, make acquaintances, and save an awful lot of money in the process! The staff are extremely welcoming and eager to help out all tourists with planning excursions. For your money you'll also have access to a small kitchen facility to whip up meals of your own. Although this hostel is very inexpensive, it meets all the basic requirements for a great stay: friendly vibe, clean rooms, and great staff.
Pros
Extremely affordable
Very friendly atmosphere
Free wifi
Allows pets
Cons
Not to overstate the obvious but this hostel is super affordable, so, while it is cosy and comfortable, it isn't full of additional perks
Rates
Rooms start at $15 per night. Find the best possible rate on Booking.com.
Also good for: backpackers, young people, solo travelers
Best for young travelers: Hostal Princesa Maria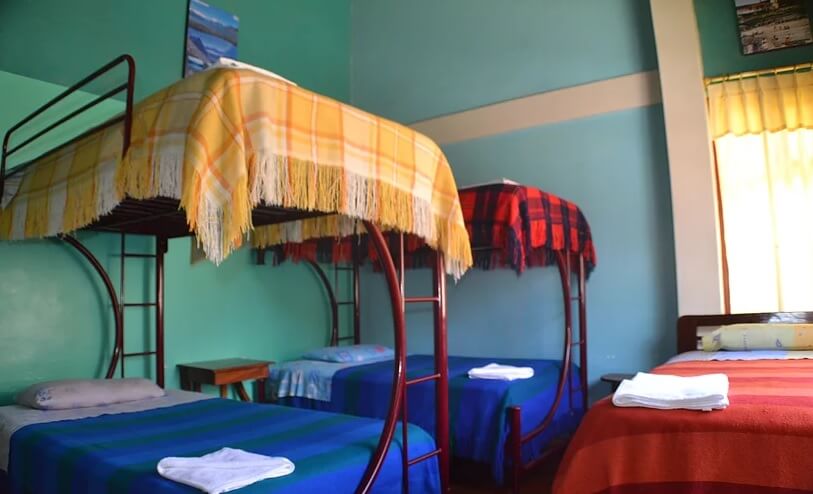 Address: Vicente Rocafuerte, Baños de Agua Santa, Ecuador
This hostel is situated on the corner of a city center block just a couple of hundred meters from the Central Park of Baños. Across the street is one of the city's best grocery stores — perfect for preparing your own meals in the shared kitchen. There is also free wifi and a lounge/common room, which is especially good for meeting like-minded folks on their own travel adventures. The rooms are basic but pleasant. They are very clean and fairly spacious considering the low prices.
Pros
Family-owned and run establishment with a very friendly and helpful atmosphere
Great for meeting new people
Very affordable prices
Cons
No parking
Very basic facilities
Rates
Rooms start at $20 per night. Find the best possible rate on Booking.com.
Also good for:  as with Athene Moon — backpackers, solo travelers, and budget-concious people
Best for pampering: Samari Spa Resort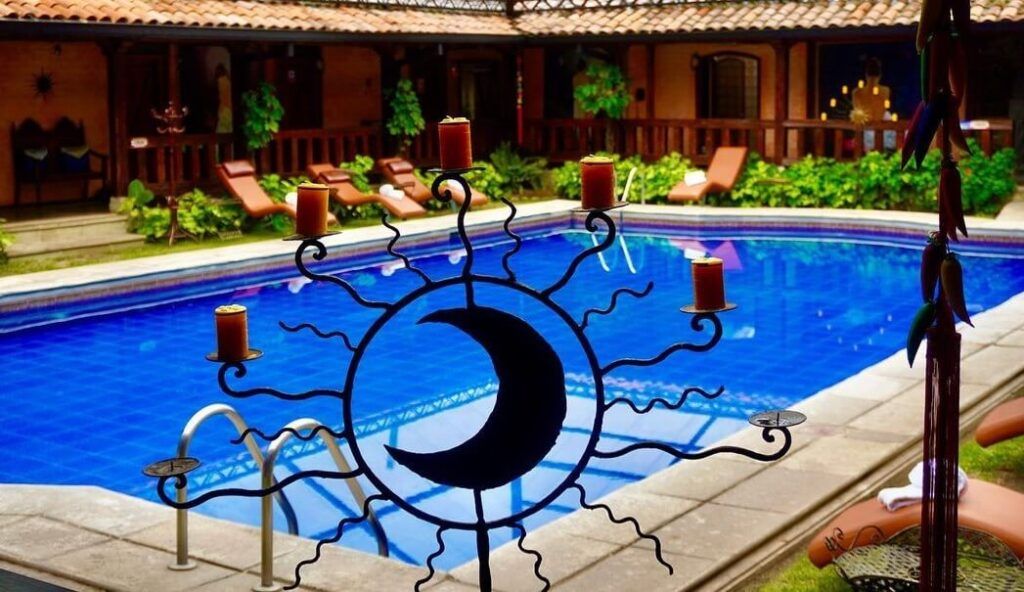 Address: E30, Baños de Agua Santa 180250, Ecuador
This luxurious establishment is situated in a relatively secluded location approximately one mile away from the hustle and bustle of the city center. Rather than being a drawback, this in fact contributes serendipitously to an atmosphere best described as tranquil and restorative. The building itself is quite simply beautiful — rustic stone walls and cobbled driveways lead you into a retreat with quite simply beautiful facilties. The pool is wonderful and the rooms themselves have an intentionally homey vibe. The resort is not lacking in amenities either, with sauna, spa, and massage services. You'll also find a nice bar and restaurant with a splendid free breakfast included.
Pros
Secluded and peaceful atmosphere
Great facilities
Beautiful building and rustic stone rooms create an inimitable experience
Cons
One of the more expensive hotels in Baños
Arguably a positive, but for some, the location outside the city may be a drawback
Rates
Rooms start at $180 per night. Find the best possible rate on Booking.com.
Also good for: honeymooners and couples seeking a romantic retreat
Best for activities: Sangay Spa Hotel

At the risk of sounding repetitive, Sangay Spa Hotel is again the top choice in this category. Its facilities are great for staying active and they offer families a great way to run off their children's energy! Bicycle rental, a sizeable heated pool, pool tables, table tennis, squash, gym, and tennis are just a few of the options you'll have at your disposal. Of course, most visitors to Baños intend to spend most of their time exploring and taking in the lush scenery. However, it's undoubtedly nice to know that you have a lot of facilities to enjoy during your downtime.
Best for relaxation: Luna Volcán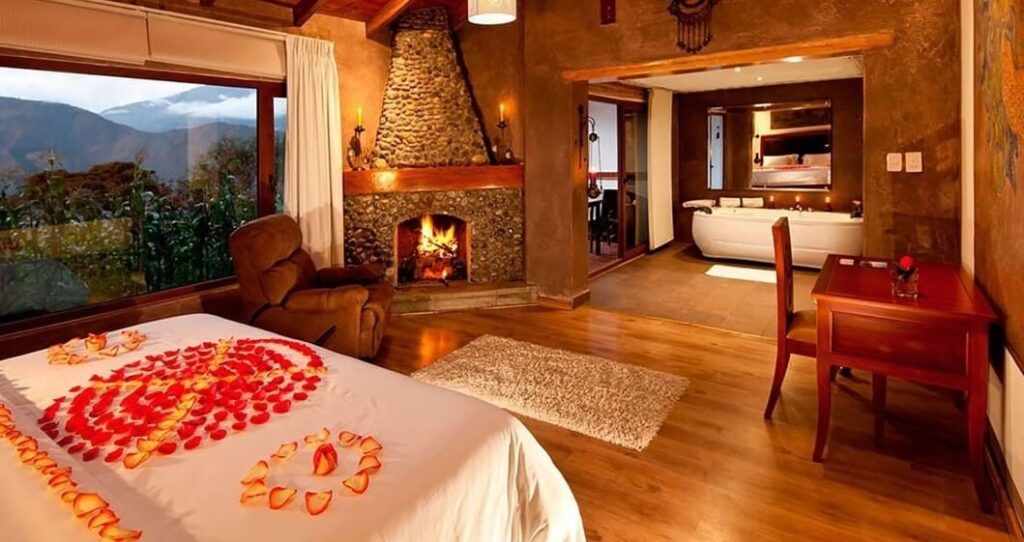 Address: Vía a Runtún Km 6, Baños de Agua Santa 180250, Ecuador
Luna Volcán is quite simply an exquisitely beautiful retreat designed with the guest in mind. Open-plan rooms sport comfortabe king-size beds and beautiful tubs. Stone fireplaces give off a delightfully rustic vibe and floor-to-ceiling windows ensure beautiful views. Naturally, this hotel is home to a fantastic spa and offers superb massages. The heated pool and hot tub are perfect for relaxation. The staff are eager to help arrange excursions including hikes and horseback rides. Keep in mind that this establishment is, by design, somewhat distanced from the bustling city center.
Pros
Incredible rooms and views
Helpful staff eager to help arrange activities and excursions
Wonderful spa and massage service
Cons
Naturally, this resort-style hotel is at the expensive end of Baños' accommodation options
The hotel is so pleasant that it might dissaude you from getting outside to explore!
Rates
Rooms start at $200 per night. Find the best possible rate on Booking.com.
Also good for: honeymooners and couples
Runners-up
Montano Camping & Hostel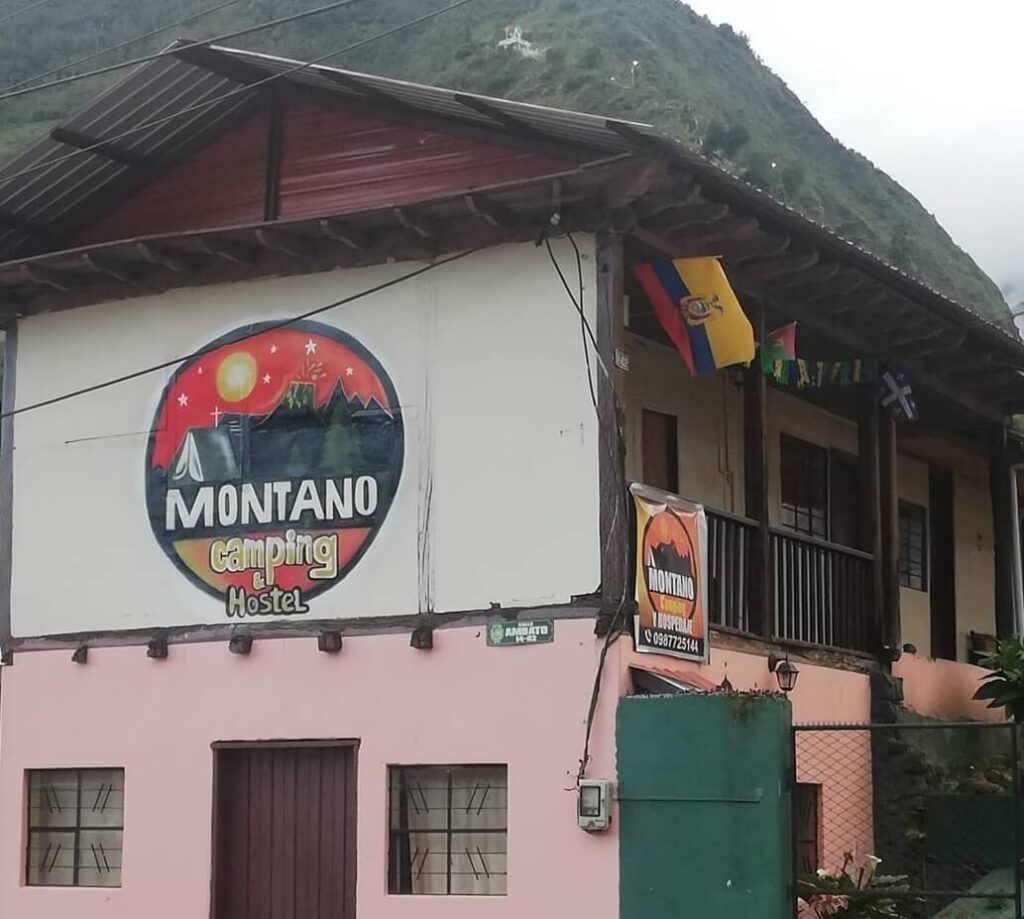 Address: Calle Ambato 1482 y, Av. Amazonas, Baños de Agua Santa, Ecuador
This establishment is a fantastic, affordable option on the western fringes of the city of Baños. It offers all the basics you'd expect, including free wifi and pleasant, clean rooms. Although it doesn't carry any pretenses, this hostel is nevertheless a simple and friendly spot to crash for the night after a day of exploring.
Pros
Very affordable
Pleasant atmosphere
Cons
Rooms are furnished in a rather dated fashion
Rates
Rooms start at $15 per night.
Also good for: intrepid backpackers, young travelers, budget concious individuals
Balcon del Cielo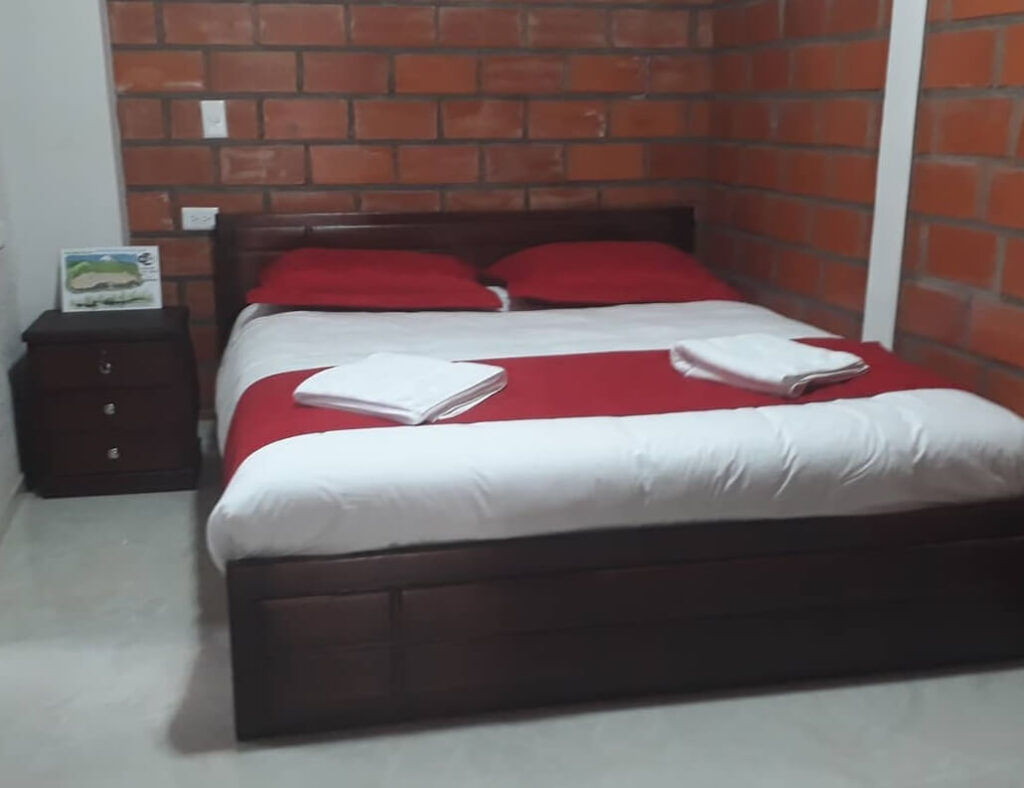 Address: situated just off the main road (Av. Amazonas) to the northern edge of the city
Your first impression from inspecting the above photograph is that Balcon del Cielo probably offers fairly spartan rooms with little in the way of flair or style. This characterization may be true but it's hard to argue that this establishment doesn't offer excellent value. Yes, it's unpretentious, but it's also friendly, comfortable, and clean. What more could you ask for at a rate this affordable?
Pros
Clean rooms with comfortable beds
Free breakfast, free wifi, and free parking
Friendly, helpful atmosphere and 24-hour reception
Cons
Situated just off a very busy road
Rates
Rooms start at $15 per night. Find the best possible rate on Booking.com.
Also good for: young travelers and backpackers
Hotel Casa Santa Lucía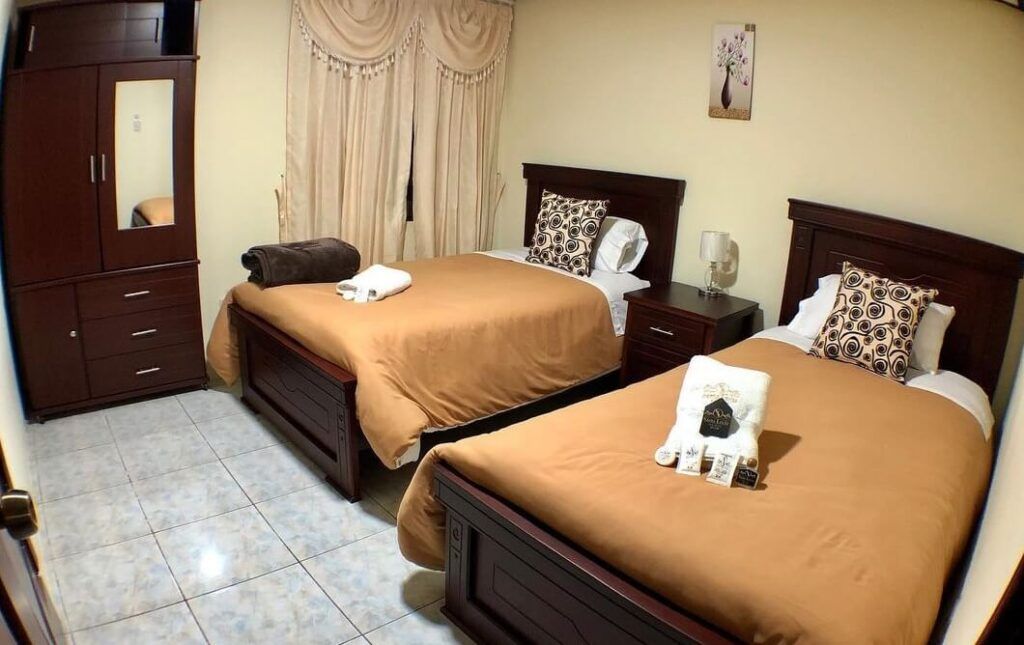 Address: Calle las Cantonizadoras, Baños de Agua Santa, Ecuador
Hotel Casa Santa Lucía fills a very important gap in Baños' accommodation sector. It is priced slightly higher than local hostels but remains extremely affordable. In return for that little extra investment you're treated to basic but thoroughly pleasant rooms and an additional suite of amenities: free parking and wifi, 24-hour desk, laundry service, airport shuttle, kitchenette, private balcony, and housekeeping. All in all, this represents tremendous value for money.
Pros
The staff are always willing to assist: late check-in, help with planning tours, and car rental are just a few of things they'll help with.
Very affordable and impressive amenities for such a budget choice.
Cons
The hotel is setback from the main road, which offers a little extra peace and quiet. However, it is right on the fringes of the city. This means a slightly longer walk into the center of town.
Rates
Rooms start at $25 per night. Find the best possible rate on Booking.com.
Also good for: people looking for an affordable hotel with a few more facilities than local hostels offer
Ecotourism Center Alpinar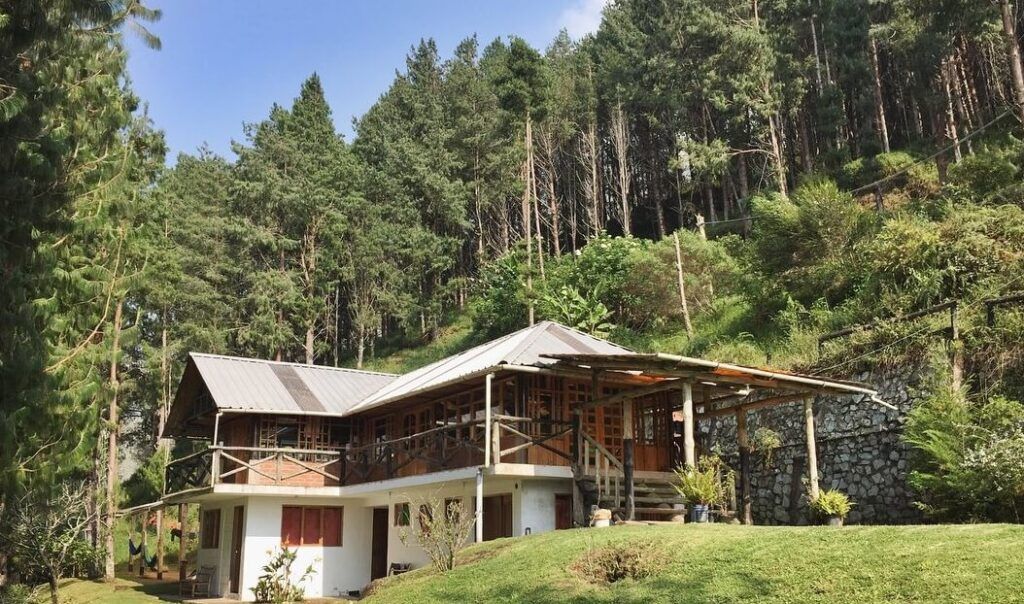 Address: Óscar Efrén Reyes, Baños de Agua Santa, Ecuador
This rustic spot is situated on hilly terrain way out to the north of the city center. Rather than being a drawback, this relative seclusion is perfect for travelers who are more interested in the attractions of nature rather than those of the city. Naturally, the staff here are more than willing to help out with hiking adventures. Although not for everyone, this "ecotourism" center offers something radically different to our other picks. It's basic but affordable and perfect as a base camp for adventures out into the wilderness.
Pros
Secluded, pretty and perfect for adventure
Very affordable
Splendid views
Cons
Relatively far to the north of the city
Basic rooms but good value for money
Rates
Rooms start at $15 per night. Find the best possible rate on Booking.com.
Also good for: the ecologically-minded and lovers of nature