Breathtaking Volcanoes of Ecuador (Sangay, Cotopaxi, Tunguahaua, El Altar, and more!)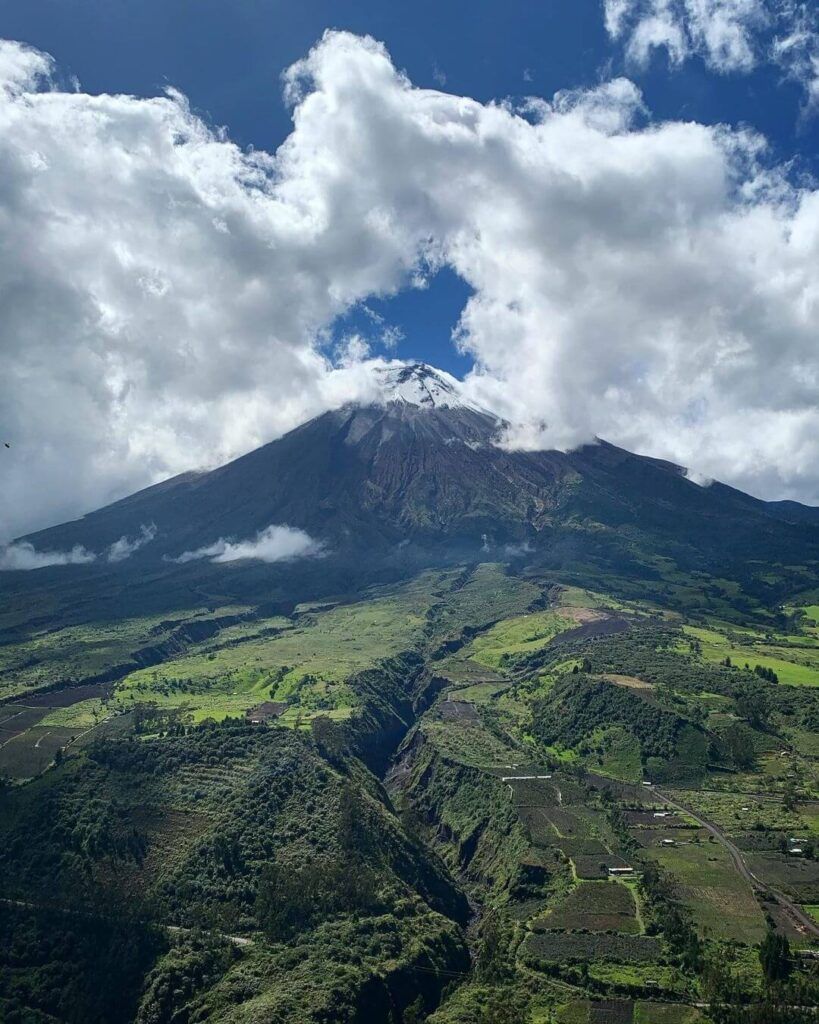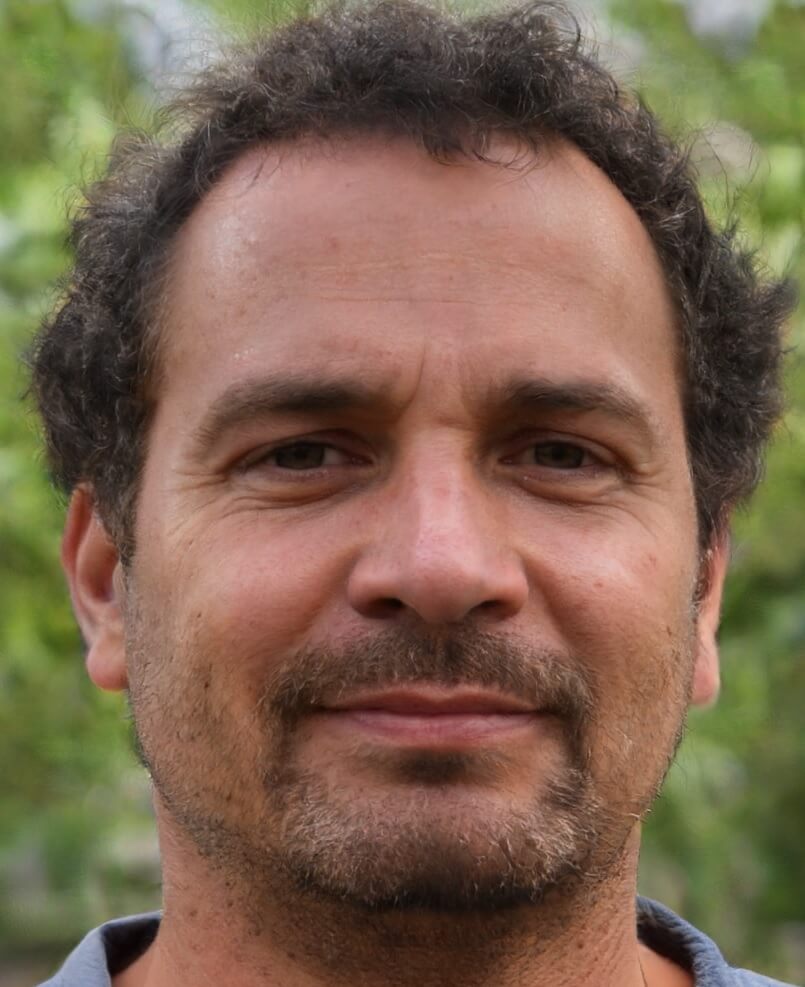 Paolo is a native of Baños de Agua Santa, a city in Ecuador's incredible interior. Although to many this city represents the heart of a hidden gem, to Paolo it is a lifelong home and labor of love. He shares his insight as a travel guide with a particular emphasis on the extraordinary nature and outdoor activities that attract visitors to the region.
I'll keep this introduction concise because I know most of you (our valued readers) are eager to begin exploring the volcanoes. Each of these epic natural landmarks speaks for itself. There is little hope for even the most creative of writers to do justice to the awe-inspiring might and scale of Ecuador's finest monuments, carved from mother nature herself.
Booking.com
is the only official place to find special, limited-time offers. Rooms bookout fast so don't hang around! Although this
link
guarantees the best rate on your room, we highly recommend early booking to avoid disappointment later.
So, without further ado, let's take a look at the best natural wonders of the underappreciated but beautiful nation of Ecuador.
Volcanoes
Volcán Sangay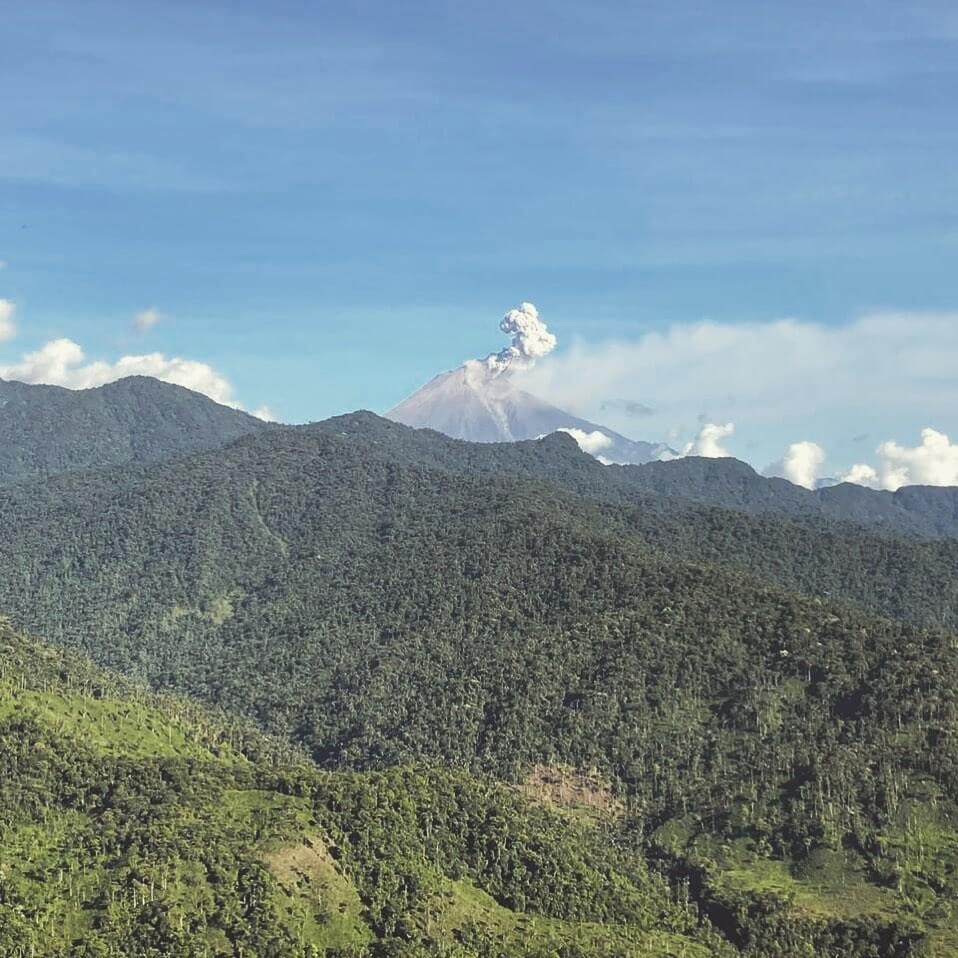 Remarkably, the Sangay volcano is regarded as one of the most active volcanoes anywhere in the world. This volcano's unforgettable figure is distinctive for its symmetrical cone and its unforgiving, steep flanks. Although it provides the backdrop for stunning photography during the day, it has also become hugely popular with nighttime photographers who seek to catch a glimpse of red hot lava contrasted against the dark, star-lit sky.
Hiking this particular volcano is particularly well-suited to the intrepid and adventurous at heart. The steep gradient makes climbing the slopes toward the summit particularly difficult. It goes without saying that hiking an active volcano carries its own set of unique risks too! The crater expels stones regularly and these can prove to be more of a hazard than conventional fears. Always consult with an experienced guide and take regular breaks to soak up the truly stunning scenery all around.
Read this: Sangay National Park and its namesake volcano are both stunningly beautiful. Get more in-depth information from our dedicated travel guide.
Volcán Tunguahaua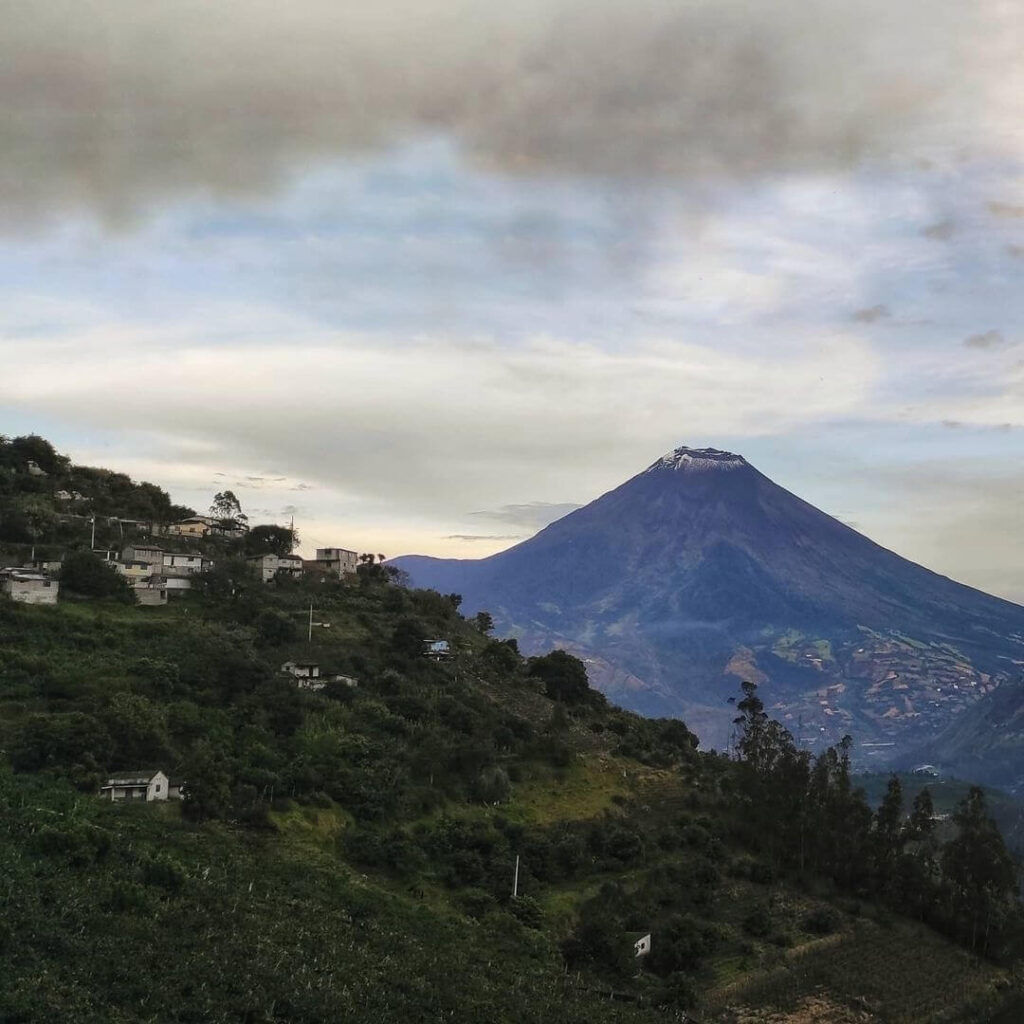 The Tungurahua Volcano is another sublime and active volcano offering tremendous views and thrilling adventures. There are two primary means of accessing the Tungurahua Volcano on foot. The first option is from Ponda, a small town close to Baños. Expect to hike a significant distance in order to reach the base of the volcano alone. However, this hike shouldn't be seen as a chore — it's possible to observe incredible biodiversity in the surrounding forestry.
A further option exists for hiking around Tungurahua Volcano but it is best suited to the more experienced walker. Your journey will commence from Puebla, where a reasonably well-maintained road leads to Palitahua. From here, you will start your journey on a trail with two distinct accesses: one path delivers you to the hot springs of Palitahua, and the second path will take you to the southwestern flanks of the volcano.
Recommended Tour Guide: Ascent to Tungurahua Volcano by Ñato Guía de las Cumbres. Why? This experienced team of bilingual mountaineers offer excellent guidance and local expertise — all at an affordable price. We have had the pleasure to meet them and work with them in the past. See on Viator.
Cotopaxi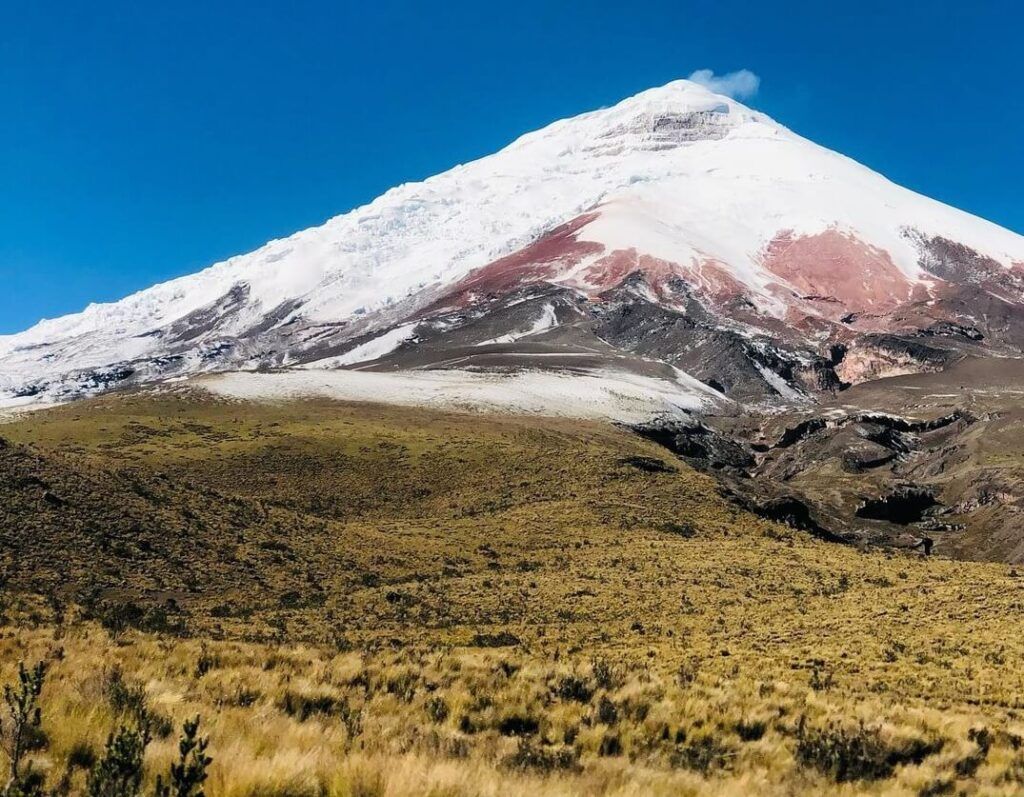 A lot of visitors to Ecuador report that their hiking adventure through Cotopaxi as among the most memorable of all activities. It's notable for offering incredible views on all sides — jagged, colorful, unforgiving, but extraordinary.
The volcano itself soars to over 6000m high. Experienced mountaineers will frequently set out to reach the crater itself, but this carries its own set of challenges and hazards. Casual hikers will find a single-day guided tour perfectly satisfactory. Fortunately, with the right acclimatization and one small step at a time, even non-hikers are typically able to reach the glacier at just over 5000m.
It perhaps goes without saying that the optimal weather for this hike is clear, blue skies. High visibility makes for better views and photographs, but the hike is still thoroughly enjoyable on overcast days.
Read this: explore Cotopaxi with the help of our detailed travel guide dedicated to this volcano alone!
Volcán El Altar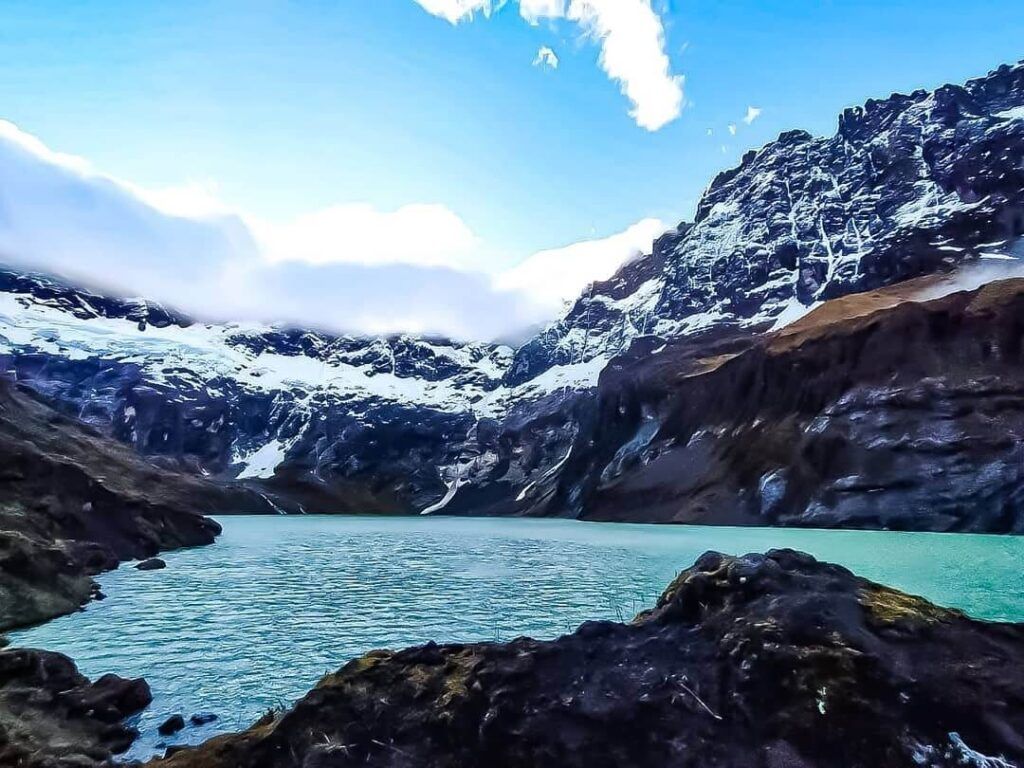 You might be reassured to hear that unlike some of its siblings, El Altar Volcano is extinct! That doesn't prevent it from offering beautiful views from a variety of thrilling trails. The crater of El Altar is home to the Yellow Lagoon, a glacial lake. In the native language, the alternative name of El Altar (Cupac Urcu) translates to "sublime" mountain, and we'd be hard-pushed to disagree with that characterization.
Starting from the Collanes Valley, you can enjoy a spectacular view of the volcano while also soaking up some of the best sights Sangay National Park has to offer. Local guides bring visitors via the town of Penipe, along the Baños Riobamba road. From here, you will reach the Hacienda Reyleche, where you can find a good range of lodging and food options.
After some much-needed rest, you will undertake a 5-hour hike that will take you deep into the Collanes Valley. Pushing on somewhat further you can reach the volcano itself and observe the Yellow Lagoon. To say this area of natural beauty is a perfect photo spot would be an understatement!
Recommended Tour Guide: Trekking the Avenue of Volcanoes by Adventure Journeys. Why? The team at Adventure Journeys is incredibly experienced and offers unparalleled insight into the area. They specialize in longer tours (the 8-day trek commencing in Quito and taking you across Sangay and El Altar is incredible. Whatsmore, it is priced affordably at around $1,200, including all accommodation, food, transport, activities, and a great deal more. See on Viator.
Honorable Mentions
El Reventador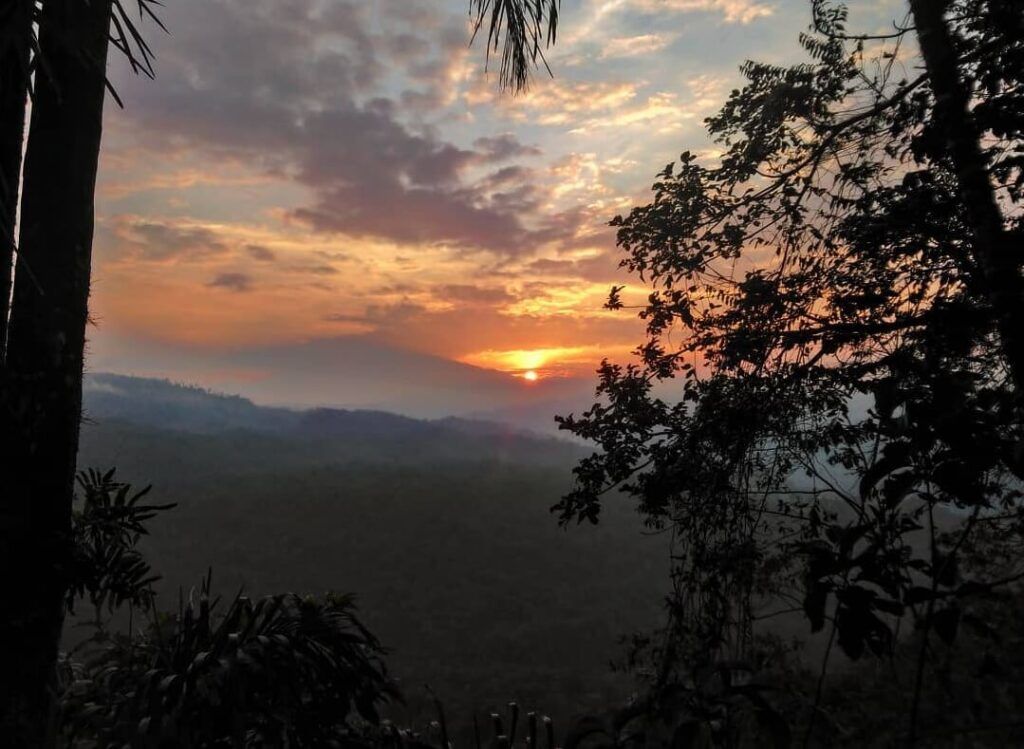 El Reventador, an active volcano, can take between three and five days to traverse. Volcanic activity sometimes prevents climbers from easily taking up the challenge of this epic climb. Consult a tour guide and check local conditions before traveling!
El Pichincha
Rising over the west side of Quito, the Pichincha volcano has a wide base and not one but two principal peaks: the slightly lower, serene-looking Rucu Pichincha (approx. 4700m) is located just across the hills, looming over the new city. Meanwhile, the Guagua Pichincha (approx. 4800m) lies 10km west of the city center and is very active. Around the turn of the millennium, it erupted in spectacular fashion, coating Quito in dust in the process!
The capital city Quito is located in the foothills of this volcano, giving it a special place in Ecuadorian folklore. In addition to the noteworthy peaks, the gardens of Chuquiragua are also worth viewing. Pushing on to the summit of Cruz de los Caminantes gives a unique vantage point from which to admire the unique landscape below.
As always, tour guides are imperative for any satisfactory journey. Some access routes have developed a reputation from crime (Cruz Loma and La Loma de las Antenas). An experienced local is a vital asset in ensuring your trip is both safe and enjoyable.
Nearby, you'll find the Guagua Pichincha volcano, which is best reached from the village of Lloa, southwest of Quito. Look out for a signposted dirt road that leads to a refuge just below the summit (about 6 hours on foot). The shelter is basic and you'll need to bring your own food and sleeping bag if you spend the night, during which it can be very cold. On the plus side, it makes for a thrilling adventure and costs only $5 at the time of writing.
Most climbing operators in Quito offer the ascent to Guagua Pichincha Volcano as a day trip, including transportation in a 4x4 to or near the refuge.
El Cayambe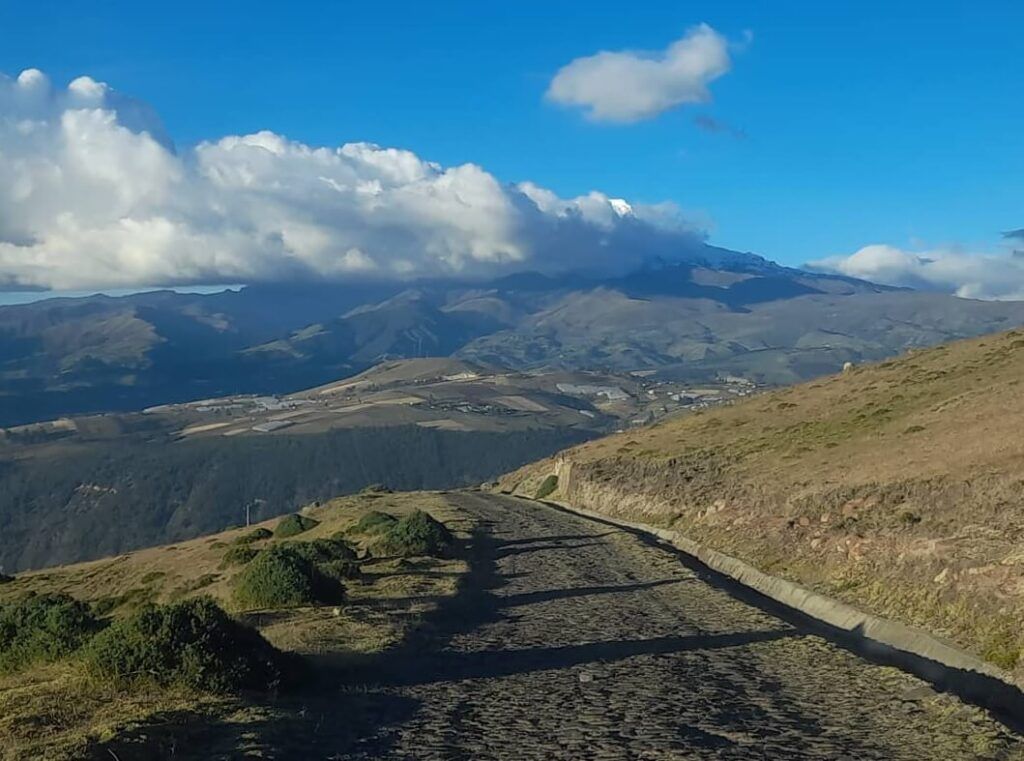 The Cayambe volcano is also known as the colossus of Pichincha and sits 5,800 meters above sea level. Remarkably, the summit of the Cayambe Volcano is the third highest point in Ecuador.
Before embarking on the trip you should keep in mind that sudden rainfall or snowfall can complicate the journey.
The first leg of a typical tour takes around 1-2 hours, leading to a shelter. From this point, you can take a one-hour walk to get to the snowy highlands. It is advisable to tackle this hike with the accompaniment of a local guide.
Those looking to reach the summit should be warned that the departure time for the ascent is typically midnight or very early morning. This further necessitates the presence of an experienced guide.
Recommended Tour Guide: Rebecca Adventure Travel offers the best Cayambe day tour from Quito of any of the many providers our team has tested.
El Chimborazo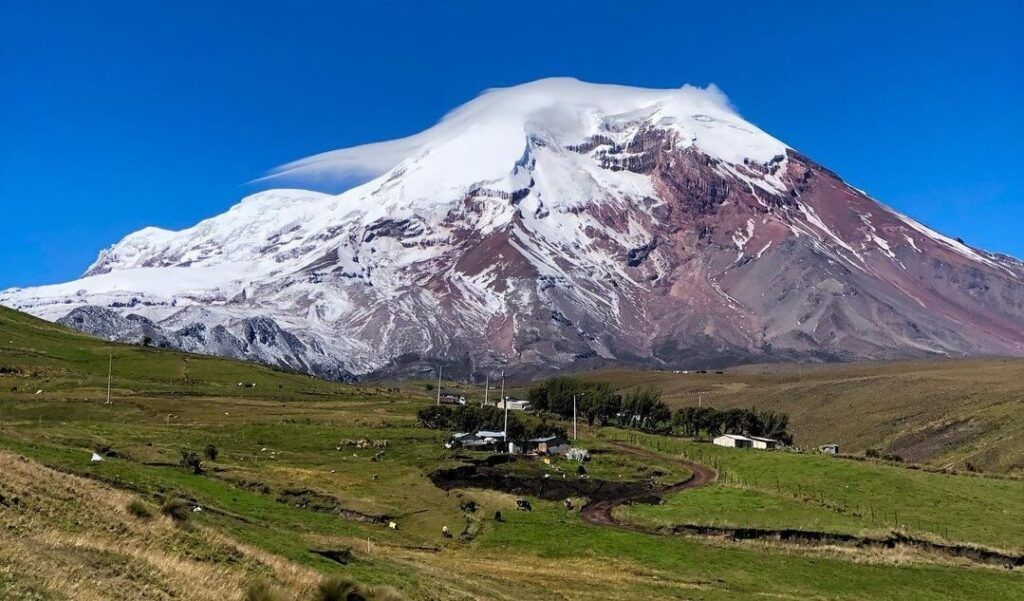 The Chimborazo, with its imposing 20,000+ ft high peak, boasts a range of diverse scenery, differing drastically depending on which face of the volcano you look out from. The Amazon rainforest never fails to stun! Keep in mind that Chimborazo is the highest peak in Ecuador and the seventeenth highest in the world. A curiosity about the Chimborazo is that its summit is the farthest point on the earth's surface with respect to the center of the planet. If you're wondering how — the answer is that the Earth's "bulge" pushes Chimborazo further from the planet's core.
By extension, Chimborazo is also the closest of any point on Earth to the stars in the night sky!
Don't take the challenge of ascending this peak lightly: the climb is hard and requires hiking over ice and snow. Travelers can reach Chimborazo from Riobamba, which is about five hours from Quito. Tour guides are essential.
Parts of the climb are significantly steep and the round trip is typically around eleven hours. It is a viable challenge for adventurers with a reasonable degree of experience and fitness. One option for reaching the area is to hop on a bus south of Quito and then get off to connect to Aloasi. You can then take a bus to Aloasi train station, which is the starting point of the trek.
In the foothills of the Chimborazo volcano, located in Riobamba, there are plenty of adrenaline-inducing activities to get the pulse racing. If extreme sports aren't your thing then camping, bird-watching and sightseeing are all on offer. Over one hundred climbing routes are installed on the angular slopes of the volcano. To take advantage of this, it's necessary to travel along the road to Guaranda from Riobamba. The site of the routes is located at 4,000 meters above sea level, in the south-western part of the volcano. The climbing route is open to mountaineers of varying skill levels. Different routes have different levels of steepness and difficulty.
Here you'll also find parking lots, restaurants, and camping sites with basic amenities. Admission is currently free.
Recommended Tour Guide: the three-day bike and hike tour organized by the team at Biking Dutchman is by far the best and most immersive tour for fully appreciating everything Chimborazo and the broader area has to offer.
El Quilotoa
The crater of the Quilotoa volcano is stunning — 3km in diameter and occupied by a lagoon of the most beautiful blue and green hues. A high vantage point on the volcano can offer impressive views of the area.
For your ascent you'll typically want to reach the town of Zumbahua, from which you can access Quilotoa by bus, traveling the winding roads of the Andes, through the route known by locals as the "Summit".
Read this: explore El Quilotoa in much greater depth with our dedicated Quilotoa travel guide.
Final words
I sincerely hope you enjoyed reading this guide to Ecuador's finest volcanoes and I hope that my passion for this country's landscape and ecosystems shone through. Share this post with friends and check back often for frequent updates.