11+ Exhilarating Things To Do In Baños, Ecuador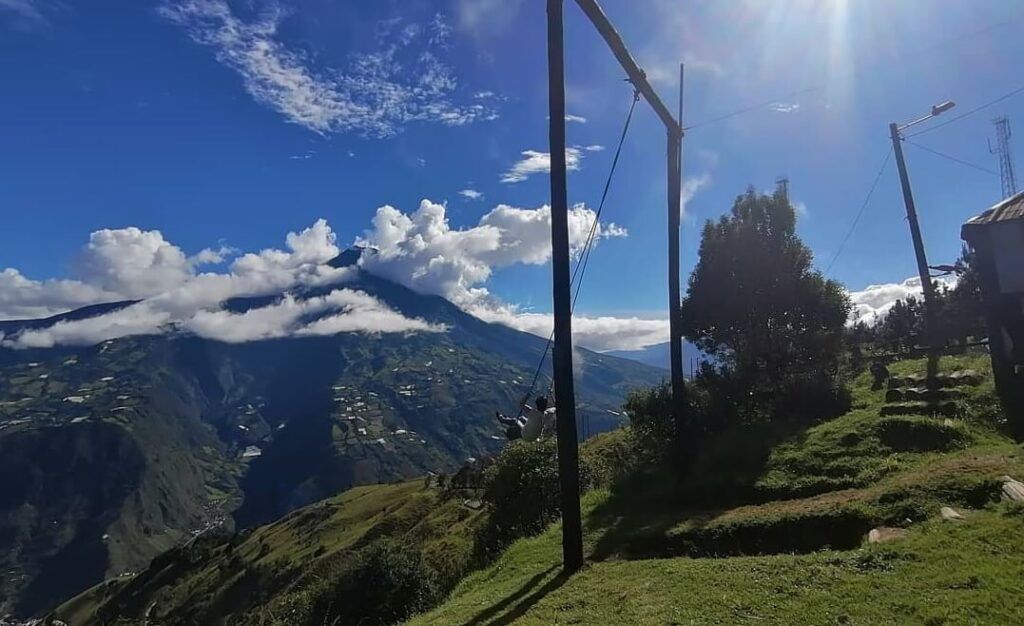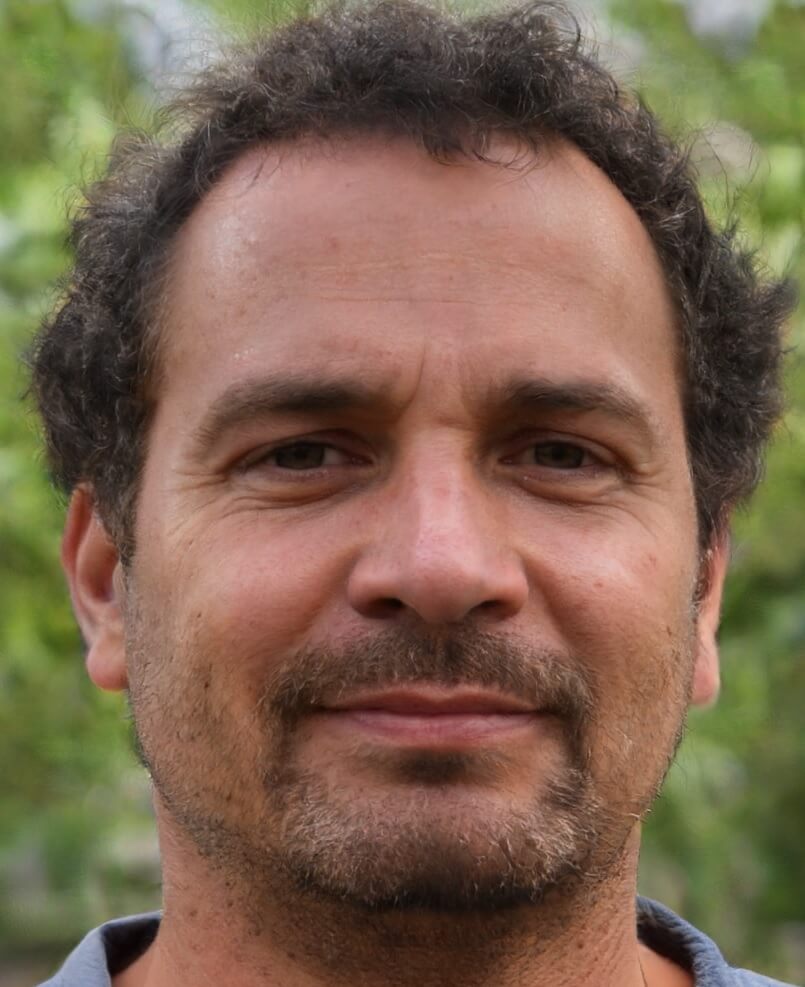 Paolo is a native of Baños de Agua Santa, a city in Ecuador's incredible interior. Although to many this city represents the heart of a hidden gem, to Paolo it is a lifelong home and labor of love. He shares his insight as a travel guide with a particular emphasis on the extraordinary nature and outdoor activities that attract visitors to the region.
Baños meets every definition of under-appreciated natural beauty. While famous within Ecuador, relatively few outsiders have enjoyed the privilege of visiting, exploring the surrounding jungle and experiencing the awe-inspiring Tungurahua Volcano.
Booking.com
is the only official place to find special, limited-time offers. Rooms bookout fast so don't hang around! Although this
link
guarantees the best rate on your room, we highly recommend early booking to avoid disappointment later.
This is a quirky and fascinating place — not for everyone, but richly rewarding to those with an intrepid streak and a love for the simultaneously soothing and exciting outdoors.
The range of activities on offer are broad and varied. Adrenaline junkies can bask in thrilling activities and sports while the more tranquil at heart can enjoy relaxing hot springs and scenic trails.
A few facts to get things started — Baños (the prettiest town near to Sangay National Park) sits at an altitude of approximately 1,800m and can be both humid and hot. After all, while in the city, you stand at the precipice of a wild jungle. Sangay National Park, of course, boasts extraordinary beauty. UNESCO calls attention to its possession of an "entire spectrum of ecosystems."
Most stunning, perhaps, is that this national park seemingly has it all: active volcanoes, glaciers, tropical rainforest, unique indigenous species, and more. It is a place with its own brand of charm and tends to attract only the adventurous at heart.
No introduction to Baños would be complete without a cursory mention of those famous thermal pools (Baños, after all, means simply "baths"). These natural springs have been used by locals for millennia who swear by the health benefits of soaking. Whether these legends are true or not, it cannot be denied that basking in a natural hot spring is restorative for the soul, if nothing else.
I have split this travel guide into two main sections. The goal is to first cover higher-octane activities and sports for those inclined. After that, we'll touch on gentler itineraries that are possibly better suited to more relaxed visitors.
Exhilarating Activities & Sports
Baños is a destination like no other and a magnet for lovers of the great outdoors. High-octane activities include (but certainly aren't limited to) whitewater rafting, ziplining, canyoning, trekking, horseback riding, and biking. Experienced guides are luckily abundant (if you know where to look).
Canyoning & Bridge Jumping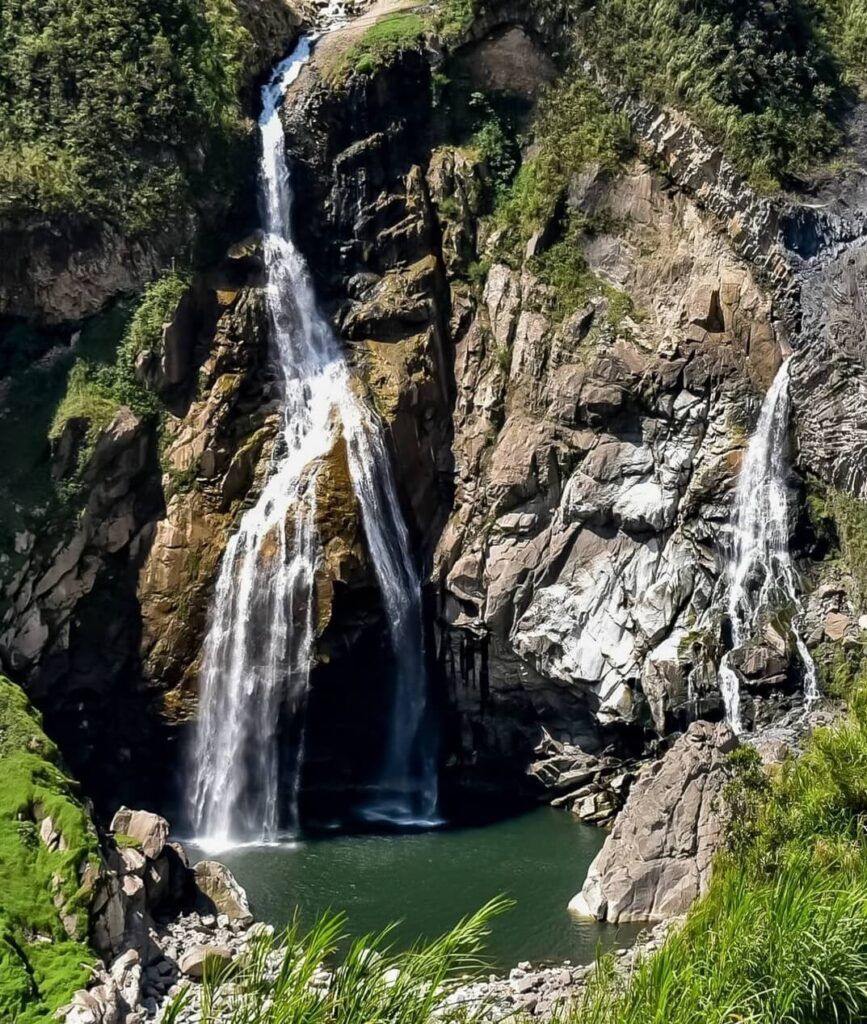 If you prefer to climb the waterfall instead of navigating the river at the foot of it, consider canyoning, an activity that has proven increasingly popular with visitors. Canyoning involves guided mountain hiking — you'll find yourself crossing rivers, taking on rappelling descents, and getting as close as is possible to the sheer waterfalls.
Around Baños, canyoning is possible over the Chamana, San Jorge, Río Blanco and Cashuano waterfalls. Half-day tours cost around $60. Although other established operators do exist, Imagine Ecuador and Geotours are perhaps the most respected and experienced at leading these expeditions.
Bridge Jumping is another outdoor activity offered in the area. A rope is fixed to one end of a bridge and trimmed to the bridge harness, unlike bungee jumping, you will get a pendulum roll when the rope is tightened. These jumps are usually offered at $10 or $15 and are available at a few different spots.
Firstly, there is the San Francisco bridge by the bus terminal. In addition, it is typically available from the bridge that crosses the Rio Blanco (along the road to the city of Puyo), albeit with different platform heights. This all depends on how daring you wish to be. During the week you should organize the jumps through local operators. On weekends and holidays, you can go directly to the bridge.
Our Top Pick: Five-Hour Expedition with Imagine Ecuador. See on Viator. Why is this our recommendation? We've tried and tested dozens of local operators over the years and don't provide recommendations without an excellent track record. Imagine Ecuador's guides are bilingual and experienced. Equipment is provided. The exhilarating tour contains a practice session followed by waterfall canyoning, rappelling, and jumping. A great lunch is included to wrap things up.
For a first-hand account of how exhilarating (and scary) bridge jumping in Baños can be, see Nerd Travels, or check out the video below.
Climbing, Hiking and Trekking
The forests, mountains, volcanoes and national parks around Baños offer opportunities for all kinds of diverse hiking, climbing and trekking trips. Hiking to Bellavista, an iconic area with spectacular views, is a popular choice. For this, take the trail that begins at the southern end of Calle Maldonado. The blog Jessie on a Journey documents this particular hike.
Climbing the volcano is also an old and favorite pastime. However, climbing the Tungurahua Volcano is not always advisable, due to ongoing activity and the constant threat of eruption. This is a matter that should always be checked with experts on the ground when you arrive.
Many operators have limited their climbing trips to Tungurahua because of eruptions and the danger of mudflows. Nevertheless, the volcanoes El Altar and El Sangay can usually be climbed, with the assistance of an experienced local guide.
All-inclusive trips usually vary in duration from a couple of days up to a whole week and will cost around $100+ dollars per person per day. A minimum of two participants is usually required. Lower altitude hikes on the slopes of these volcanoes, as well as within Sangay and Llanganates National Parks, is more suitable for those looking for shorter, less tiring trips. Day trips with relaxed hiking start at roughly $40. Operators include Surtek who, although pricey, offer a great experience.
Our Top Pick: Experience Cascada el Pailon (del Diablo), La Casa del Arbol, and take in spectacular views of Tungurahua volcano on this six-hour hike. This guided trek is perhaps the best available in terms of value for money. It includes iconic destinations and a number of truly beautiful waterfalls. It is arranged by the bilingual team of Ivagatours. See on Viator.
Horseback Riding and Mountain Biking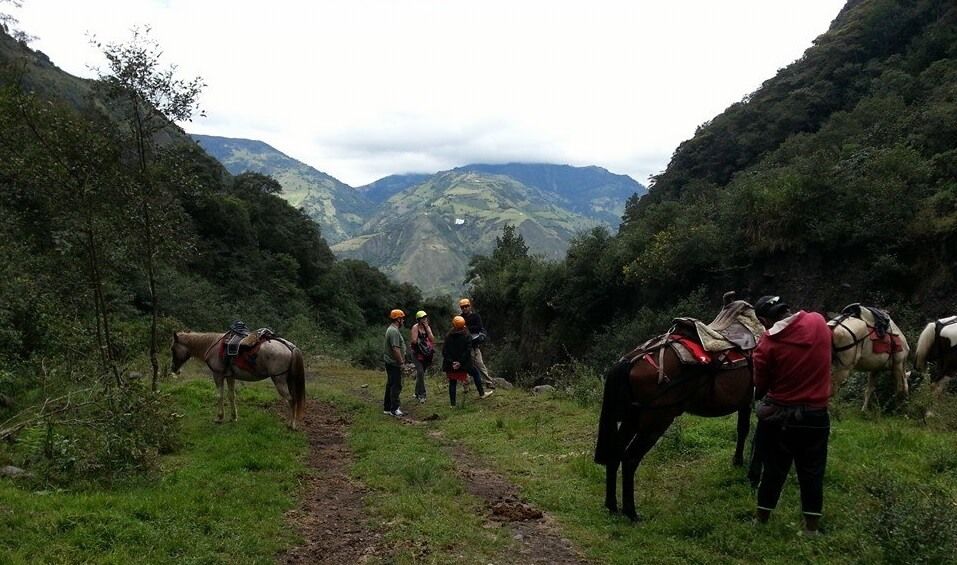 Local tour guides and the majority of hotels can help you organize horseback riding and mountain biking. These excursions take you right through the lush mountainous terrain of Baños. Prices range from $8 to $16 dollars per hour for a guided tour.
If you go mountain biking, a popular option is the so-called "Route of the Waterfalls", ending at El Pailón del Diablo, which is predominantly descending. With coordination in advance, your travel company will pick you up and your bikes at the end, so you can rest after the arduous ascent back to Baños (luckily, in a motor vehicle!).
Our Top Pick: Without a doubt, the small-group horseback riding experiences of Kajol Lavan Travel. Why? This vendor is tried and tested for our seal of approval. They offer excellent, small-group excursions with super experienced guides. The tours are appropriate for all experience levels. See on Viator.
Trips into the Amazon
Baños is often described as an ideal "base camp" or starting point for exploring Puyo and the nearby Amazon basin. Tour guides can take you deep into the heart of the jungle on excursions lasting from a single day up to multiple weeks.
June to September are typically the most popular months for jungle walks, so book in advance if possible. Come prepared in case you undertake longer trips. Make sure you have the proper clothing, waterproofing, insect repellent, sunscreen and you will be in for one of the most unique and memorable experiences in adventure travel.
Our Top Pick: Amazon Tour (Puyo In A Day) by Imagine Ecuador. Why? This tried-and-vetted, all-day trip offers a truly inimitable experience of Ecuador's own patch of the iconic Amazon rainforest. Bilingual guides will lead you on an 11-hour adventure into Puyo, with all essentials like equipment and lunch covered. Starting at just $80. See on Viator.
Whitewater Rafting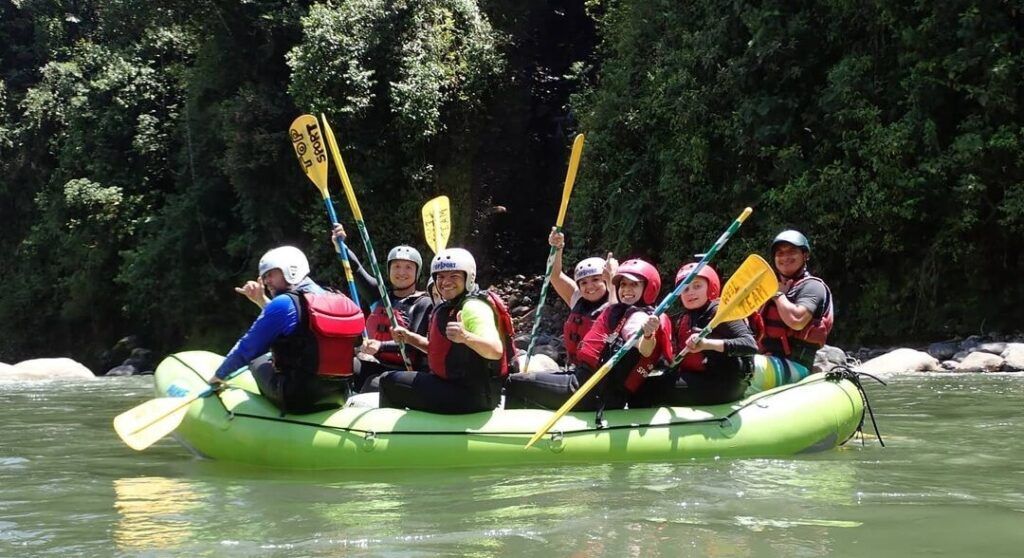 Most of the whitewater rafting trips offered outside of Baños are half-day excursions over the Pastaza River or Patate River. Prices run around $40 to $50 dollars per person. Don't fret too much about your experience — operators welcome people of all skill levels and provide equipment. Just remember, be honest and open about your level of experience and confidence!
Most of these trips spend about 2 hours on the river, covering class II to Class III waters. Some tour operators also offer full-day tours. If you have any experience, ask about the full-day tours in a class IV or V section of the Pastaza.
Our Top Pick: Whitewater Rafting by Imagine Ecuador. Why? Once again, the reason is relatively straightforward. The team here have vast amounts of experience navigating these rapids and offer bilingual guides. They also do a great job of equipping guests and making sure safety rules are carefully established. See on Viator.
Gentler Trips & Activities
It goes without saying that the Tungurahua volcano (also known as The Black Giant) is a magnet for many of the intrepid tourists that do make it this far into the interior of Ecuador. The iconic volcano is located on a plateau and is surrounded by mountains.
The volcano plays a key role in the culture and mystique of the city of Baños. Hot water generated by the volcano is even used by locals in daily life. Gentler activities we'll cover include straightforward hikes, popular hot springs, sightseeing, unforgettable historic murals, and more!
Hot Springs (Termas de la Virgen & El Placer)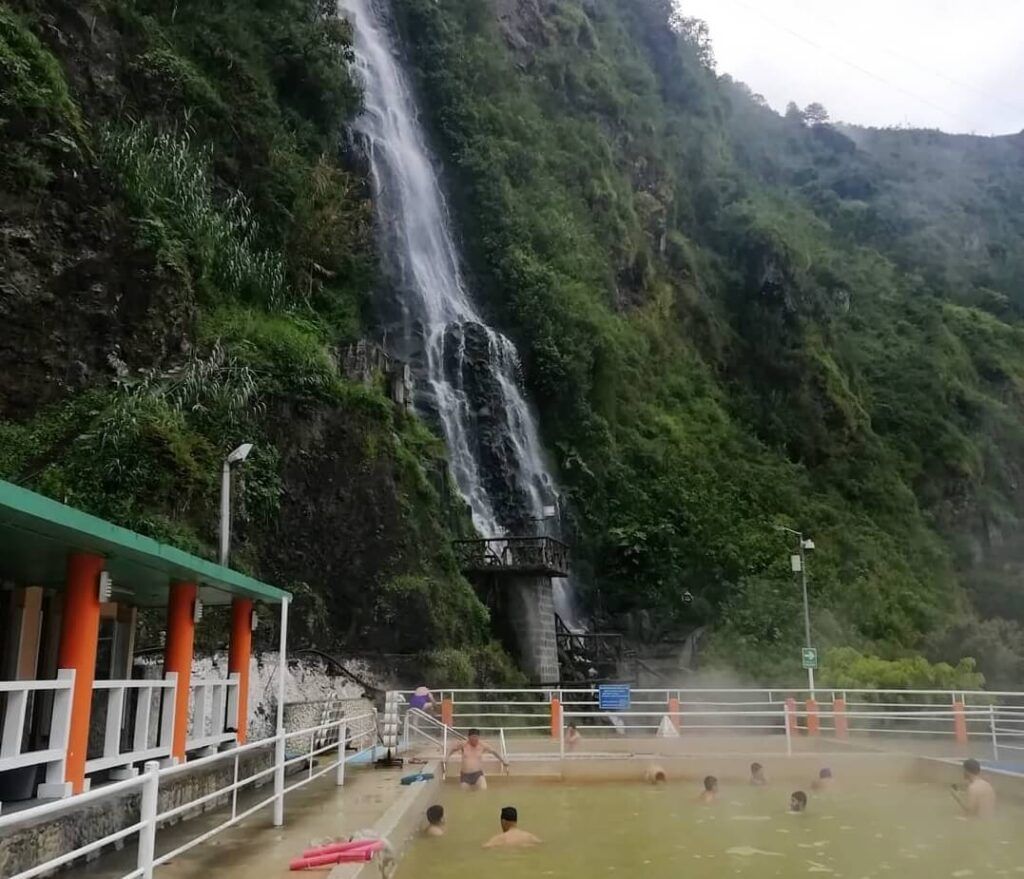 The Black Lagoon (Laguna Negra) and the Hot Springs of El Placer are exquisite and suitable for the whole family — rest assured, this recreational area has a high degree of accessibility. The standard access route is by vehicle from Alao. From here, search or follow signs for Cugnipaccha, where your adventure begins.
Once you park up, you will have to walk for about two hours to reach the Black Lagoon, and if you want to go to El Placer you will have to walk about three hours. Fortunately, this stroll is relatively gentle and slower-paced hikers are welcome. The reward awaiting you is the chance to revel in the typical Andean landscapes of Ecuador.
There is no real hotel or guesthouse near the hot springs, so this is a day trip rather than a destination in and of itself. In addition to the Laguna Negra you can access the lagoons of the Altar, but first, you will have to cross the mountain range and through a town known as Plazapamba. Consult your guide if this interests you.
Termas de la Virgen (Las Piscinas de la Virgen) is a truly iconic venue and is located within the city of Baños itself. These hot springs aren't to everyone's taste and can get crowded during peak hours. Nevertheless, a whistlestop visit at the very least ought to be on your itinerary, if only for the great views and bustling atmosphere.
Our Top Pick: Full Day Baths tour by Chebastour. Why? The team at Chebas is super experienced and carefully vetted. The tour is affordable and will give you a rush-free opportunity to enjoy the area's leading natural baths with snacks, transport, and hotel pickup provided. See on Viator.
Hiking Trail: La Cascada Cabellera de la Virgen & Cascada Manto de la Novia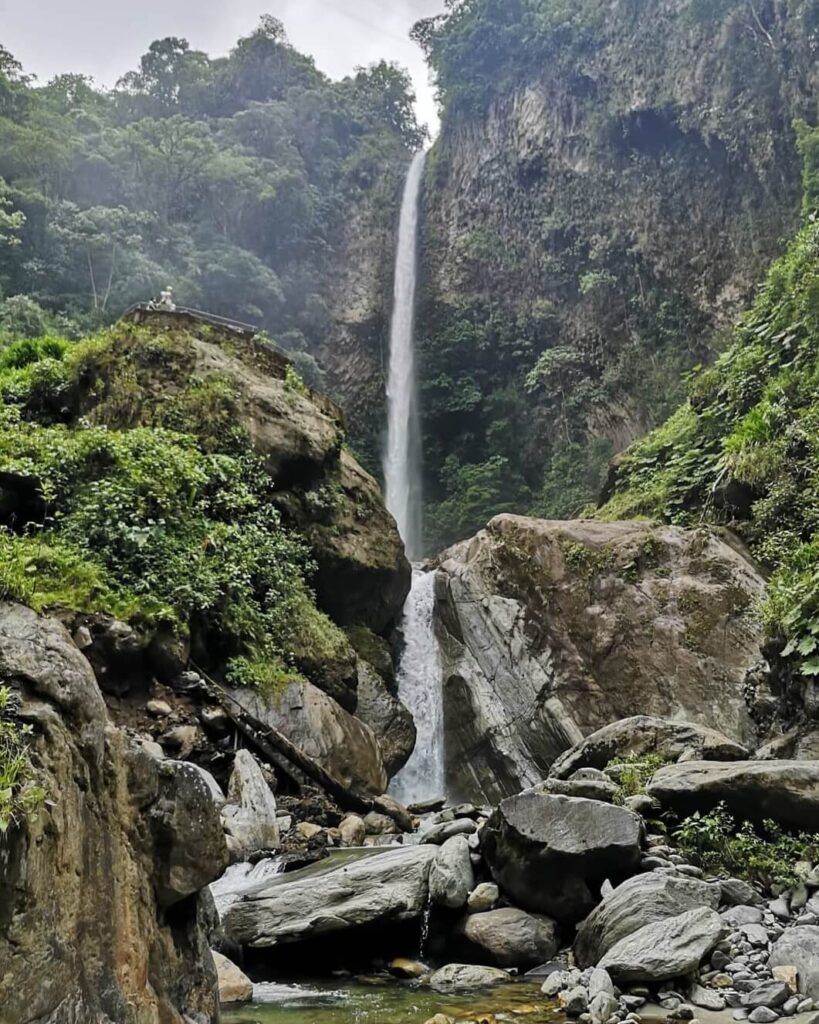 Pictured above is the truly splendid "Cascada Manto de la Novia." The waterfall is named for its supposed likeness to a bridal veil. Adventurers can rent mountain bikes to ride through the green valley and across the "Ruta de las Cascadas", or beyond and into the jungle gateway city of Puyo, 35 miles (56 kilometers) away, a springboard for Amazon enthusiasts. I understand this is a stretch too far for some but, worry not, motorcycles and off-road vehicles can also get you from A to B.
Remember, Baños is located on the outer edge of the Amazon basin, and the waters here feed into the Pastaza River. One splendid activity suitable for the whole family is a cable car ride taking you to and from the waterfall. This journey has the added benefit of awe-inspiring views of the surrounding landscape. Finally, we must mention the Pailón del Diablo waterfall, another iconic and steep natural feature of the region.
Below is a breathtaking image of the "Ruta de las Cascadas" (Baños to Puyo). The drawbridges, green pools, and sheer drops combine to offer a supreme experience of natural beauty.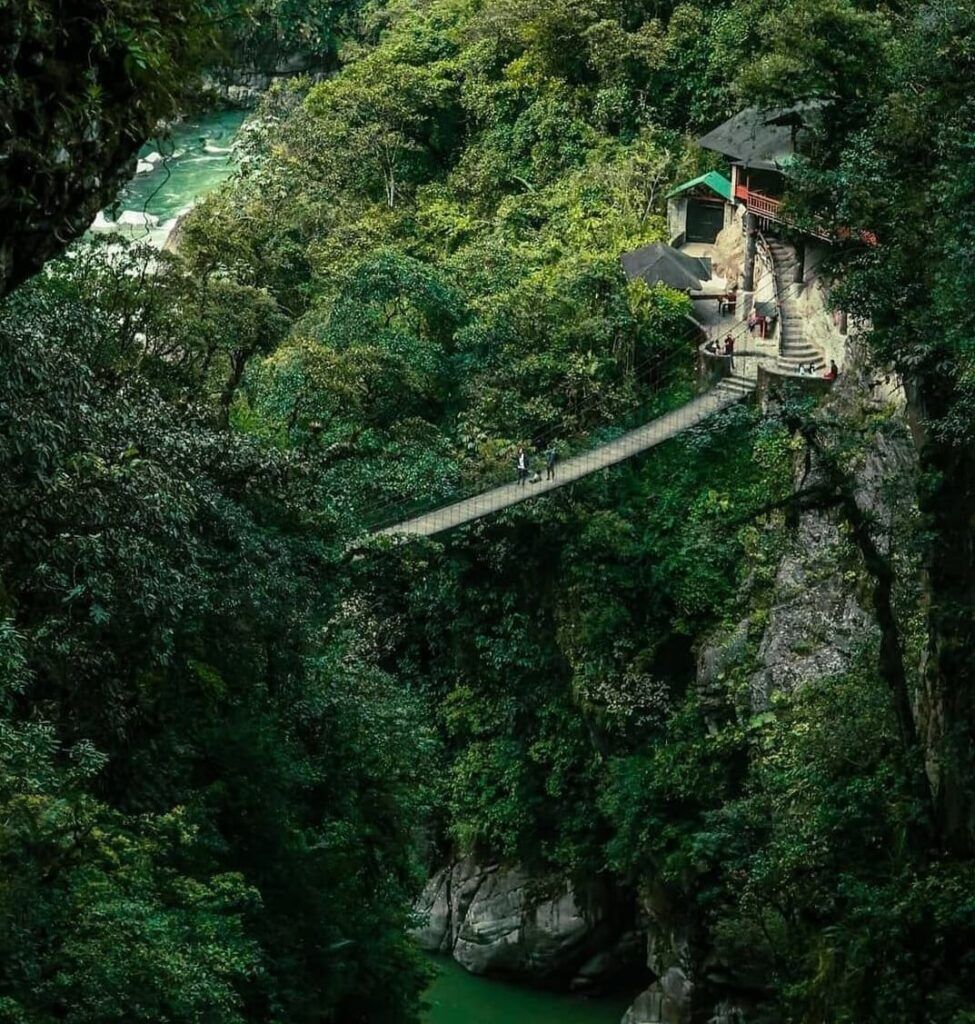 Our Top Pick: Three Activities tour including Manto de la Novia, Mirador de Bellavista (below), and Casa del Árbol (below). Why? Awesome value for money and a super unique way of experiencing the waterfall, via an aerial zipline. See on Viator.
Cruz de Bellavista: Stunning Hawk-eye Views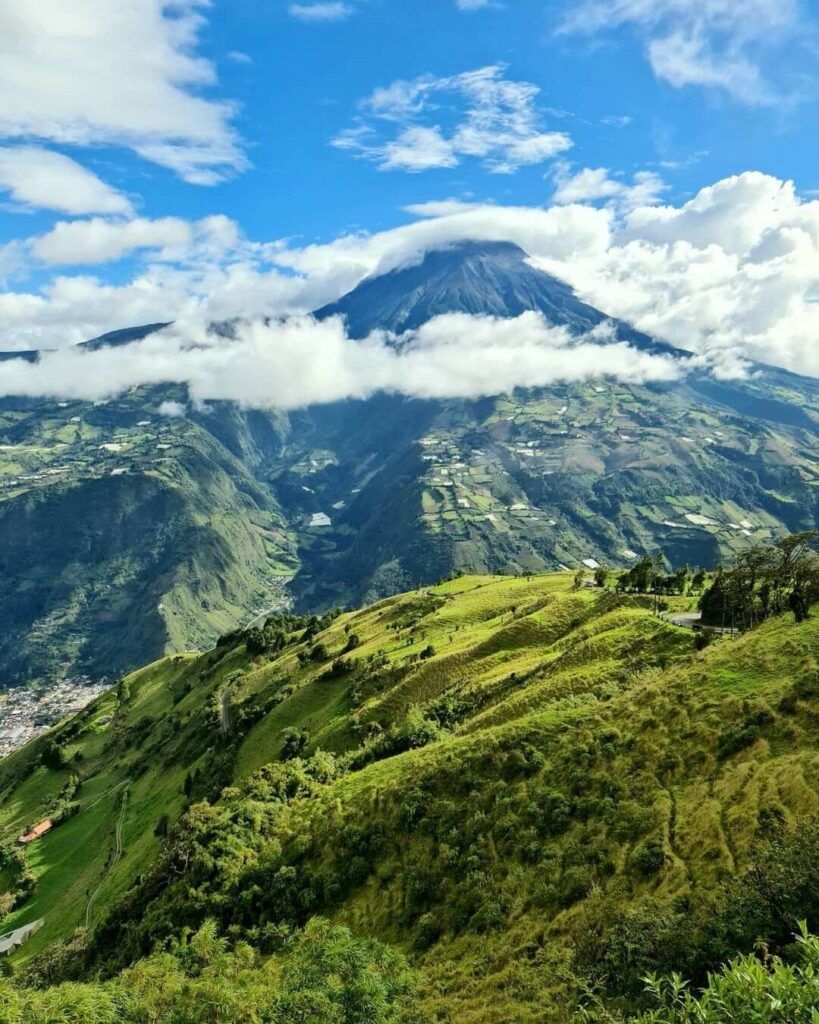 Baños' undulating valleys bless visitors with several options for viewpoints around the mountains. One perk among many of this spot is the chance to witness the volcanic activity of the Tungurahua. Viewpoints such as the Cruz de Bellavista, the Casa del Árbol or the Antenas are some of the attractions that capture the imagination.
From the viewpoint of the Cruz de Bellavista it is also possible to admire the small and fascinating city of Baños below. Whether day or night, travelers flock to this location to soak up a special snapshot of the area.
Access to this natural balcony is possible via car or hike. The ascent on foot takes approximately 30 minutes. However, transport alternatives include the "chiva," an adapted vehicle that offers permanent routes to the most attractive points of the city.
Our Top Pick: Night Tour of the Bellavista viewpoint by Explorjungle. Why? The views available in darkness are radically different (as you'd expect) from the daytime panorama. Frankly, both are unmissable. Guided tours can be even more helpful in low light so we recommend taking advantage of the experienced crew at Explorjungle to get the most out of a sunset tour. See on Viator.
Casa del Árbol: Scenery, Iconic Swing and Relaxation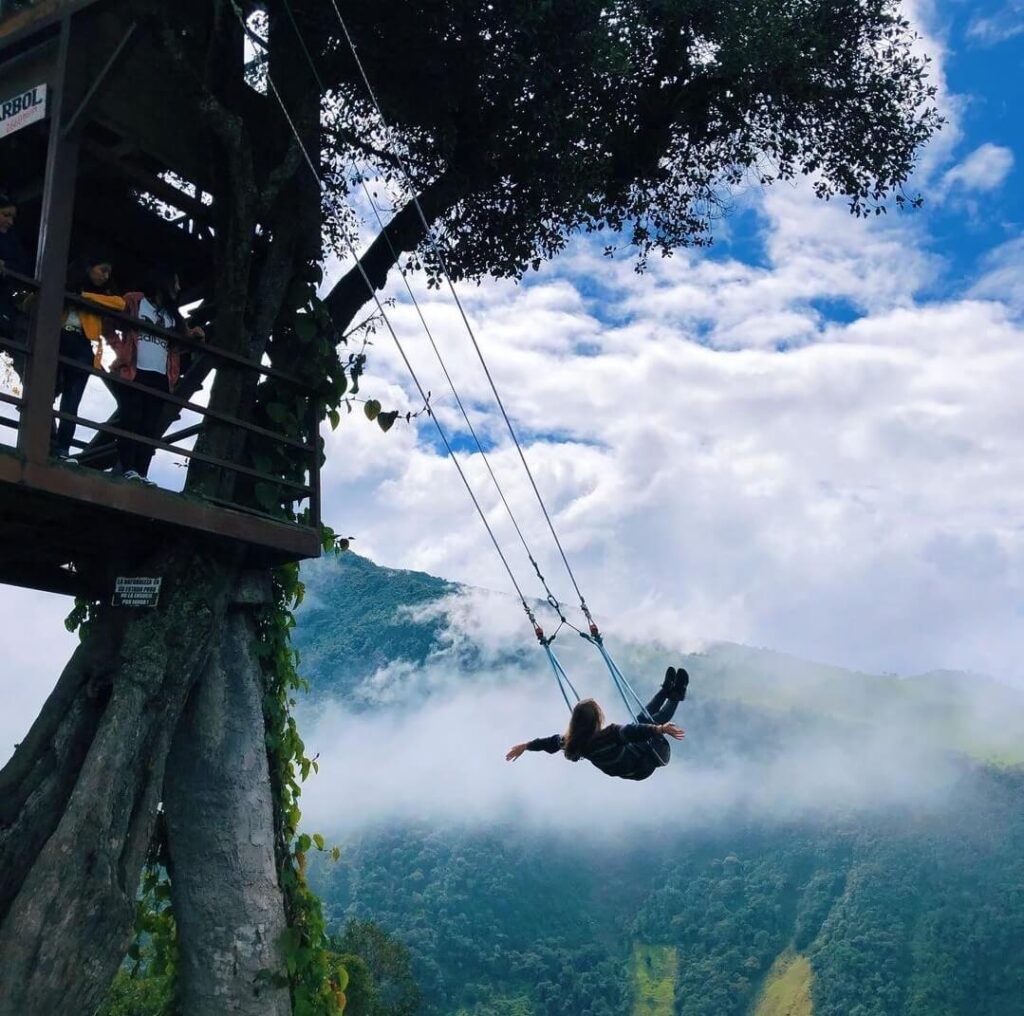 Casa del Árbol needs very little introduction. It's a tourist magnet thanks to its quirky treehouse and epic swing, which offers awesome photo opportunities.
This spot also happens to be one of the best natural viewpoints to soak up, appreciate, and enjoy the landscape, including Tungurahua volcano. One of the favorite places for visitors to stay is the Luna Runtún Adventure Spa, an upscale hotel in the vicinity of the treehouse site.
Thanks to its popularity with tourists, the area around the treehouse has spawned a restaurant, lodging cabins and a café, which allows you an aeriel view of the valley. Be sure to stick around for sunset for a spectacular show of color.
This location is accessible by bus and motor vehicle.
Our Top Pick: Two Stop Tour of El Casa del Árbol and Cascada El Pailon (del Diablo) by Ivagatours. Why? Extremely reputable tour operator and a great chance to "kill two birds with one stone." Like the treehouse, the intimidating sounding "Diablo" waterfall is a spectacle to behold and offers great photo opportunities. See on Viator.
Nuestra Señora del Rosario de Agua / de Agua Santa: History and Tradition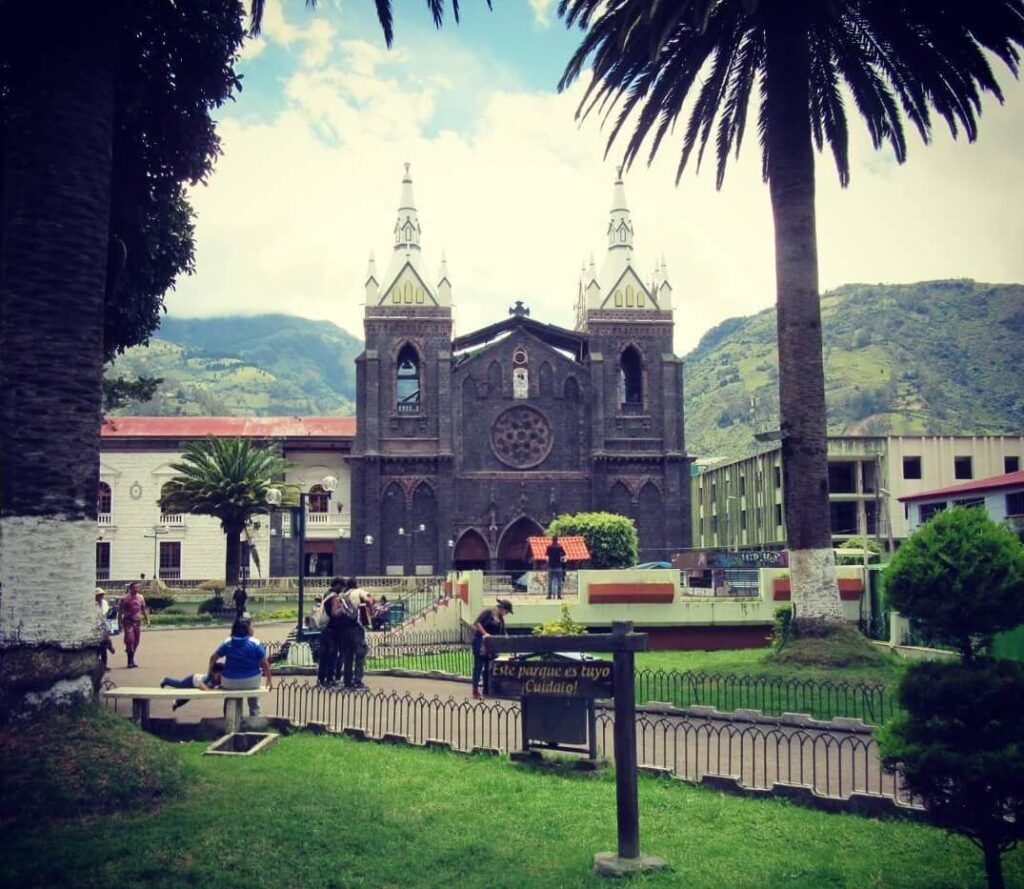 Finally, a sightseeing opportunity and a chance to soak up one of Baños' most famous architectural sites: Nuestra Señora de Agua Santa (Church of the Virgin of Agua Santa). The truly magnificent basilica is a sight for sore eyes and, according to the legend of the community, the Virgin of Holy Water, is responsible for local miracles. One of the miracles, depicted in a painting inside the church, depicts the survival of a man falling from a 70m bridge! Regardless on your thoughts on this matter, you'll be relieved to know that admission is free.
Scenic Hotspots & Final Words
The city of Baños de Agua Santa is famous for lush valleys and greenery. The topography is unique and makes for awesome outdoor adventures. Baños de Agua Santa is perhaps most famed for its beautiful rivers with their deep gorges. This region of Ecuador can certainly be family-friendly and photo opportunities abound.
The area also lays claim to beautiful, tall waterfalls. Hot springs and hikes may take your fancy and, luckily, you can explore them by foot, vehicle, or bicycle. Regardless of whether you're staying in the heart of the city (by the main road, Ambato), or if you are in the Ecuadorian Amazon, there are endless opportunities to get out and explore.
The gastronomy in this area of Ecuador is unique and delicious. Many tourists like to try native dishes such as Cuy, which is served with potatoes, peanut sauce, lettuce. This dish is also hugely popular with locals. For authentic cuisine at a reasonable price, try Baños establishments such as Mestizart or Sami Wasi. Make sure you try the local take on marshmallows before you leave too!
The city is also bustling with shops and a lively nightlife to explore, assuming it takes your fancy.
As I wrap up this article, I  hope that I've been able to show you that Baños is both a home for the free-spirited and adventurous, but also for those seeking to find awe-inspiring scenery and a sense of inner calm only natural beauty can provide. I hope you have a lot fun and build lasting memories on your visit!