23 Best Beaches in Ecuador (Local Expert's Picks & Photos)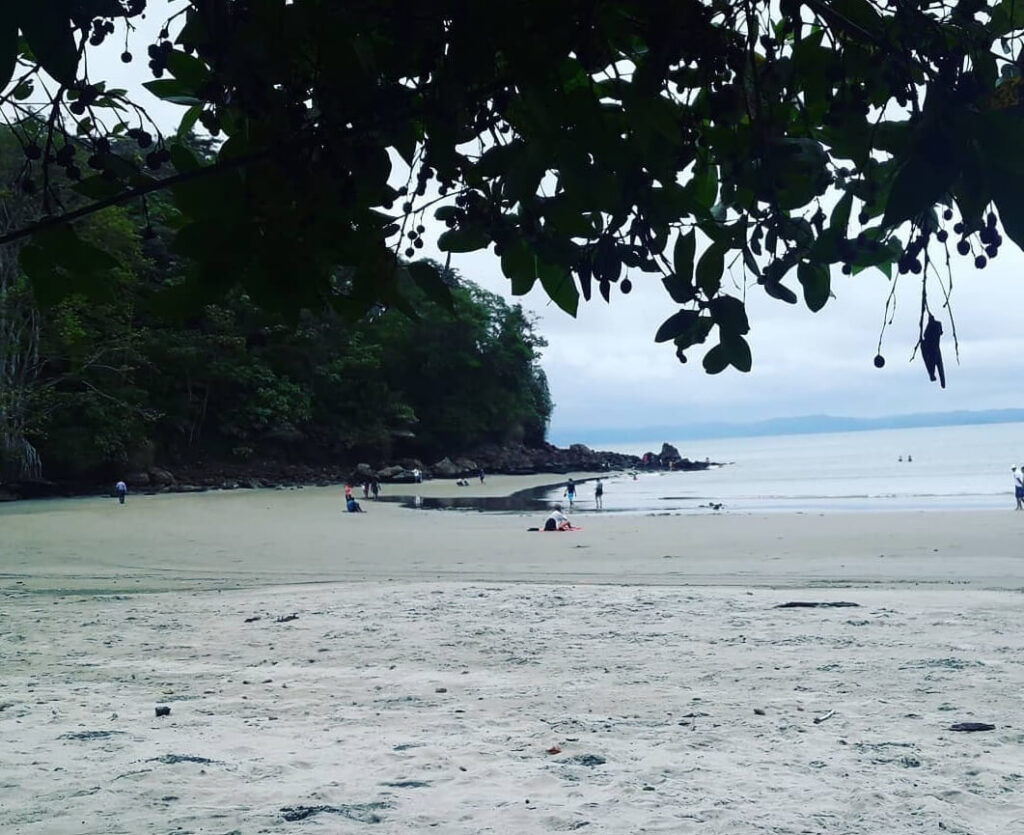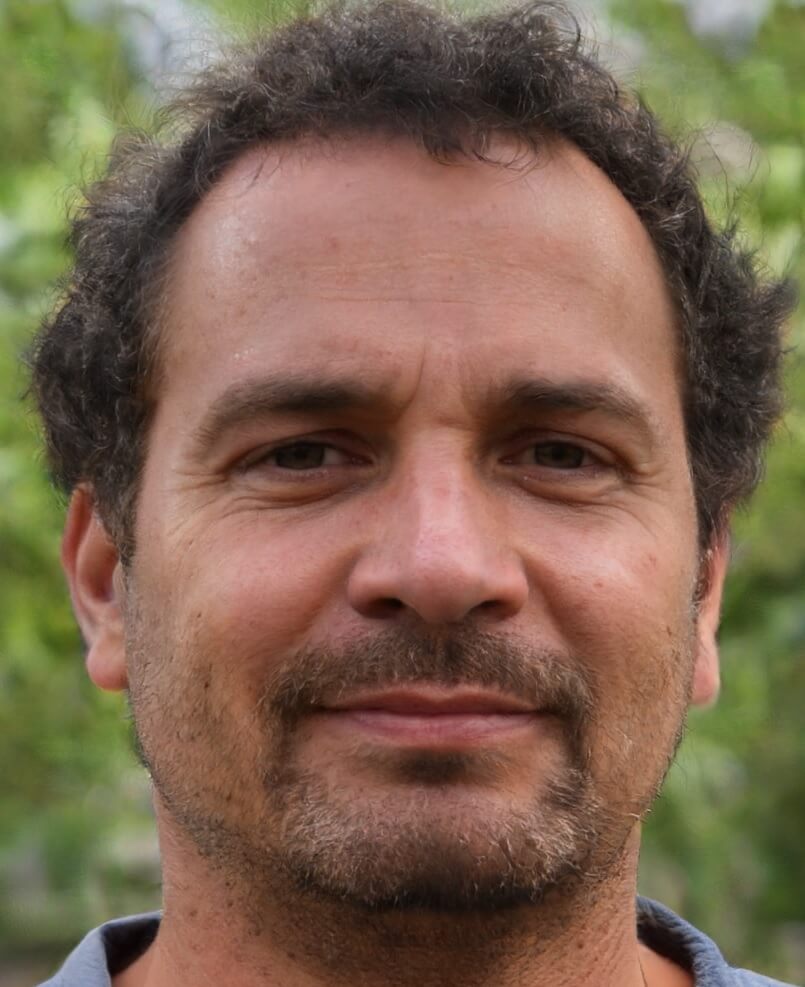 Paolo is a native of Baños de Agua Santa, a city in Ecuador's incredible interior. Although to many this city represents the heart of a hidden gem, to Paolo it is a lifelong home and labor of love. He shares his insight as a travel guide with a particular emphasis on the extraordinary nature and outdoor activities that attract visitors to the region.
Surprisingly, given its enduring popularity with travelers, Ecuador is one of the smaller nations of South America. Its beaches are a draw thanks to Ecuador's favorable climate and the relative warmth of the waters. These beaches don't just attract sunbathers and swimmers, however. They are also a magnet for wildlife enthusiasts.
Booking.com
is the only official place to find special, limited-time offers. Rooms bookout fast so don't hang around! Although this
link
guarantees the best rate on your room, we highly recommend early booking to avoid disappointment later.
Naturally, a coastal location is also ideal for enjoying exquisitely fresh seafood. Ecuadorians are particularly noted for their warmth and hospitality in welcoming locals and tourists alike.
In this article, you will find a broad selection of the best beaches in Ecuador. There is something to suit everyone's taste!
Introducing Ecuador's Finest Beaches
So, without further ado, let's delve straight into the list:
Playa Los Frailes (Province of Manabí)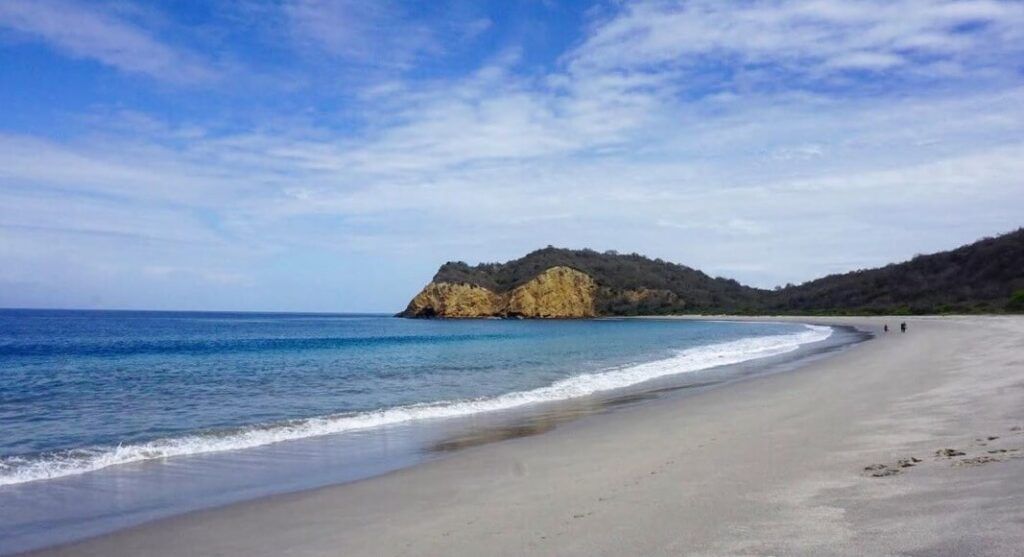 Playa Los Frailes is known for its terrific waves and strong currents, making it one of the premier beaches for surfing in Ecuador.
At the northern end of this bay is a path that leads to a viewing point. Not only is this an excellent place to observe the Beach of Los Frailes and the Machalilla National Park, it's also useful for observing conditions. Traversing the white sands makes for a pleasant walk of approximately 2 miles in length.
This beach is in close proximity of Puerto López and can be enjoyed solo or as part of a tour group. Il Capuccino restaurant nearby is an ideal spot for lunch.
Manta (Province of Manabí)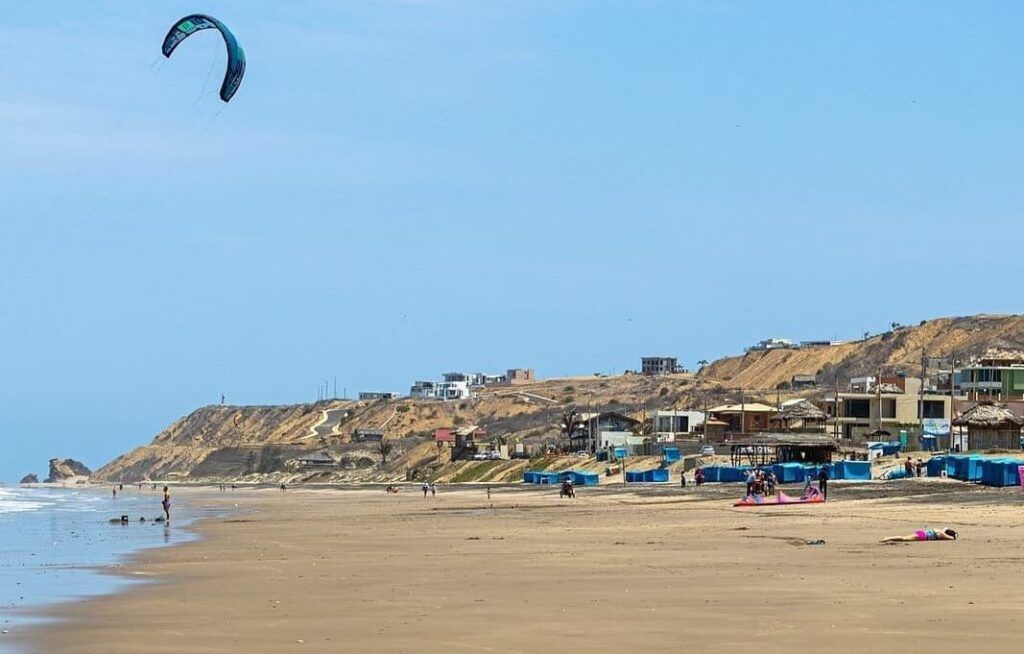 This beach is nestled in a beautiful bay in a region of Ecuador famous for seaside activity. Some are known for being busy and lively while others are the epitome of tranquility. Among the most famous is Playa El Murciélago, an urban beach with gentle waves and fine sands, which is bordered by the "Scenic Malecon", a promenade jutting out into the sea with restaurants, craft markets, and bars.
Puerto Cayo (Province of Manabí)
The beach of Puerto Cayo is located around 45 miles from the city of Manta and around 10 miles from Jipijapa. It has very pleasant scenery and is suitable for the whole family.
Its claim to fame is the quality of its snorkeling and underwater biodiversity. The climate is also pleasant and you'll find the heat noticeably less stifling than in Ecuador's interior.
There are many hiking trails in the area, some of which lead to impressive waterfalls. The marine and terrestrial flora and fauna are fascinating and demand a closer look!
Atacames Beach (Esmeraldas Province)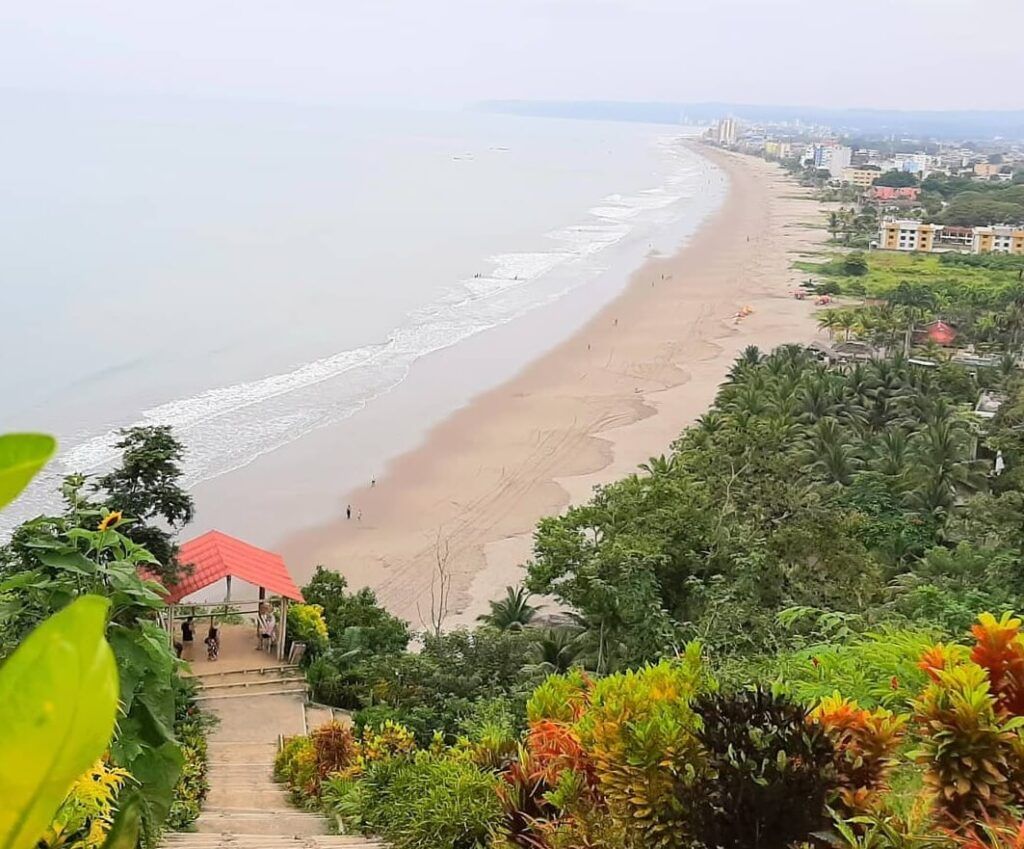 Atacames beach has emerald-tinted waters and darkish, soft sand. Its colorful vegetation includes coconut palm trees that conspire to make it one of the most beautiful beaches in Ecuador.
This spot is situated to the southwest of Esmeraldas and is one of the very few private beaches in Ecuador. Chairs, parasols and bodyboarding boards are available to rent. The natural viewpoint (called the Peñón Suicida) towers almost 80m above the beach and makes for excellent photographs.
Take time to visit the promenade on your visit to Playa Atacames and enjoy local music with delicious cocktails.
Same Beach (Esmeraldas Province)
Playa de Same is situated just 10 minutes south of Playa Sua, in the province of Esmeraldas in Ecuador. It is a popular, family beach with calm waters and white sands. The beach is lined with coconut palms and grasslands and is one of the cleanest and best maintained beaches in Ecuador.
Boat and jet ski rentals are available for those looking to explore the ocean. Accommodation options are available within walking distance, many with terraces, mountain views, and outdoor barbecue facilities.
Naturally, restaurants in the area are particularly famed for fresh seafood. Of particular note are the delicious ceviche dishes and crab feasts.
Mompiche Beach (Esmeraldas Province)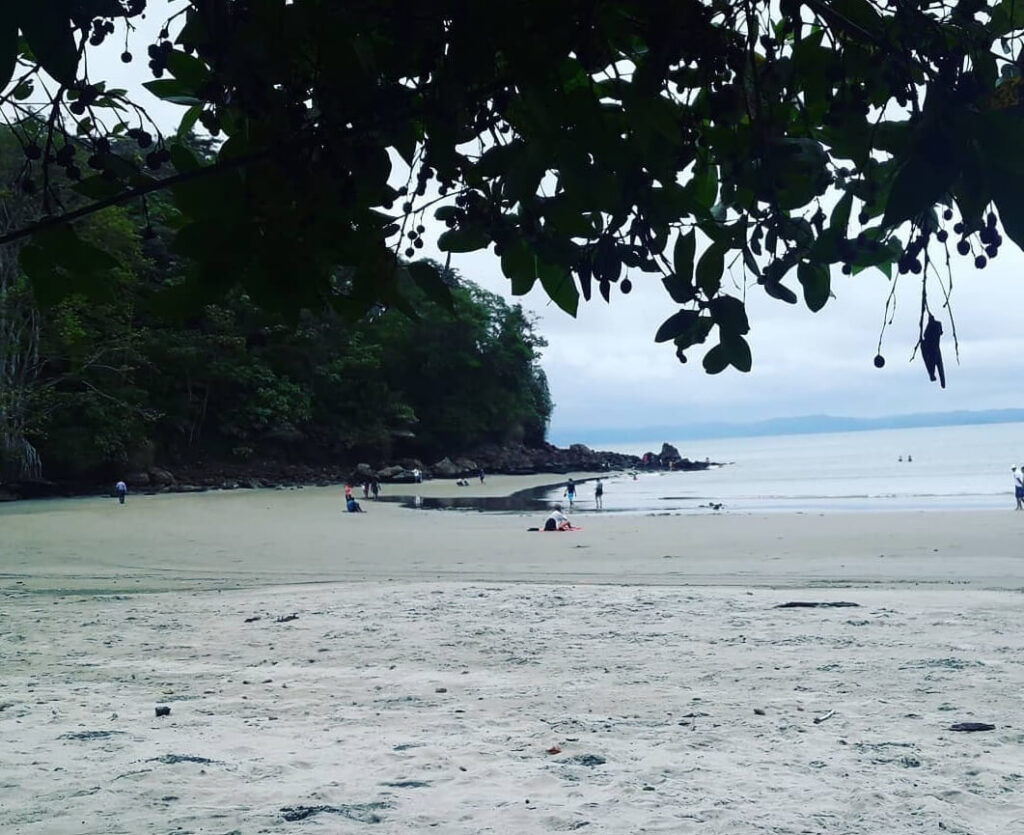 Mompiche beach is situated in the province of Esmeraldas, to the south of Muisne. Its large waves are ideal for surfing and the area is also popular with sport fishing enthusiasts.
This beach is also synonymous with romance and makes for an ideal adventure for couples. Available to rent nearby are charming wooden cabins where you can spend an evening with your other half.
If you're in the mood for quality dining, look out for La Chocolata restaurant. This establishment serves delicious sandwiches and, as you may have guessed, some fantastic chocolate-based treats!
Salinas (Province of Santa Elena)
Playa de Salinas is a magnet for tourists to the region of Santa Elena. It is one of the finest beaches in the vicinity of Guayaquil. It is considered a family-friendly beach thanks to gentle waves and plentiful space. There is fun for everyone with jet skiing and paddle boarding available, among other activities. Keep an eye out for the tourist train, which ferries visitors around the bay.
Galapagos Islands (Galapagos Province)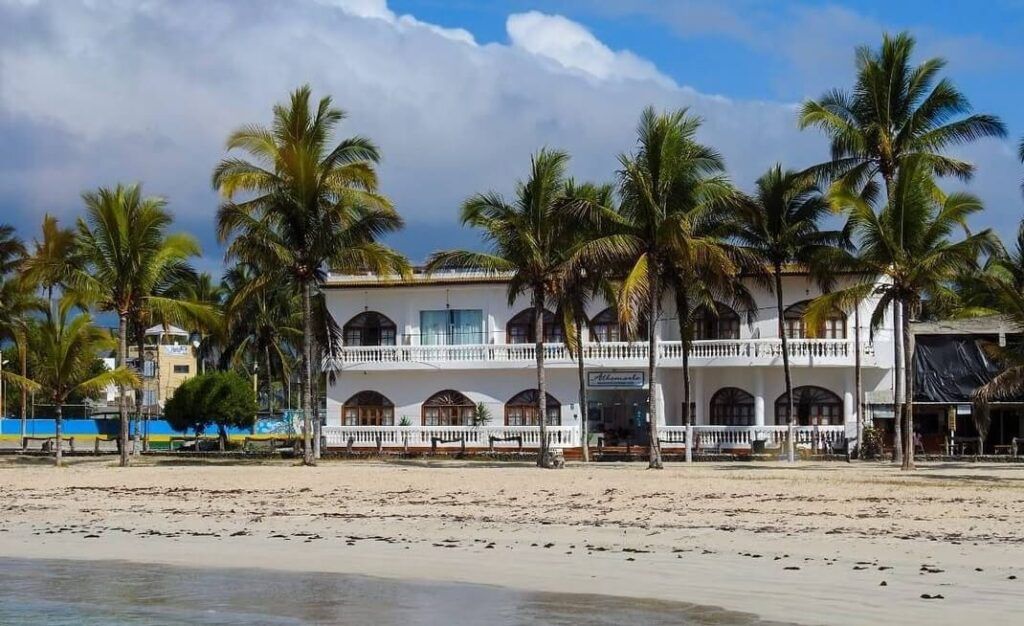 The archipelago of the Galapagos Islands are famous the world over. They sit just under 1,000km from mainland Ecuador, in the Pacific Ocean. These thirteen volcanic islands are home to some of Ecuador's most stunning beaches. Whatsmore, you'll often find yourself sharing them with remarkable species including sea lions and marine iguanas.
Lodging options range from homey apartments, to villas and exclusive beachfront hotels.
Puerto López (Manabí)
The shores of Puerto López are some of the finest in Manabí, Ecuador. Of particular note are the stunning coral reef and the small islands dotted off the coast. Together these characteristics make Puerto López one of Ecuador's most popular attractions.
Between June and September, visitors flock to the area to observe humpback whales. You'll also find the beautiful Machalilla National Park, a cradle of many ancient cultures.
Other interesting activities include guided tours of the Agua Blanca Museum. The guide will explain the evolution of native culture and how they shared knowledge with other pre-Hispanic cultures of South America.
Puerto Bolivar (El Oro)
Another of Ecuador's finest spots, this area has its foundations in trade. Indeed, the seaport of Puerto Bolivar is among the most important ports in the country. Its promenade is famous for lining a number of beautiful beaches and being home to a number of great food options, particularly ceviche and other seafood dishes.
Olón Beach (Santa Elena)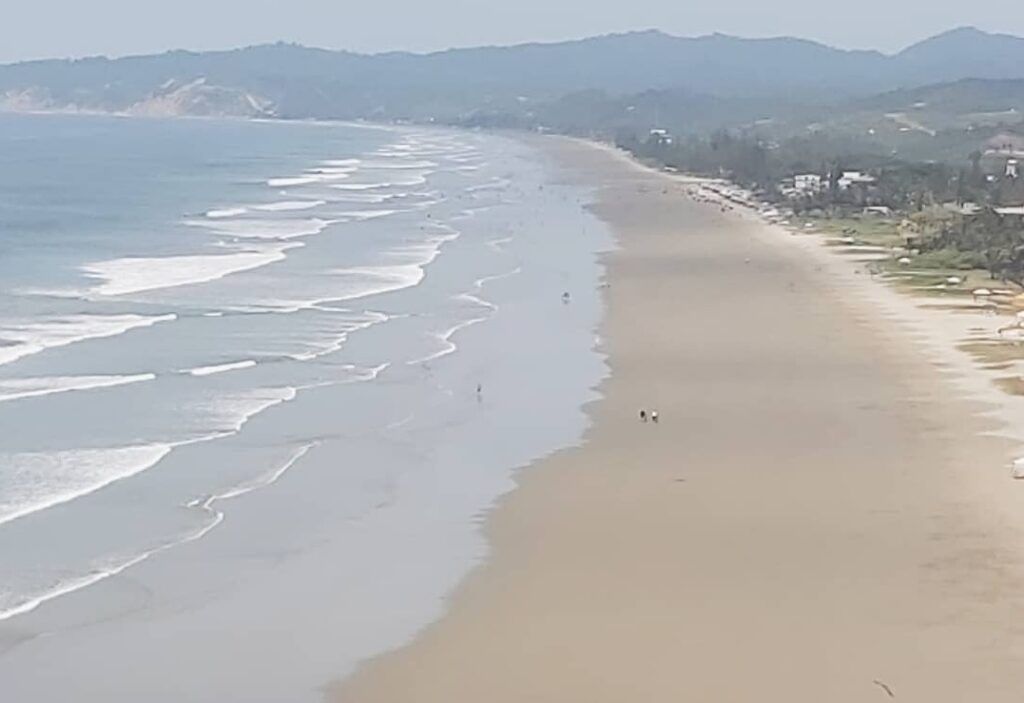 Playa Olón is arguably one of the most famous beaches in Ecuador. It is particularly well regarded for its sheer size and scope. The beach is located in the region of Santa Elena, beneath the undulating nearby hills.
This area is popular for sport fishing and is also located next to the pleasant town of Olón, where you can find craft markets, delicious food, and a monument honoring the Virgin Mary that stands at 100m tall.
Bonus Picks
Santa Rosa Beach (Manabí)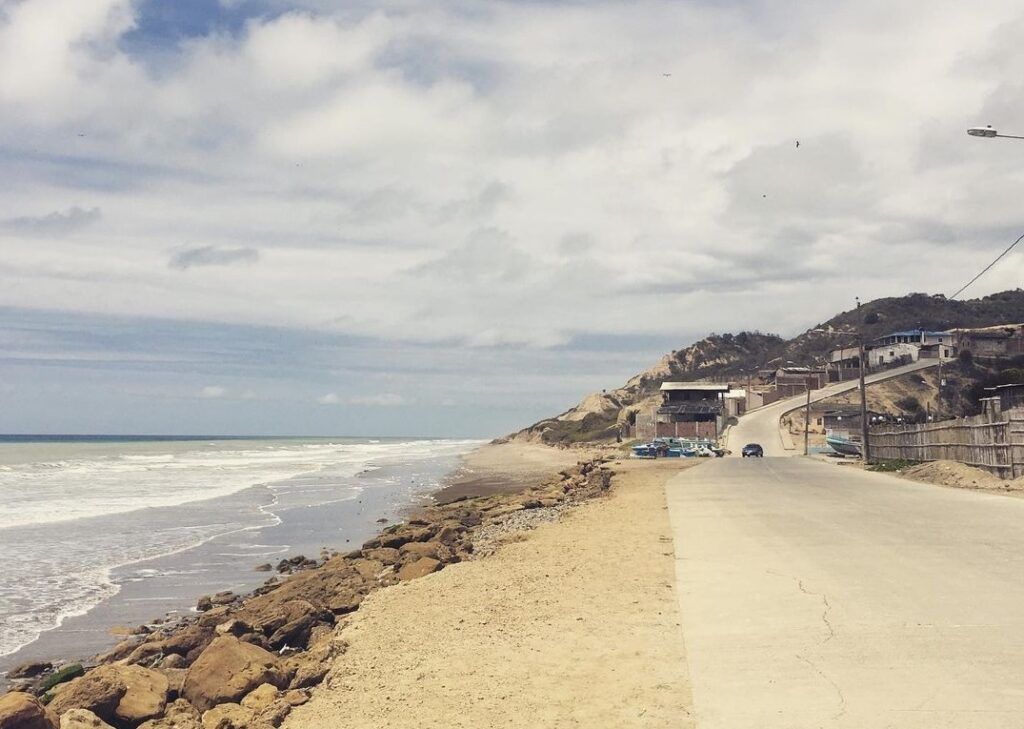 This coastal section of Manta in Ecuador is ideal for observing birds in their natural habitat. It is a clean and quiet beach with a uniquely peaceful beauty.
Shady spots can be hard to come by on Playa Santa Rosa so don't forget to bring adequate sun protection with you on the day. Nearby, you will also find soccer and volleyball fields.
San Lorenzo Beach (Manabí)
Playa San Lorenzo has an approximate length of 2 miles and is regarded as one of Manta's best beaches. Popular activities include fishing and boating. Indeed, the area can become very busy with tourist boats.
It is also a haven for water sports, most commonly surfing, bodyboarding and paddleboarding. Over 13,000 hectares of land here sits within a protected reserve. All in all, it is a truly enjoyable and popular family beach.
Ayangue Beach (Santa Elena)
Playa Ayangue is famous in Ecuador and is often referred to as the "pool of the Pacific." This is because the bay in which its situated is highly protected on all sides due to the shape of the surrounding mountains.
It is also considered to be one of Ecuador's most desirable dive spots, thanks largely to its marine fauna.
Arabian Island (Isla Rábida)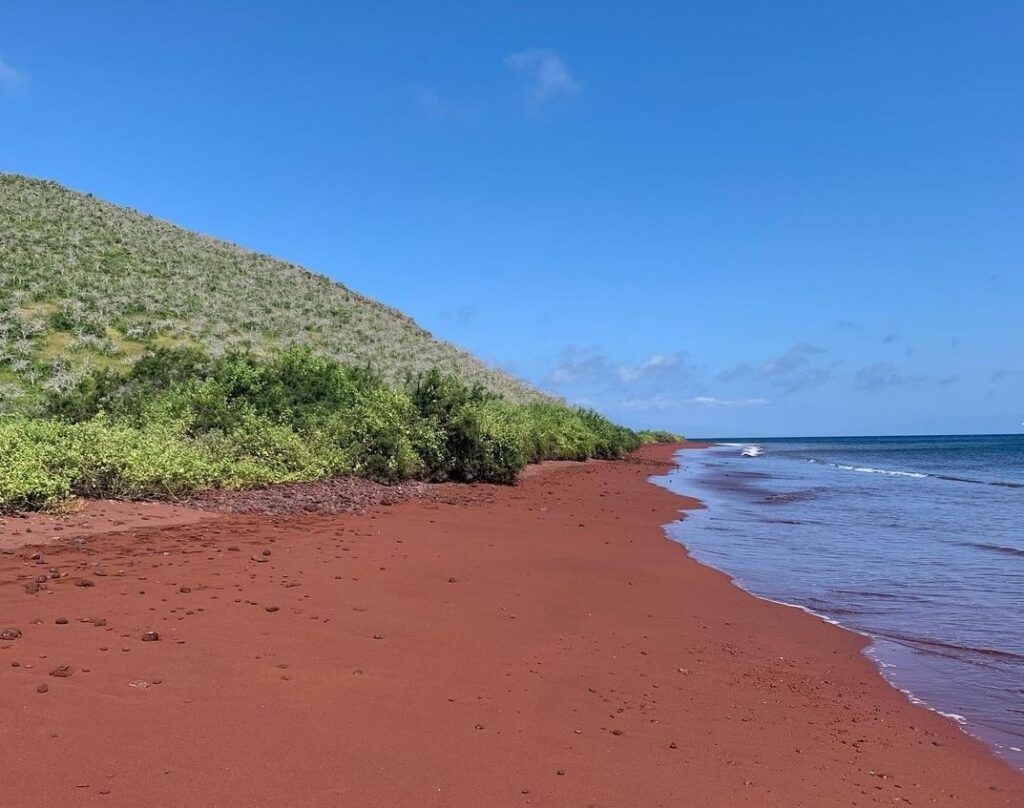 Isla Rábida has a truly remarkable beach, which owes its distinctive coloration to the high iron content of the sand. A winding trail leads you to its shores, lined with cacti, trees, and vegetation.
This island is approximately 3 miles south of Santiago Island and draws in visitors with its highly unique appearance.
This islet is also a good spot for sighting multiple species of dolphin. Also in the waters off Isla Rábida are sea lions, sharks and manta rays.
San Pablo Beach (Santa Elena)
Playa San Pablo is bustling with activity and is particular popular for fishing and watersports. Fish species include sardine, tuna, sole, and more. Kayak and surf enthusiasts are also drawn here to take advantage of favorable conditions.
The area is a popular meeting spot for backpackers and tourists from across the world. This makes it a great location for meeting new people and having fun.
Nearby. you'll find the town of San Pedro, which is home to a number of great restaurants with soul food and a laid back vibe.
Jambelí Archipelago
This island cluster is located off the coast of the region of El Oro (to the south of the Gulf of Guayaquil). Not only are these beautiful beaches are among the best in Ecuador, they're also home to a stunning array of marine biodiversity. This makes the area ideal for diving and snorkelling.
The food served at local restaurants is traditional Ecuadorian fare including crab, stew, and green plantain dumplings.
Santa Marianita Beach (Manabí)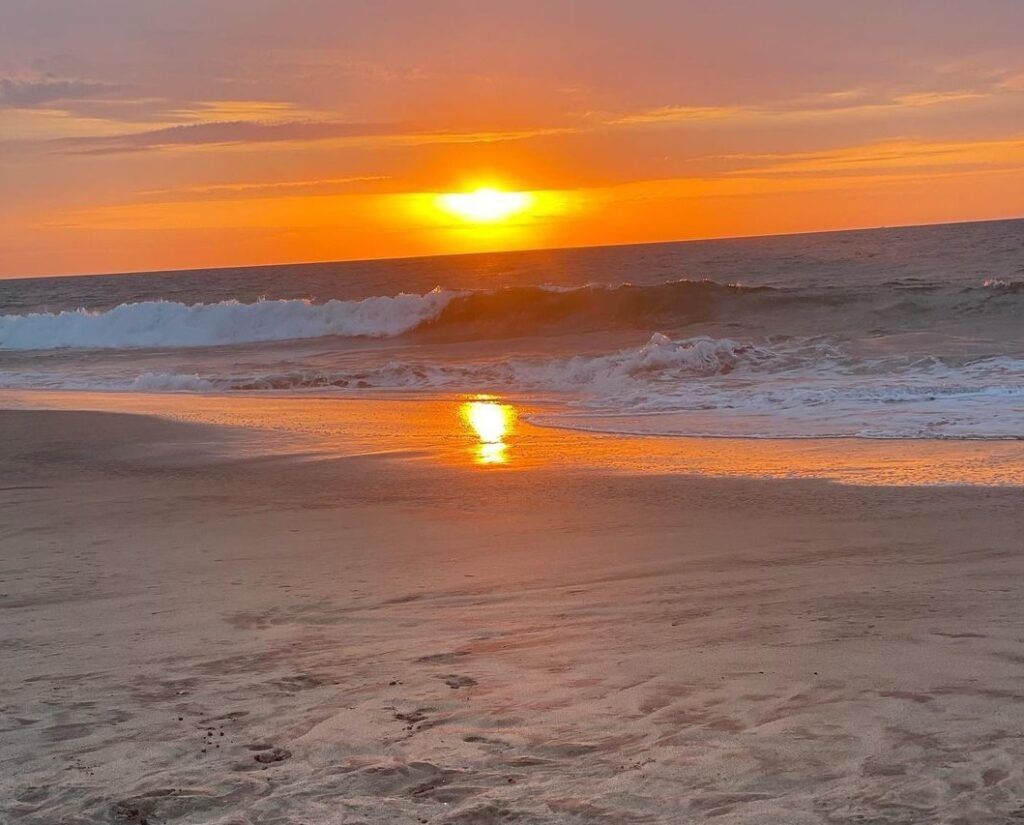 Santa Marianita beach is the focal point of a bustling seaside resort. Locals and tourists alike escape here to find sanctuary away from the smog of the cities. This won't come as a surprise —  despite being located about 20 kilometers from Manta, the beach has a flavor of paradise.
Energetic and adventurous tourists find a home away from home with ample access to watersports like windsurfing. If you're in the mood for learning, why not get in touch with a local school teaching introductory kitesurfing courses?
Accommodation options again run the gamut from simple hostels through to upmarket hotels. Hostels provide breakfast, bedding, and towels, plus, perhaps more importantly, a chance to meet with other travelers.
Murciélago Beach (Manabí)
Playa Murciélago is conveniently located just off the promenade of the city of Manta. It has crisp, clear waters and is lined with tropical vegetation and palm trees. Popular activities include kayaking and camping.
For those who enjoy home comforts then this beach is ideal — there are dozens of restaurants serving excellent food and cocktails!
Tonsupa Beach (Esmeraldas)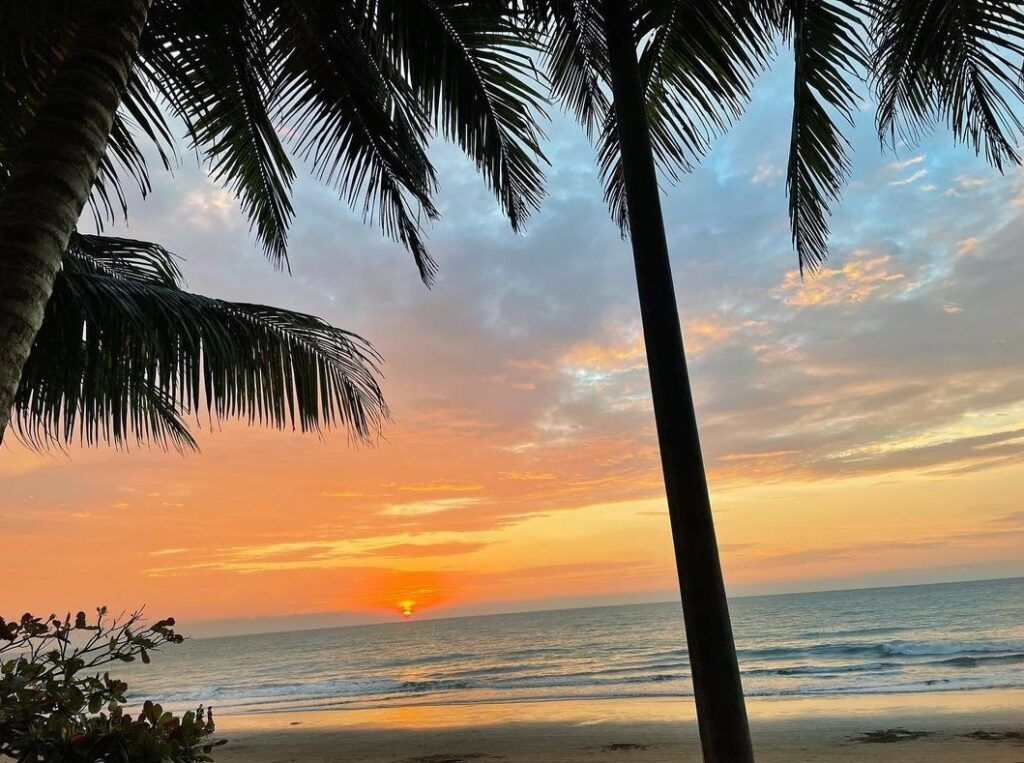 Another classic landmark beach, Playa Tonsupa is famed for its extraordinarily beautiful sunsets. The beach is also a hive of activity, with sports including football and volleyball being particularly popular. If a romantic evening stroll is more your thing then there is perhaps no better place in Ecuador for it.
Just off the beach, you will find a great selection of bars serving refreshing cocktails. Accommodation options nearby include the Isla del Sol Cabins, in which rooms offer free wifi, balcony, and shower.
Playa Ballenita (Santa Elena)
Playa Ballenita is a vibrant and increasingly popular seaside locale. It owes much of its beauty to incredible sunsets and the soft sand that caresses to the touch. Activities include relaxed horseback rides.
Not more than 1km from the beach is the Hosteria Farallón Dillon. The building is extremely unique and quirky with Mediterranean-styling and nearby restaurant, museum, and nightclub. If you book a room for the night its likely to be one of the most interesting buildings in which you've roomed!
Puerto Misahuallí (Napo)
Puerto Misahualli is a quaint town on the banks of the Napo River, itself a tributary of the Amazon. During the dry season, the river level falls to reveal beautiful white sand.
Nearby, you'll find the town of Pununo from which you can soak up views of the Napo River from a suspension bridge.
The area is also home to many well regarded restaurants offering both indoor and al fresco dining options.
Playa de Canoa (Province of Manabí)
Returning to the province of Manabí, and we have the very pleasant Playa de Canoa. It is one of the most visited beaches in Ecuador thanks to waters that are well-suited to activities like water skiing. In addition, it has platforms specifically designed for paragliding and hang-gliding. Furthermore, the surrounding neighborhood has a very active nightlife with premises nearby hosting clubs and restaurants where local dishes and drinks are served late into the night.